Road To The Cup – Week 16
Top-10 as of 9/9/18
There were informal, unscored Twilight races scheduled for both Tuesday and Thursday. To our knowledge, no R19s sailed on Tuesday and according to John Casler, Thursday was a washout. In his usual concise way, he summarized the situation in with this. "A few minutes after the scheduled start, with the rain coming down and no wind discernible, at least from across from Abbot Hall, I feel it safe to assume that there was no race tonight." So there you have it. Thank you John.
Out on the MRA line, the Fall Series commenced with the first of our final three scheduled race days. As in years past, the lines collapsed down to one so all fleets race on the same line. When the numbers are up, that can result in a bit of chaos and some interesting mark roundings, but for this one it proved not to be an issue as only three fleets came out, including three Etchells, nine J70s and five Rhodes. Pretty sparse turnout, though for some reason that seems to have become the post-Labor day norm in recent years.
The forecast called for everyone's favorite condition of NE 15-20 under overcast skies with building seas. The Js had pretty good numbers for obvious reasons, as their Worlds are in a few weeks. A couple of Fleet 5 teams were out with their 3rds putting in some Nationals practice, while the rest of us had no good excuse other than we are gluttons, or as my friend Pete says, "You aren't just out here for the hunting, are you?" Sorry, inside joke. Anyway, the forecast also predicted the pressure would moderate late and clock right, which is exactly what it did. It was blowing a solid high teens in race 1, all three on the rail for those with three and barely hanging on for those with two, with impressive seas that rattled your fillings up wind and were surfable going down. But by race two, the pressure moderated into the low-to-mid teens, and by race 3 was down to 8-10. The seas took longer to lay down, resulting in everyone's other favorite condition of light-and-lump, leaving the teams with three not loving life.
So winning the day was Team Pandapas, who put up a 3-1-1 for 5 points. Taking 2nd just one point back was Team Lane-Heffernan, who rolled a 2-2-2 for 6 points, and finishing 3rd was Team Taylor with a 1-3-RET for 10 points. Honorable mentions to Jocelyn Cook in 4th and Team Colsman in 5th. Congratulations to all and thanks for playing. That, by the way is it for Team Taylor who took their boat home after racing to get it ready for Nationals, as well as for Team Pandapas, who dragged the boat home on Sunday morning.
So, in Cup competition, the scores are updated by the three races of Fall Series. The top-10 are listed below.
| | | | |
| --- | --- | --- | --- |
| 1st | 982 | Team Pandapas | 146.00 |
| 2nd | 1926 | Team Taylor | 239.00 |
| 3rd | 2648 | Team Cooke/Kaznoski | 245.00 |
| 4th | 1210 | Frisch/Hourihan | 263.00 |
| 5th | 2585 | Steve Uhl | 268.00 |
| 6th | 2435 | Larry Ehrhardt | 276.00 |
| 7th | 2623 | Team Lane/Heffernan | 297.00 |
| 8th | 2692 | Team Heffernan/Harsono | 311.00 |
| 9th | 3172 | Dave Nelson | 335.00 |
| 10th | 1299 | Team Felton | 335.00 |
Week 17 racing will include the unscored Fall Twilight Series on both Tuesday and Thursday nights, but will not include the Fall Series, which takes a week off while the harbor focuses on both Star District 1 Championships on Friday and Saturday and the CYC 2v2 invitational Team Race on Saturday and Sunday. The Fall Series resumes on September 22nd.
Other News, Notices & Miscellaneous Scuttlebutt
Welcome To Dylan Patrick Nash – The blessed event finally occurred. Elise & Mike Nash welcomed their son Dylan Patrick Nash at 6:36 pm on Tuesday September 4th. The young man weighed in at a whopping 10 pounds, 2 ounces and measuring 21 inches. How awesome is that? Mom and 'toddler' are doing well, though we hear Dad could use a little shut-eye. Congratulations!!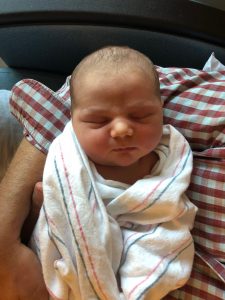 Sportsmanship Update – We heard of no spins this week, leaving the spin totals as shown in the table below.
| | | | |
| --- | --- | --- | --- |
| | Foul | Hit Mark | Total |
| Team Frisch/Hourihan | 1 | | 1 |
| Team Sheldon/Susa | | 1 | 1 |
| Team Rubin | 1 | 1 | 2 |
| Team Cormier/Dalton | | 1 | 1 |
| Dave Nelson | | 1 | 1 |
| Team Cooke/Kaznoski | 1 | | 1 |
| Team Berliner | 1 | 1 | 2 |
| Team Felton | | 1 | 1 |
| | 4 | 6 | 10 |
Outstanding Crew Nominations – It's that time again to lob in nomination for the Richie Santos Outstanding Crew Award. Named in memory of John Burke's crew, Richie Santos, late brother of sportscaster Gil Santos, this trophy is awarded each season to that individual who most distinguishes him or herself in a crew capacity. It can be awarded on the basis of long-term contribution, overall performance during a single season or regatta, or even on a single compelling or outstanding event. This is your chance (skippers) to recognize that person who has been kicking butt for you all season. Final selection is at the discretion of El Jefe, who will likely read your nomination letter at the awards, so make it entertaining.
2018 Nationals in New Orleans – This year's Nationals will be in New Orleans on October 3-7, hosted by our friends at Southern Yacht Club. If you've never been, take it from us that the Southern guys know how to throw a party. You can get more info and download the NOR here.
2018 Lobster Bowl Regatta – Hosted by the Portland Yacht Club in cooperation with Etchells Fleet 27 and R19 Fleet 52, this 2-day regatta is in Falmouth, Maine. Boat launching and skippers meeting will be Friday September 21, and racing will be Saturday and Sunday September 22-23. Entry fee is $275/boat. Crewing opportunities are also available. Here are the links for the NOR and to register, and you also can contact Chris Morin at etchellsfleet27@gmail.com or 207-807-9243.
For Sale #2566 – This is Jud Smith's old boat in which he won the 2006 Sandy Bay Nationals. It includes a trailer, newer main, jib and spinnaker. Asking $11,000. Contact Debbi Hale at cinnabar19@comcast.net or 603-986-5350.
Mail Bag
We heard from IOD sailor Timmy Dittrich, who is on our mailing list and seems to enjoy staying up on all things Fleet 5. "Greetings, Kim: I just wanted you to know that I have really enjoyed reading your reports over the season. Great info, excellent writing. As an IOD guy, I hope you'll keep me subscribed. There may come a day sooner than later that I will want to learn more about the Fleet, Class, boats, and ownership. Not today, but someday." Well thanks Tim. Hope we don't get you in trouble by printing that. We look forward to 'someday' and let us know how we can help.
Jocelyn Cook, who looks to be wrapping it up for the season, sent in this. "Today marked what I suspect will be my final race of the season on Calgon… and what better way to wrap the season up than with the two ladies that helped kick it off, Joan Thayer and Susanna Winder. Thank you to all those in Fleet 5 who made this first year at the helm a stellar one! Who allowed me to pick their brains. Who offered advice and feedback between races and off the water. Hard to believe the summer sailing season has gone so fast. I guess it's true – time flies when you're having fun. Many, many thanks for the support and encouragement! Thankful to be a member of Fleet 5!"
–kp (kpandapas@comcast.net)