Road To The Cup – Week 5
Top 10 as of 6/23/19
The twilight race was cancelled for the second straight week due to weather. We got the word in a Thursday afternoon email from El Jefe which went out to a distribution list that included the usual suspects. "There will be no twilight racing tonight due to cold, fog, rain and not much wind. Other than that, a perfect for sailing." Yea, good call. I'm pretty sure we didn't miss much here. So if you're keeping track, Series 1 includes six total race days. We sailed the first two, we cancelled the next two and we have two more to go, including next week June 27th and then July 11th, skipping a week for the 4th of July. Steve Uhl leads the series with 3 points, followed by Team Taylor in 2nd with 6 points and John Casler in 3rd with 8 points.
Out on the MRA line, it was just smokin'. In fact after racing, several of us on the CYC porch attempted to come up with all the euphemisms. We came up with a lot of the usuals like honking, howling, blowing stink and blowing a hooey. But two rose to the top. The runner up was 'blowing dogs off chains' which is pretty descriptive, right? But the consensus favorite was 'blowing so hard it was scooping the snakes out of the grass,' which was contributed by Dave Johnston, who happened by as we were debating this. Anyway, the forecast of NW 10-15 proved to be more in the range of 15-20, building to 20-25 with gusts over 30. Here is a screen shot of the wind graph from Children's Island. Blue is sustained and red is the puffs.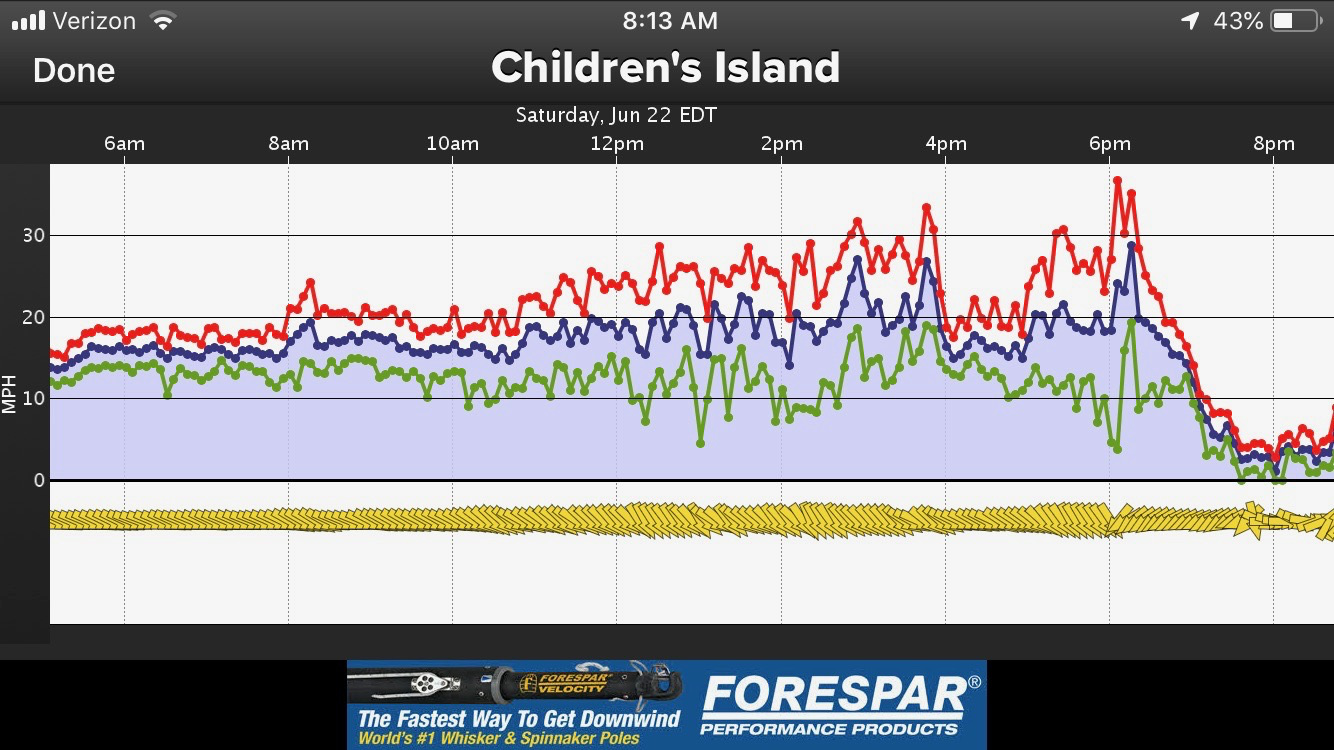 Nine boats showed up, including the season debut of Tom & Will Dailey, who being laser guys, don't like to sail in anything under 20. The RC started the Vipers first, and by about three minutes into the J/70 sequence, they noticed that their boat was dragging and the pin was actually in front of them. When it became clear that resetting would take time, the Js decided to start themselves and sail up the course. Meanwhile, the Vipers finished. So after getting set up again and waiting for the Js to return, the RC gave the Vipers their second start while we continued to reach. All of this waiting around as the pressure built inspired Team Martini to head back in, leaving eight of us, who finally were rewarded with a start at about 1:30. We ended up getting in two, with the RC shortening the second race at the top mark on the second lap.
All of this, as you'd expect, resulted in some carnage, though fortunately just boats and not people. Team Pandapas was knocked down seconds after getting the chute up on the first lap of Race 1, sticking the rail in the water and shearing the spin block right off the mast. Team Cook snapped their traveler, though managed to jury-rig it for the day. But the most impressive breakdown belonged to Team Rubin. I'll let Dave Rubin speak for himself.
"When we got back to the mooring, we discovered that the weld on the metal bracket that holds the block which holds the main halyard and back stay, had sheared off the mast. We were fortunate that the whole thing had not fallen down while we were sailing in the high winds and rough weather. It would not have been pretty drifting into Halfway Rock. Stefan and I took the mast off the boat and it is in Steve Uhl's backyard waiting to be repaired." Yikes!! Here's a shot of it.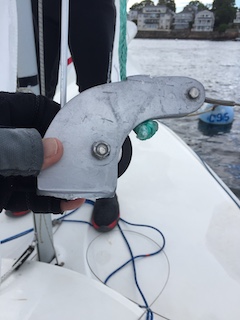 None of this bothered Team Frisch / Hourihan even a little. With Nick Burke on the helm for the absent Seamus Hourihan and with an unidentified 3rd, they shrugged off the conditions and sailed flat, fast and in control, putting up a pair of bullets to win the day. How impressive is that? Taking 2nd on a tiebreaker was Steve Uhl, joined by his son Thornton Uhl (probably a little bribery involved here), who put up a 3-2 for 5 points. And finishing 3rd was Team Cooke / Kaznoski with young Wilson Kaznoski as their 3rd, rolling a 2-3, also for 5 points. Honorable mentions go to Team Taylor in 4th with a 4-4 for 8 points, and Team Heffernan / Harsono in 5th with a 6-5 for 11 points. Congratulations to them and to all who came out.
So with that, MRA Series 1 is in the books. Taking 1st was Steve Uhl with 18 points in 8 races. Well done. Finishing 2nd just one point back was Team Taylor with 19 points, and taking 3rd was Team Frisch / Hourihan with 24 points. Honorable mentions go to Team Heffernan / Harsono in 4th with 28 points and Team Pandapas in 5th with 34 points.
So in Cup competition, Team Taylor holds a 9-point lead over the surging Team Frisch / Hourihan, who bounced Team Pandapas from 2nd to 3rd. The top-10 are listed below.
Week 6 racing will include Twilight 1-5 on Thursday night, the 2-3 races of MRA Series 2-1 this Saturday, and Day 3 of the (unscored) CYC Cooke Sunday Series on Sunday June 30. Remaining Sunday dates include July 14 & 21 and August 4, 11 & 25.
Other News, Notices & Miscellaneous Scuttlebutt
Race Tracking on June 29 – Just a reminder that we're scheduled to record next week's MRA racing with Kattack, a web-based tracking software that records boats' positions throughout a race and creates a birds-eye view animation of the race that you can watch online later. This effort is courtesy of the EYC, and Jack Cochran and Peter Frisch are championing it. The current plan is as follows. Jack Cochran will send an email to all MRA registered R19s on Monday, June 24th, with step-by-step instructions on how to download and setup the app. Then on Friday June 28th, he will send a second email reminding people to charge their phones and when to activate the tracking function. Stay tuned for more on this.
Sportsmanship Update –Several alert readers lobbed in reactions to David Rubin's message that he had done a 720 after fouling someone, summarized by this from Rick Myers, who also happens to be a judge. "You might want to remind everyone that Appendix V is in effect. That means that you may take your penalty by doing one tack and one gybe if the incident happens outside the zone at a mark. Two tacks and two gybes are required if the incident happens within the zone." Thanks to Rick, Martha Martini and others for catching this.
Beyond that, we heard of no spins last week. However after a short post-race porch conversation, Team Lane / Heffernan learned they had hit a mark and subsequently retired from that race. How about that for integrity? This serves as a useful reminder that constructive post-race porch debriefs are integral to Fleet 5's culture, and we can all learn from the sportsmanship Mike demonstrated here.
Below are the spin standings, now including a virtual spin from Team Lane / Heffernan, and thanks to all for their sportsmanship. Remember, if you spin, send it in.
Junior Race Week Registration – Believe it or not, it's almost July, so time to register your kids for Junior Race Week. You'll find everything you need here.
Want to Try Out a 2.4 Meter? – Old friend Shan McAdoo has extended an invitation to Fleet 5ers to try out one of their spare 2.4 Meters some Sunday morning. How awesome is that? If you're interested, contact Shan at r19slr@gmail.com.
NOOD at Marblehead Race Week – The centerpiece of our season will be held Thursday through Sunday, July 25-28, hosted by BYC. Registration is open. A reminder that your MRA fee covers the entry fee, so you don't have to pay more, but you do have to register.
Race Week Party This year's Race Week party will be on Thursday evening July 26th, generously hosted by Jennifer & Steve Uhl at their home on Front Street. Larry Ehrhardt will provide the fleet bar.
Nationals 2019 – The 2019 Championship Regatta will be held August 21-24 in Hingham Bay, hosted by our friends at the Hingham Yacht Club. The NOR is available on the regatta website.
For Sale – 2015 race ready Rhodes mast made by Cape Cod Shipbuilding. $1500 OBO. Please call or text Mark Rubin: 202-591-5981.
Mail Bag
Ann Sousa emailed us to correct our reporting that Sarah Sheldon was onboard last week "It was Ann Sousa and Jenn Pelletier doing a shake down race on Garuda Saturday. Sarah was enjoying time with her new grandbaby. Happy to report boat floats and all gear is in working order."
Ann also made this helpful suggestion about communications regarding Twilights. "A few "new school" vs old school things to consider about Twilights is that most working non-retired crew work in Boston, so decisions need to be made by 3pm. Also, email is not always accessible, but Facebook or text messages are." You're right. Text messages are more immediate than email, and 3PM is about as late as Boston commuters can receive it. We'll see what we can do about this.
Finally, the last word this week goes to old friend Jeremy Bloxham, who sent in this.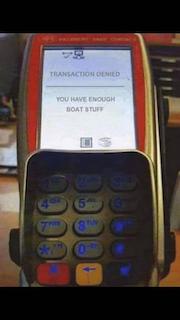 –kp (kpandapas@comcast.net)