Road To The Cup – Week 15
Top-10 for 2019
Six boats showed up for the final Twilight of the season. Here is this week's summary from John Casler's.
"The 2019 Twilight season finished with yet another in a string of beautiful evenings. The wind leading up to the start was out of the SE at about 5-7, and gradually weakened over the race, which was out to the nun off the Fort and then over to Can 1 off the Neck. Twice around was posted, but that didn't happen. Peter Sorlein, debuting in 41 and sailing with Marilyn Lamoureux nailed the start, with Ann Sousa in 1398 and Connie Blake and me in 1775 right behind. 1775 got past 1398 a few boat lengths from the mark, rounded first, and promptly got nailed on the wrong side of a shift. We tacked out of necessity, passed behind all of the fleet, and headed back toward the harbor in what seemed to be better pressure. Coming in to Can 1, we (1775) were on starboard and had our lead back. Plus 1398 and 2561, coming in on port, couldn't quite make the mark, which decided the race. The order and spacing of the three lead boats at both Can 1 and the finish were as they had been at the first mark, 1775 winning, with 1398 right behind, and Walter Colsman single handing in 2561 right behind them. Then Team Martini in 1446, Jocelyn Cook in Calgon, and Peter Sorlein in 41 in that order. The wind was dying on the close reach back into the harbor, and the RC shortened to once around."
So, congratulations to John Casler & Connie Blake on the bullet, Ann Sousa in 2nd and Walter Colsman in 3rd, with honorable mentions to everybody else, particularly Perter Sorlien who finally got that beautifully restored old bucket of his out on the starting line! Congratulations to all.
As mentioned, that closes the book on both the 2nd Twilight series, as well as our 2019 Twilight overalls, the winner of which earns the coveted Charlie Barr Trophy. Starting with Series 2, taking 1st with 14 points over 6 races and one throw-out was Team Martini. Well done. Taking 2nd just two points back was John Casler with 16 points, and taking 3rd was Ann Sousa with 18 points. Honorable mentions to Walter Colsman in 4th with 19 points and Stefan Thibodeaux in 5th with 23 points. Congratulations to all.
The Twilight overalls are calculated on total points by adding up the two series' final scores. This year, that included just three races in Series 1 and six in Series 2 for a total of nine races sailed, with one throw-out in Series 2. Taking 1st and winning the 2019 Charlie Barr Trophy was Team Martini with 26 points – 12 in Series 1 and 14 in series 2. They've won Twilights multiple times in years past, but with a line that usually includes a few bullets. This year, they did it with determination and consistency. Well done. Taking 2nd was Walter Colsman with 30 points, including 11 in Series 1 and 19 in Series 2. Most impressive about Walter's accomplishment is that he pretty regularly sailed solo, which may not seem like a big deal to laser sailor, but earns a tip of the cap from me. And taking 3rd overall was John Casler with 31 points (15 & 16), hard fought and well deserved. Honorable mentions go to Ann Sousa in 4th with 36 points and Steve Uhl in 5th, also with 36 points. Worth noting about Steve's 5th is that work and life prevented him from sailing any of Series 2, which tells you a little about how dominant he was in Series 1. Congratulations to all. Here are the 2019 Twilight scores.
Out on the MRA line, ten boats showed for our Labor Day Regatta, including nine on day 1 and seven on day 2. As with last year, that's a lighter turnout than I would have expected for a beautiful weekend on the final MRA series of our short season, though I get that we all have competing priorities. In fact, even Team Pandapas was forced to miss day 1 in a rare day off to deliver their son back to school.
Conditions included a dying westerly on day 1, but I can't give you a lot more detail than that as I wasn't there. Whatever it was, it was very much to Team Lane / Heffernan's liking, as they rolled a 1-5-1 for 7 points to win the day. I could be wrong, but I think those two bullets were the first of the season for these guys, so well done. Taking 2nd on a tie breaker was Team Frisch / Hourihan /Burke, who put up a 3-2-2, also for 7 points. And finishing 3rd Team Fava / Nash, sailing with young Ben Fava, put up a 2-1-DNS (6) for 10 points. Honorable mentions to Team Rubin in 4th with a 4-3-3 for 10 points and Eric Thornton in 5th with a 6-4-DNS (6) for 16 points.
Day 2 started with a shifty easterly in the range of 12-13 and moderated as the day wore on. The direction was about 80 degrees and it gradually clocked to around 110. As usual, current was a factor, but less so than the 10-15 degree shifts. Winning the day on a tiebreaker was Team Pandapas, who rolled a 3-1-1 for 5 points. Taking 2nd was Team Lane / Heffernan with a 1-2-2, also for 5 points, and finishing 3rd on a tiebreaker was Team Rubin / Thibodeaux with a 4-4-3 for 11 points. Honorable mentions go to Team Frisch / Hourihan in 4th with 2-3-DNC for 11 points and Team Martini in 5th with 5-5-4 for 14 points.
So winning the series was Team Lane / Heffernan, who finished with 7 points after throw-out over the six races. Taking 2nd was Team Frisch / Hourihan with 12 points and finishing 3rd was Team Rubin / Thibodeaux with 14 points. Honorable mentions got to Team Pandapas in 4th with 20 points and Team Fava / Nash in 5th with 22 points. Congratulations to all.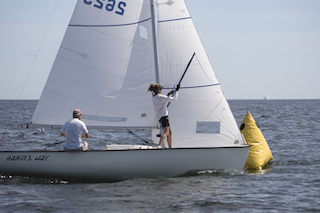 As I write, the MRA overall scores are not yet posted, so the following is unofficial (but probably right nonetheless). Taking first across the four MRA series with 83 total points was Team Frisch / Hourihan / Burke. They not only sailed consistently well, but they put together a Swiss army knife program that put a competitive team on the water every week. Well done. Taking 2nd with 91 points was Team Taylor who had a dominant season, and may well have won had they not given into the temptation of a vacation that left their boat on the mooring for the final series. And finishing 3rd with 93 points was Team Pandapas. Honorable mentions to Team Lane / Heffernan in 4th with 111 points and to Bill Heffernan in 5th with 125 points. Congratulations to all. The unofficial 2019 MRA scores are below.
Finally, in cup competition, these rankings also are also preliminary because we haven't confirmed the MRA scores yet. As a reminder, Cup scoring includes Spring Series, MRA, Race Week and Twilights. Congratulations to our new Fleet 5 champions, Team Taylor, who finished with 195 total points to earn the 2019 Nick Nichols Trophy, and perhaps more importantly, a year of bragging rights. They managed to hold onto their significant lead despite spending 36 points on a Series 4 DNC. That is testament to how well they sailed this season. Very well done. Finishing 2nd was Team Frisch / Hourihan / Burke, just five points back with 200 points. Team Taylor may owe them a beer for taking that final DNC in the last race of Series 4. And finishing 3rd was Team Pandapas with 225 points. Honorable mentions go to Team Lane / Heffernan in 4th with 259 points and Team Cooke / Kaznoski in 5th with 275 points. Congratulations to all. The complete season rankings are listed below.
Regrettably, that wraps up our short season. Many thanks to the three clubs, the dedicated volunteers of the MRA and the legions of dedicated race committee folks who volunteered their time and experience so we can play.
With the end of the sailing season regrettably comes the end of these weekly RTTC emails. I know – a bummer, right? But now you have another reason to look forward to next season. You should know that, although I sign these, getting them out every week is a team effort. Huge thanks to John Casler for keeping us informed each week about Thursday nights, as well to Jocelyn Cook who sends in a constant stream of pictures. Thanks also to my better half, Christina Pandapas, who does the important job of keeping me out of trouble with questions like, "Geez, are you sure you really want to say that?" And thanks to Fleet Secretary Jeff Shoreman who takes time out of his Sundays to mail them out, as well as to Nat Taylor who posts them to FB and the Feet 5 web site. I offer them all an appreciative tip of my cap, and I urge you to thank them when you see them.
The next full newsletter will come out whenever El Jefe gets around to it, but I'd guess sometime before our awards party in November.
There will be a couple more days of racing in Sonars (see below) sponsored by CYC. There are also will be a few more days of booth racing (see below). Beyond that, our next season will begin with the two days of Spring Series on Saturday and Sunday, May 23-24, 2020. Have a great offseason.
Other News, Notices & Miscellaneous Scuttlebutt
Thanks to Sloan & Charlie Pendleton – Huge thanks to Sloan & Charlie Pendleton for opening their home to us on Saturday night. Thanks also to Larry Ehrhardt for making sure we all had enough to drink.
CYC Fall Sailing – The CYC is planning to run two Saturdays of racing this fall on 9/7 and 9/28. The event is open to all sailors but because it is being sailed in club-owned Sonars, skippers must be members of a participating club. Here is a synopsis of the details pieced together from an email from Joe Fava to CYC members. SIs are attached.
The Corinthian Sailing Committee will be sponsoring two Saturdays of fleet racing in Sonars on Saturday September 7th and Saturday September 28th. Why sonars? Interest across the MRA fleets was low for the fall series. By combining into a common fleet, we believe we can get good numbers and provide a great sailing experience. This same message is going to the Boston and Eastern as they are invited to join us. Talk it up with your EYC and BYC friends.
Racing will include short course college style races run close in to the harbor by CYC sailing director Kevin Dooley. CYC members can get more information, sign up and reserve their boat by contacting Kevin Dooley at kdooley@corinthianyc.org.
Fall Booth Racing – The Town Class has generously included a Rhodes start in its Fall series.
The series started Saturday August 24, with additional races on days on Monday September 2 and four Saturdays September 7, 14, 21 (harbor race due to team race outside) & 28. Like the Sunday morning series, these races will not be scored by Fleet 5.
Sportsmanship Final – There were no spins again this week that we know of, so no changes to the standings. Team Lane / Heffernan take the trophy (whatever that may be), so thanks to them and to all for your sportsmanship. The final spin counts are below.
MRA Awards – The MRA has scheduled its annual awards party for Saturday September 28th at 6:30pm at the BYC.
Fleet 5 Awards – Our fall awards party will be held on November 16th, again generously hosted for second year in a row by Wendy & Peter Frisch. Circle the date.
Mini-clinic videos – You can find the clips here.
Mail Bag
Peter Sorlien wrote in with this about his fist MRA series as a skipper. "I want to thank everyone for their patience during the Labor Day regatta. I had always wondered what the bossy guy lounging in the back was doing, and now I am beginning to learn – just beginning. Last Thursday's twilight was the first race I have driven, and Sunday was my first experience driving with a spinnaker up (Marilyn Lamoureux, who had never been in a sailboat race before, drove the leeward legs on Saturday). We are deeply grateful to Yati Harsono for sailing with us on Sunday, and teaching us a lot more." Thanks Peter. Awesome that you finally got out to the starting line. We can't wait to see you back out there in the Spring Series.
Jocelyn Cook was out in a motor boat taking pictures on Saturday and took the photo of Team Lane / Heffernan above. You'll find more of them here.
Finally, Rick Berliner sent this in after Saturday's racing. "On our way in after 2 races today, Jess and I encountered this ocean sunfish around the other line's top mark. It was about 4 or 5 feet in diameter. I spent the rest of the ride in quoting that guy from 2015 who made a video screaming about one in Boston Harbor."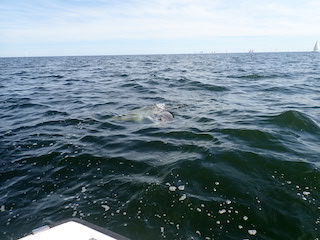 –kp (kpandapas@comcast.net)