Road To The Cup – Week 1
5/24/20
Happy Memorial Day.
As you know, there was no racing this week. For what it's worth, this marks the first Spring Series in 25 years that 982 has missed. Truth be told, as hard it was blowing on Saturday (NE 20 with gusts in the high 20s), I'm not sure there would have been racing. And if there were, I may just have weenied-out and stayed home. Big breeze and big seas are always a tough way to kick off the season (though you find out pretty fast what you rigged wrong!). Anyway, aside from the chilly temps, Sunday was a perfect sailing day, 12-13 NE and trending right all day.
Reasons for optimism are springing up everywhere. The weather is warming up, the harbor is filling, fishing boat sightings are on the rise, the clubs' waterfronts are opening and I even spotted a R19 sailing out of the harbor the other day. All good, right?
As of this writing, there is not a lot new to report on the start of racing. We know there will be no organized sailboat racing in the Governor's Phase 1, which will last at a minimum through June 8. That kills the Twilight scheduled for June 4th as well as MRA 1-2 on June 6th, though as of this writing, neither of those cancellations are reflected in the MRA Schedule. MRA Chair Mark Toso sent out an update this past week, the core point of which was that he has empaneled a working group to develop types of racing that make sense while adhering to governmental restrictions. That group currently is working to figure out what if anything we might do on the first couple of post-phase 1 MRA Saturdays in June (June 13th, and June 20th). Godspeed to them, and we'll keep you posted. We also know that EYC and MRA are working with MarkSetBot (US Sailing has a JV with them) to experiment with the possibility of using robotic marks. That has the potential to reduce patrol boat work, which could help ease RC staffing during this period.
Fleet 5 leadership met this week and made a few decisions pertaining to the 2020 season. First, we decided to eliminate dues. Our costs are certain to be lower in this truncated year, and Treasurer Dave Reynolds tells us we're in solid enough financial shape to absorb a small loss. So when registration does open, please register, but know that it won't cost you anything.
Second, we decided to suspend series scoring for the season. Given the uncertainty around when racing can start, what series will be sailed, how races will be run and who will be able to sail them, the group concluded that series scoring simply doesn't make sense. Results would be filled with asterisks, and in this challenging year when so many things have been brought into perspective, it seems to miss the point. So that means Fleet 5 will not track series or Cup scores, award no series trophies and importantly, award no Nick Nichols Trophy (aka the Cup) this season. We will, however, stay on top of who wins the day and make sure you hear about that each week. We'll also plan on some kind of day prizes, which assuming we can have an awards banquet at year end, we'll hand them out then (along with Hacker and the other perpetuals). Several folks have come up with some creative Day prize suggestions so we'll keep you posted.
Third, although the fleet party on May 30 has been cancelled, we've decided to hold a one-hour Zoom cocktail party from 5-6pm that evening to give us all a chance to see each other and say hello. Details are below.
Finally, the Nationals Regatta Committee will meet on Monday, June 1 and decide the fate of nationals this year. We'll let you know the outcome next week.
So in Cup competition, we of course remain all tied up and that's how it will stay. We're all winners here. The table below, by the way, reflects several additions who we inadvertently left out last week, including old friend Rob Ferro, who we understand will be sporting a new mast.
| | | | | |
| --- | --- | --- | --- | --- |
| 1st | 41 | | Peter Sorlien / Stefan Thibodeaux | 0.00 |
| 1st | 722 | | Team Shoreman / Reynolds | 0.00 |
| 1st | 769 | | Rob Ferro | 0.00 |
| 1st | 982 | | Team Pandapas | 0.00 |
| 1st | 1015 | | Tom Dailey | 0.00 |
| 1st | 1137 | | Chris Adam | 0.00 |
| 1st | 1210 | | Team Frisch / Burke / Hourihan | 0.00 |
| 1st | 1217 | | Timmy Dittrich | 0.00 |
| 1st | 1299 | | Felton, Conway & Alex | 0.00 |
| 1st | 1316 | | Team Fava / Nash | 0.00 |
| 1st | 1343 | | Ben Richardson | 0.00 |
| 1st | 1398 | | Sarah Sheldon / Ann Sousa | 0.00 |
| 1st | 1466 | | Team Martini | 0.00 |
| 1st | 1496 | | Team Bloxham | 0.00 |
| 1st | 1680 | | Chris Small | 0.00 |
| 1st | 1683 | | Matt Hooks / Rob Pascal | 0.00 |
| 1st | 1686 | | Jocelyn Cook | 0.00 |
| 1st | 1775 | | John Casler | 0.00 |
| 1st | 1782 | | Team Noble | 0.00 |
| 1st | 1790 | | Team Cormier / Dalton | 0.00 |
| 1st | 1819 | | Eric Thornton | 0.00 |
| 1st | 1925 | | Tim McCaffrey | 0.00 |
| 1st | 1926 | | Team Taylor | 0.00 |
| 1st | 1939 | | Team McNamara | 0.00 |
| 1st | 2435 | | Larry Ehrhardt | 0.00 |
| 1st | 2495 | | David Rubin | 0.00 |
| 1st | 2561 | | Walter Colsman | 0.00 |
| 1st | 2585 | | Steve Uhl | 0.00 |
| 1st | 2590 | | Team Berliner | 0.00 |
| 1st | 2623 | | Team Lane Heffernan | 0.00 |
| 1st | 2648 | | Team Cooke / Kaznoski | 0.00 |
| 1st | 2692 | | Bill Heffernan | 0.00 |
| 1st | 3172 | | Dave Nelson | 0.00 |
Week 2 racing has been cancelled. There will be no Twilight on Thursday evening, and no MRA 1-1 on Saturday.
Other News, Notices & Miscellaneous Scuttlebutt
Fleet 5 Spring Party on May 30th Goes Virtual– Our spring party, which was to have been hosted by Christina & Kim Pandapas, has been cancelled. However in its place, we will hold a Zoom cocktail hour. If you want see old friends and say hello, plan to sign on. Also if you have thoughts or suggestions on how we might better navigate this environment, this could be a good place to mention them. And of course, don't forget to BYOB! Stefan Thibodeaux has generously offered to be master of ceremonies. Details are:
Fleet 5 launches New Facebook Group – The Fleet is excited to announce the launch of the Fleet 5 Facebook Group. It's a private page which you can post to. Unlike the Fleet 5 official page, this group allows for more informal posting of pics, questions and crew requests etc. Nat Taylor is the architect and writes this blurb.
"We are pleased to announce the creation of the Fleet 5 Facebook Group. Keep following our page Rhodes 19 Fleet 5 for announcements, but use this group for Fleet 5 discussion including photos, tuning questions and crew requests/offers! Posting of new topics is open to all members and of course anyone may comment/reply. This is a "private" group, so only members can see who's in the group and what they post. Please keep it Fleet 5 related and family friendly!"
Fleet 5 is Growing – And speaking of Nat Taylor, we're excited to share that Amanda & Nat Taylor look forward to welcoming an addition to their family on August 15th. And at the risk of stating the absurdly obvious, that will make Jim & Anne Taylor grandparents. El Jefe a grandpa – imagine that. Congratulations to all. Covid issues aside, I'm wondering who Jim planned to sail with in August because it sure as hell wasn't going to be Nat! Now I understand why he has been talking so much about single-handing.
Welcome to Bill Lynn – We understand that Bill would like to charter a Rhodes this season and sail it with daughter Hannah Lynn. How awesome is that? If anyone has thoughts on a good boat for him, or are interested in chartering out a boat for the season, let me know or reach out to Bill directly at bill@porttackstart.com.
Rolling Out the Red Carpet – In an absurdly shameless bit of self-promotion, it occurs to us that the 2-person (sometimes 3-person) Rhodes 19 could provide a viable racing solution to members of other classes wanting to sail with just family members this season. If that describes you, let us know how we can help. Feel free to reach out to Kim Pandapas (kpandapas@comcast.net), Jim Taylor (ajtaylor8@verizon.net) or Elise Nash (elise.mazareas@gmail.com).
Fleet 5 Masks – We got a great branding suggestion from Julianna Thibodeaux. She suggested that we make Fleet 5 masks, adorned with are logo. We love the idea and are on it, and will make sure everyone registered (and their crews) get one.
Fleet 5 Racing in DF 95s – We may not be racing Rhodes just yet, but some of us are still racing. Check out Team Pandapas in rumble mode bearing down on Steve Uhl hoping to gain a controlling position before we both tack out for the lighter, more fluky right side. (By the way, Steve kicks my ass every time.)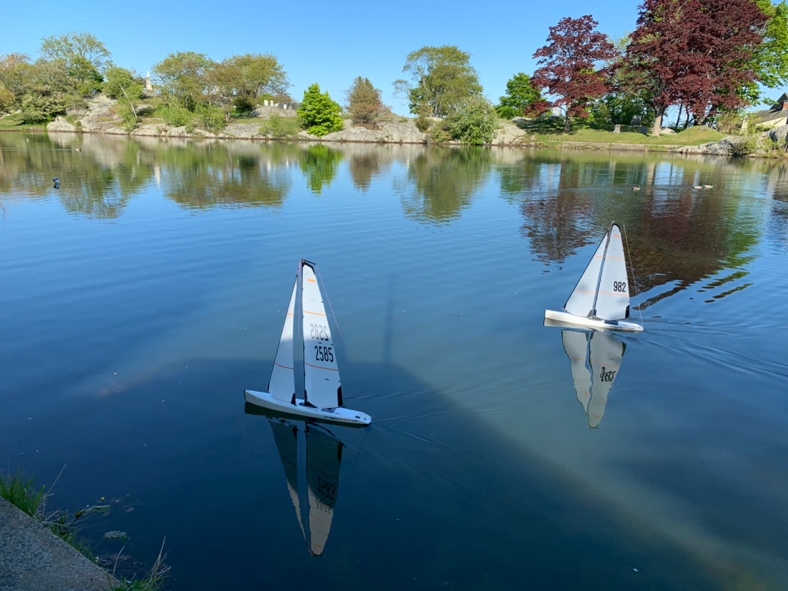 Mail Bag
In response to the idea of Cup scoring being all tied up, Tim McCaffrey wrote this, "Feels great to be tied for first, finally." Well Tim, looks like you're going to finish the season in 1st too. Congrats.
Sarah Sheldon had a question about life jackets. "We need to replace our life preservers. Are inflatables allowed by the fleet? Do you have a recommendation of a brand." If they are Coast Guard approved, I'm sure they're fine. If anyone has anything to add, please reach out to Sarah at sarahsheldon@comcast.net.
MRA Chair Mark Toso wrote to get on our Cup distribution list. "Hi Kim
Please add me to your list. Thanks…smile…practice a simple kindness….." Words to live by.
Martha Martini wrote in with a suggestion for another year-end trophy. "David suggested that one of our gag prizes at the end of the year be for "Best Mask!" Thanks Martha and David. Nice thought.
Heather Kaznoski liked the sunrise photo of Thirst. "Absolutely fantastic sunrise photo and catching Thirst coming into the harbor too. Thank you for sharing with the fleet. Hope that everyone is doing well."
Finally, apparently Elise Nash wants to do a little solo sailing this summer so sent in a text looking for a Laser. If you know of one for charter, let her know at elise.mazareas@gmail.com. Anyway, she included in her Laser text the photo below with the caption, "my giant child wearing my adult sized hat." Big head for sure!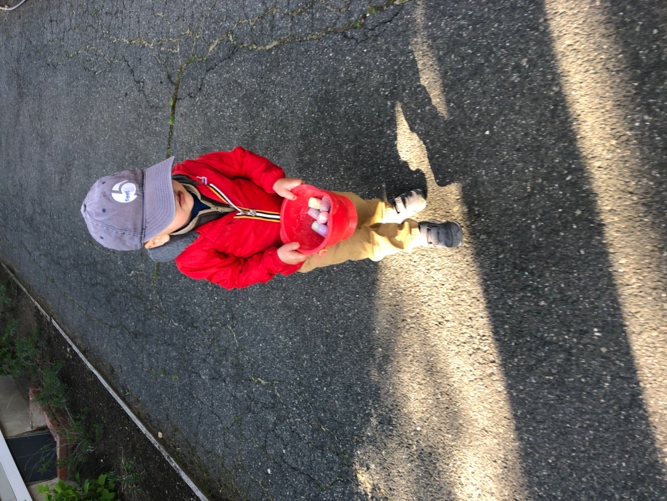 –kp (kpandapas@comcast.net)