Road To The Cup – Week 8
7/12/20
There was no racing this week, but there will be next week – finally. The hardworking folks at MRA have been burning the midnight oil combing through the guidance, with its myriad of definitions, cross references and subtle distinctions. In the end, this boiled down to a couple of key factors: how many sailors would be onboard, and were they competing in a competition or a tournament. At the risk of oversimplifying, a competition is a day of racing unrelated to any other days of racing. A tournament is a series or regatta. Under the Phase 3 guidance, one-person boats are permitted to sail both, which is why Junior Race Week will go forward as planned, but with just Lasers and Optis. Boats with 2-3 people can only sail competitions, no tournaments. That enables MRA to run a bunch of Saturday races, but not in the context of series. Unfortunately, and as you probably saw, that also puts a stake through the heart of our 2020 Race Week, because that is most certainly a tournament. If you didn't see NOOD's announcement, here it is.
It is with disappointment that Organizers of the Helly Hansen National Offshore One-Design Regatta series in conjunction with Marblehead Racing Association have to cancel the 2020 edition of the NOOD at Marblehead Race Week. The Massachusetts Reopening Standards released on July 6th, restrict the ability for the event to continue at this time. A few weeks ago, the event was postponed in anticipation of eased COVID-19 regulations, however the restrictions were not eased enough to include the NOOD, hence today's cancellation.
NOOD has been incorporated with Marblehead Race Week for over 20 years so the decision to cancel was not made lightly. All parties are now focused on planning the July 2021 regatta and Sailing World and the NOOD Regatta management team look forward to returning to Marblehead to continue the long-running tradition of high-quality racing and nightly socials.
So, where does that leave us? Starting this week, booth racing will commence on Thursday with the Twilight. You'll find the schedule here, the Twilight SIs here and the Sunday Morning SIs here. There also will be booth racing on Tuesday evenings, but I haven't seen the SIs for those yet. MRA racing will commence this Saturday 7/18 and run through Saturday 9/26, which is 11 full days of sailing rebranded as Summer – Day 1-5 and Fall – Day 1-6. You'll find the update NOR/SI here. You'll have to register to sail, though MRA dropped the registration fee to $50 for the season (a bargain at twice the price).
Suffice it to say that as hard as this has been for all of us, it's been harder for those trying to comb through gaggles of pages of regulations and guidance to put it all together. This herculean effort has involved countless emails and Zooms, not to mention ongoing interactions with the board of health and harbormaster. Next time you run into any of the hardworking folks of MRA, please be sure to thank them.
So in Cup competition, Team Sorlien/Thibodeaux continue to hang in there.
Week 9 racing will include a Twilight on Thursday evening, the MRA Summer – Day 1 on Saturday and the CYC Cooke Sunday Racing on Sunday morning.
Other News, Notices & Miscellaneous Scuttlebutt
Welcome Anne Marije Veenland! – Laser sailor Anne Marjie Veenland, who has crewed periodically for Team Taylor, just bought a R19 in the 2600's from Jim Ouilette. The boat has been sitting unused in a Manchester backyard for +/-35 years, so like all of our boats, needs a little work. Welcome to Anne Marjie and please let us know how we can help.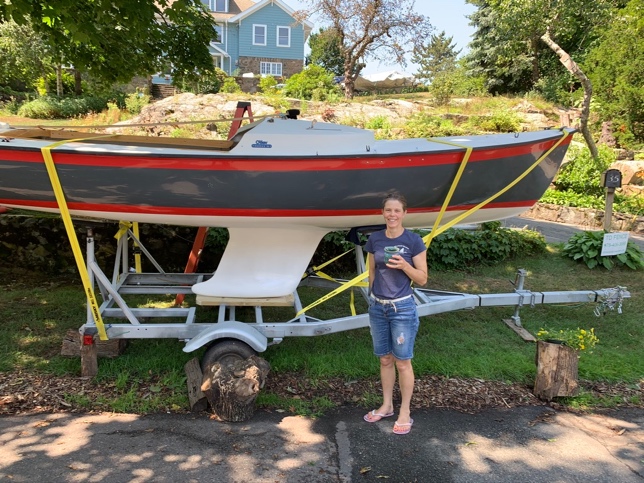 Team Taylor Shakedown Cruise – You could just feel the food vibes emanating from Jim Taylor, even from a half mile away. I imagine Timmy Dittrich was having fun too.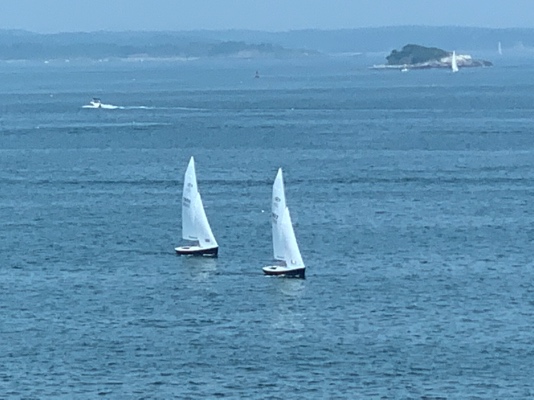 Possible Coaching Day – Now that we're sailing again, Jim Taylor and CYC Sailing Director Kevin Dooley are conspiring to gin up a Fleet 5 coaching day. There is nothing definitive yet, but we'll keep you posted.
CYC Adding DF 95 Series – Thanks largely to the efforts of Kevin Dooley, the CYC is planning to run a Friday night DF95 series starting 7/17. They plan to race 5:30-7:30 or until people get bored. Details are forthcoming, but depending on tide, the plan is to sail in the basin West of the crane pier. Say tuned.
Mail Bag
We got this comment from Tom Dailey on a comment in last week's edition. "'Thankfully it's all moot.' Great line – would make a good boat name." I don't disagree, but it would pretty far down my list.
Tom also is recommending that Fleet 5 institute a Fleet 5 'What's App' chat to enable immediate announcements, member to member communications, and possibly a little trash talking. "Let's start that WhatsApp chat – very democratic way to facilitate fleet dialogue." Fleet leadership is thinking about it, as it would enable race day communication between folks launching from different places when the conditions are iffy. If you have a view on that, send it to me at the email below or to Elise Nash at elise.mazareas@gmail.com.
Finally a little trivia. Which active sailor holds the record for most Twilight races sailed? Kind of an easy one right. This from John Casler. "I have a record which I want to maintain intact, of having done more Rhodes Twilight races by far than the next 3 skippers combined." Honestly, did we really have to ask? I guess we know where to find John this Thursday evening.
Let's be safe out there. Please don't let down your guard.
–kp (kpandapas@comcast.net)