Road To The Cup – Week 11
8/2/20
The Twilight on Thursday was a washout. Prior to racing, the boats in the harbor were all pointing in one direction, but that was only due to a strong incoming tide because there sure wasn't enough wind to do that. On top of that, thunderstorms were forecast for right around race time. Here are the details from our man on the scene, John Casler.
"The forecast was dubious, but the actual conditions half an hour before the start were worse. With about 20 minutes left, a slight breeze did fill in out of the northeast, maybe 2 knots, gusting to 2 1/2. With an incoming tide. In this race depleted summer, that was enough to tempt eight Rhodes to try their luck. The RC posted "21", the can at the mouth of the harbor, twice around. This was, or might have been, a square beat, with the line almost square to the wind. At least by Twilight standards. Alas, it was not to be. The first three or four minutes of the race were excruciatingly slow, with boats spread out all across the line. I was happy with my position furthest over toward the fort, and was last to tack. It didn't look bad, until Jubilee Yacht Club came across on the radio talking about winds up to 35, and hail. CYC RC abandoned. So far as I could see, everyone in our area at least made it back to their moorings before it hit. I do not know about anyone further down the harbor, though." So, a good call by the RC to abandon and get boats back safely, and congratulations to all eight teams for making the effort. Hopefully it goes better next week.
By the way, Rob & Jen Ferro were one of the boats that managed to make it back to their mooring before the storm hit. They rode it out there and posted this video on FB. Timmy Dittrich sent in this additional color, "Children's recorded 47 mph at the height of our wonderful evening," and Amy Hourihan posted on FB that they saw 65 knots at Fort Sewall.
Incidentally, two teams showed up Thursday night to sail Sonars, including Team Bad Hombres (Charlie Pendleton, Jim Raisides & Bruce Durkee) and the still boat-less Team Pandapas. It's kind of a toss-up as to who came out on top there. Team Pandapas pulled the plug first, and in fact showed up to the club without sailing gear. The Three Amigos hung in there longer, but after seeing a big red blip on the weather radar, headed straight up to dinner without even setting foot on the pier. We'll give it to them on the tiebreaker of actually getting a short notice table on the porch. Here's a shot of the winning team.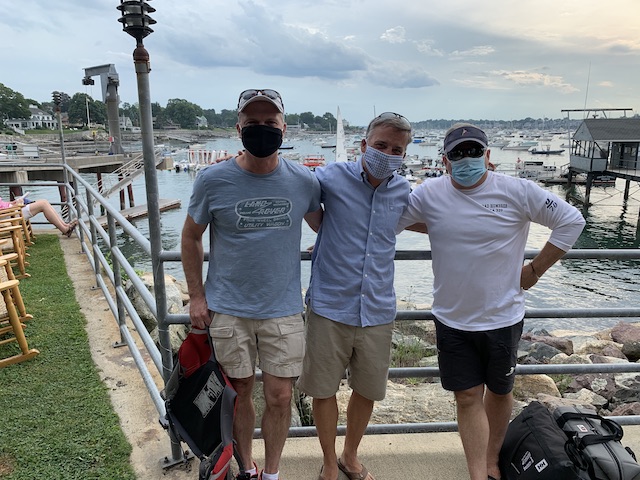 Out on the MRA line, the Chamber of Commerce outdid themselves, serving up the most perfect New England summer day, featuring warm temps, blue sky and a modest southeasterly. The forecast called for a sea breeze, and that's what we got, though it wasn't all that well-behaved with 30-degree oscillations and pretty impactful pressure differentials. Left paid in race 1 and right in race 2, due primarily to a righty with pressure.
Eleven teams came out to enjoy this perfect day, including season debuts for Team Colsman, Evan Cooke reestablishing the dangerous team of Cooke / Kaznoski, Christina Pandapas sailing with Jocelyn Cook and the junior Team Uhl of Clark Uhl & Adeline Sutton. Adeline is a rising senior at Cornell, and just named All-American crew. She and Clark sailed together for a couple of years in college, and it showed. They are formidable. Here is a shot of our next generation of Fleet 5.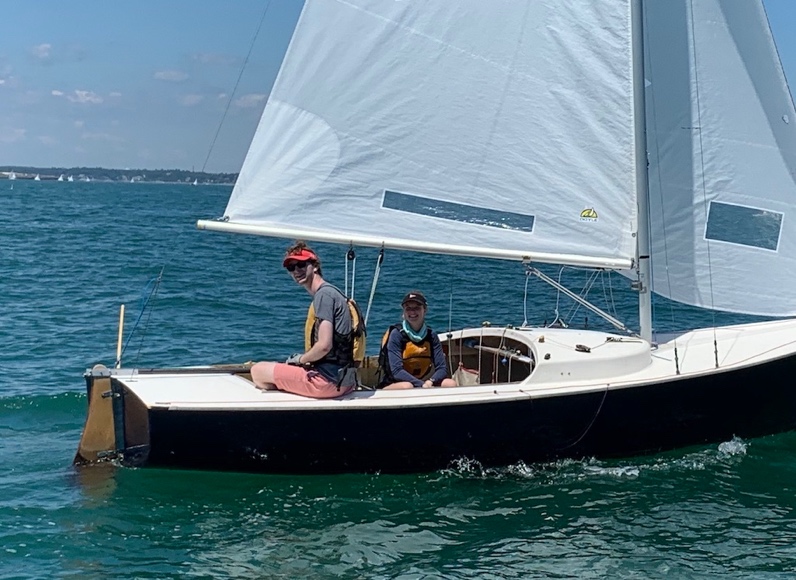 So, taking 1st on the day with a 3-1 for 4 points was Eric Thornton sailing with Stan Schreyer. Well done. We have been remiss in not pointing out that Stan has been sailing with Eric all season. If you don't know him, Stan's resume includes coaching the sailing team at Boston University and working for North Sails. Welcome Stan, and congrats to Team Thornton / Schreyer. The bullet in race 2, by the way, was a horizon job by getting every bit of that righty with pressure. Take a look. You'll notice that some of the boats in the background are Rhodes.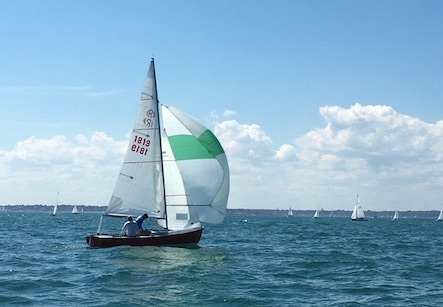 Taking 2nd on a tiebreaker was the reunited Team Cooke / Kaznoski, who rolled a 1-4 for 5 points, and taking 3rd was Team Frisch / Hourihan with a 2-3, also for 5 points. Honorable mentions go to Team Uhl in 4th with a 4-2 for 6 points, and Team Sheldon / Sousa who took 5th on a tiebreaker with a 6-5 for 11 points, narrowly beating Team Cook / Pandapas who rolled a 5-6, also for 11 points. Congratulations to all.
By the way, I want to give a shout-out to John Casler, who sailing solo, rounded the top mark of race 2 in 2nd, drawing a rousing ovation from everyone in the spectator fleet. Here is shot of that rounding with the competition in the background.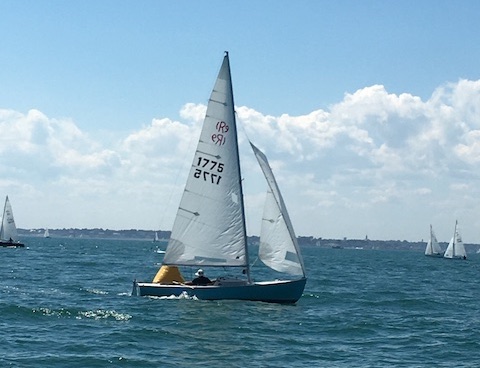 So, in Cup competition, it should go without saying that we're still all tied up because as you know, there will be no season scoring this year. But the table below has been updated to include all of the relevant stats. In the all-important category of races sailed, Team Cooke / Kaznoski takes a 1-race lead.
Week 12 racing will include a Twilight on Thursday evening, MRA Summer – Day 4 on Saturday and morning booth racing on Sunday.
Other News, Notices & Miscellaneous Scuttlebutt
Who Wants To Race In The Ted Hood? The idea has been floated to add a Rhodes start to this year's Ted Hood Regatta, which is typically a PHRF event that also includes 1-2 bigger one-designs. This three-day event will be held Friday August 21-Sunday August 23. They have generously offered to give the Rhodes a start this year, but first need to know if and how many boats might show up. If you would definitely sail, please email me at kpandapas@comcast.net by no later than Monday night.
More Sails For Sale – You'll recall that Steve Uhl has been cleaning out his sail inventory and had a few jibs he was willing to part with. Here is the status. "2 jibs sold 2 to go." Awesome. Sounds like business is brisk. If you need a Thursday night jib, give Steve a shout at steve@macwayuhl.com.
In Need of Crew? – If you're looking for a guest crew sometime this season – Rusty Morrison of our sister fleet in Portland ME is looking to hop a ride sometime – and see what racing in Marblehead is all about. Contact him at rmorrison1214@gmail.com.
NOOD Swag Update – Jim Taylor is working to distribute the NOOD Swag, so some of us can expect to hear from him at some point. He took inventory and sent in this. "The swag bags include: 3 Mt Gay 'NOOD 2020' hats, 1 Sailing World magazine, 1 neck gaiter, 1 bottle opener, 1 North service promo and 1 croakie." Can always use a bottle opener.
Marblehead HarborMoor Boat Registry – Former CYC Commodore Rob Howie wants R19 sailors to know about the HarborMoor directory of all 2,000+ boats in the harbor, especially R19s. Here's the pitch. "HarborMoor is Marblehead's premier online boating community celebrating the people, boats, and service providers which make Marblehead a world-renowned sailing capital." The directory gets more robust with every update, so Rob is hoping you'll sign in and update your boat. If you want to learn more, contact Rob at rlhowiejr@gmail.com. And be sure to check out the HarborMoor Blog profiling Jim Taylor.
Mail Bag
Jim Taylor took issue with our treatment of his win last week (in jest, of course). Here is what he had to say. "Hmph. Yati and I win a challenging day going 2-2 in our second day of racing together two up, including coming back from OCS in Race 1, and all we get is a perfunctory 'well done'." Well, I suppose I could have been a bit more effusive, but hey, everyone gets the 'well done,' right? I think the issue is that I usually add in an extra sentence of commentary for the day-winner, and didn't this time. My bad, so I'll do it now. Those guys sailed very consistently in really fluky, inconsistent conditions. Well done!
But wait, there's more. "And then we're called out for a leisurely spinnaker hoist to boot! Well, 'called out' might be a little strong. The chute point was about Team Frisch / Hourihan's nice set, and Team Taylor just happened to be in the picture so was a convenient illustration of leisurely. I'd add that a lot of sets these last couple of weeks look leisurely compared to those of Team Frisch / Hourihan.
Jim offered this final point. "WRT my (not Yati's) OCS, a big apology is due to Timmy Dittrich, as I fouled him when going back to restart. At the time, since he was single-handing, I thought he was participating and tuning rather than racing. My bad."
Tom Dailey lobbed in this photo and a question. "So, do you think that sea breeze is going to come up tomorrow? If so I've got a move all this gear…" Dude, seriously?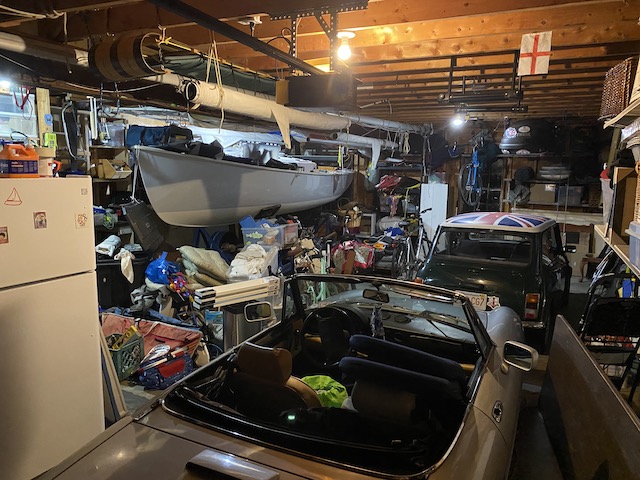 In reference to something on Jocelyn Cook's boat, Rick Berliner sent in this. "OK, I hope sometime a picture of the trio of rubber duckies affixed to Calgon's tiller makes it into a newsletter." Jocelyn Cook sent in this reply. "So funny. I'm sure we can make that happen. Who knows, maybe Kim snapped one today?" Nope, sorry. Don't know how I could have missed that. She adds, "Little fun fact, they always correlate to the number of crew aboard. Also not sure anyone could see from afar but my crew had matching rubber ducky mask made. Hey, if we have to wear them, may as well be fun." Can't argue with that.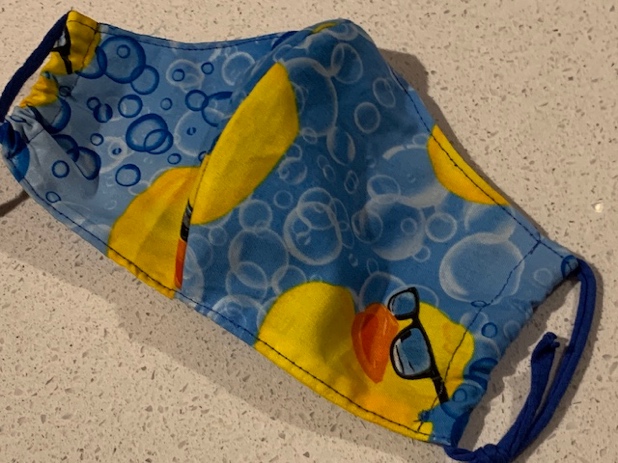 Speaking of fashion, we managed to get this shot of Team Colsman while they were rigging for the ill-fated Twilight, all decked out in their new Grateful Dead inspired crew gear. Take a look.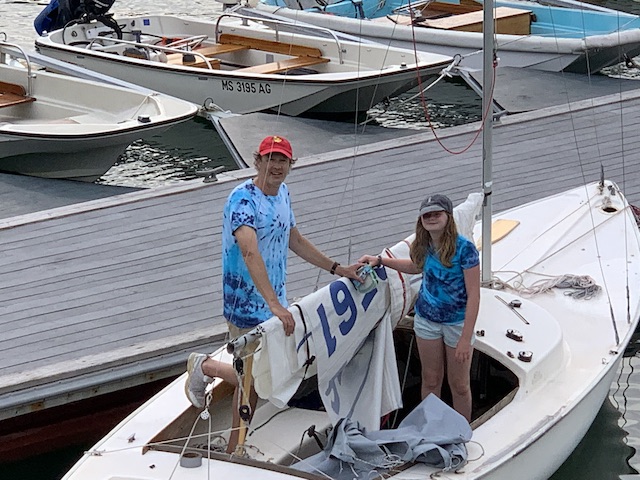 Finally, and also under the general heading of fashion, is this from Joe Fava, taken also on Thursday evening with photo credit going to Rob Ferro. It really does speak for itself.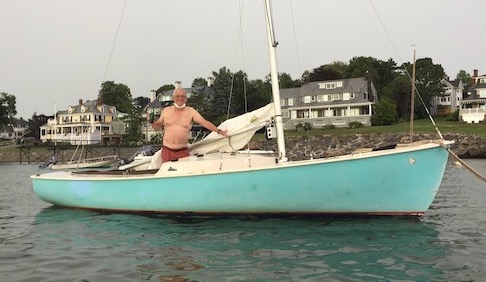 Let's be safe out there. Please don't let down your guard.
–kp (kpandapas@comcast.net)