Road To The Cup – Week 13 – Nationals Edition
Top 10 as of 8/22/21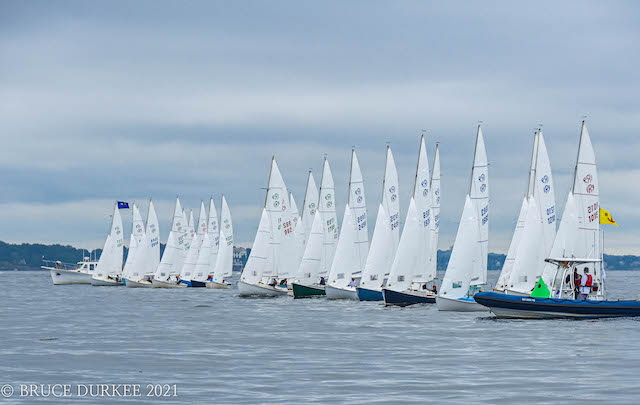 As you know, there was no twilight racing Thursday night, nor was there MRA. Instead we enjoyed Nationals week, which included a week of measuring, launching, making new friends, some great racing (including the practice race on Tuesday), and two fun parties, including a very festive party on Wednesday night hosted by Rebecca & Larry Ehrhardt at their home on Ballast Lane. Huge thanks to them for allowing tents, caterers, not to mention 80+ sailors to descend on their home. That's a huge deal and spectacularly generous, and we're very appreciative.
By most accounts, Nationals 2021 was a fun event, though it will go down as one plagued by uncooperative weather that reduced our expected 12-race regatta down to just five races (six with the practice race). After several days of perfect weather, including Monday through Wednesday, Thursday wound up a wash-out due to the remnants of tropical storm Fred, and Friday was a light-air day that barely mustered enough pressure to get in one race. Luck of the draw, I guess. I know you can't control the weather, but honestly, this summer has served up more than its share of washouts, including six straight Twilights, a day of Race Week and now this. Honestly, what is the probability of scheduling an August Marblehead regatta a year in advance that winds up threading the needle between two tropical systems separated by just a couple of days? It's probably greater than zero, but not by much. Just our luck, right? But I digress. Anyway, it would have been nice to have gotten in more racing.
This was a tight regatta. In a fleet of 31 boats, believe it or not, the top six positions were separated by just two points. One point separated 1st from 2nd and the next four finishers were all tied one point behind that. Pretty amazing, right? That's very competitive racing.
So let's get straight to the bottom line. Congratulations to Hull's Steve Clancy & Marty Gallagher for coming to Marblehead and pulling out a road win by beating the locals on their home field. They sailed well from start to finish, putting up a line of 1-4-3-(13)-9 for 17 net points, which was good enough to crown them our 2021 national champs. Steve's day got even sweeter as he snagged two of the regatta's perpetual awards, including the Robert Jenson Masters trophy, which goes to the highest finishing helmsman over the age of 60, and the Wet Bottom Trophy, which is awarded to the best finishing wet-sailed boat. All-and-all, a good day for Steve & Marty. Well done.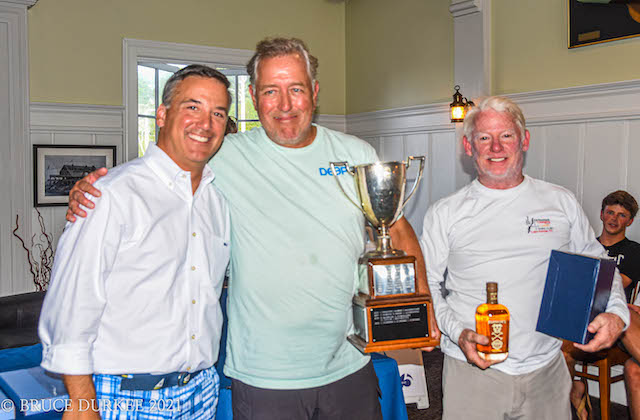 Taking 2nd was Team Fava / Nash, with a line of (13)-3-1-10-4 for 18 points, earning them the Norm Cressy Award, which was presented to them by old friend Norm himself. Their performance was all the more impressive considering that Elise Nash co-chaired the event and was certainly fighting through event distractions like daily awards, post-race social gatherings and whether the beer would be cold. Their fine performance also earned Joe the Don Quixote Trophy, one of the regatta's perpetuals, which is awarded to the highest finishing competitor who has never finished in the top five in a previous nationals. Congrats to Joe and Elise. After a 2nd in RW and now a 2nd in Nationals, I guess they'll probably decide to hang onto that green boat after all.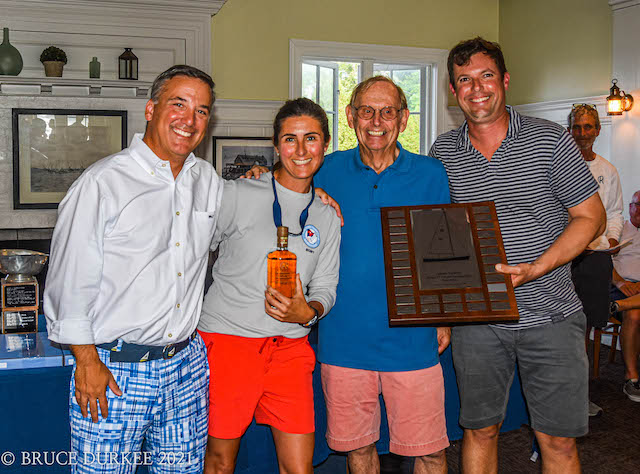 Finishing 3rd on a 4-way tiebreaker was Tom & Will Dailey, who posted a line of (11)-1-9-2-7 for 19 net points. They've steadily improved all season and clearly have now cracked the code. Congrats to them. That 3rd also earned Tom the Novice Trophy, a regatta perpetual awarded to the best finishing skipper who has never competed in a R19 nationals before. Well done.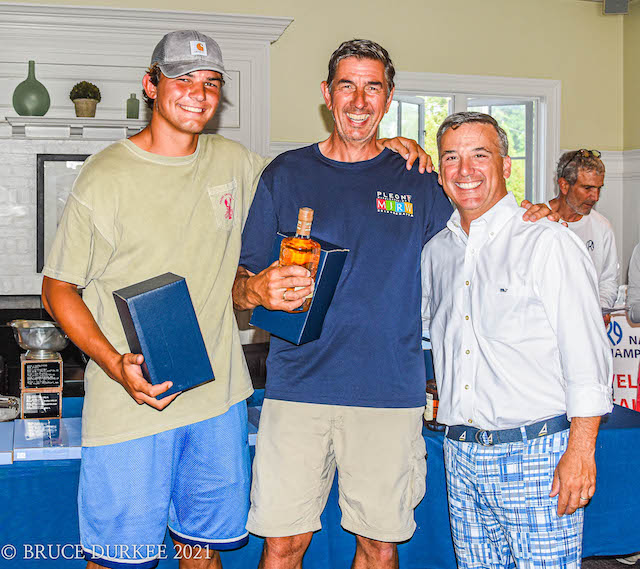 Taking 4th with a line of 2-8-5-4-(16), also for 19 net points, was Team Taylor. They held the lead going into the final day and I'm sure saw no apparent upside to a final race in Friday's 4-5 knot conditions, but they sailed great and would likely have won had they not been forced to restart Race 5. And finishing 5th was Team Pandapas, who rolled a 4-6-7-(12)-2, also for 19 points. Honorable mention to the final 19 point finisher, Team Cooke / Kaznoski, who took 6th with a line of 6-(17)-4-3-6, and was awarded Sailors For the Sea trophies by former CYC Commodore Rob Howie. Congratulations to all. You'll find the rest of the scores here.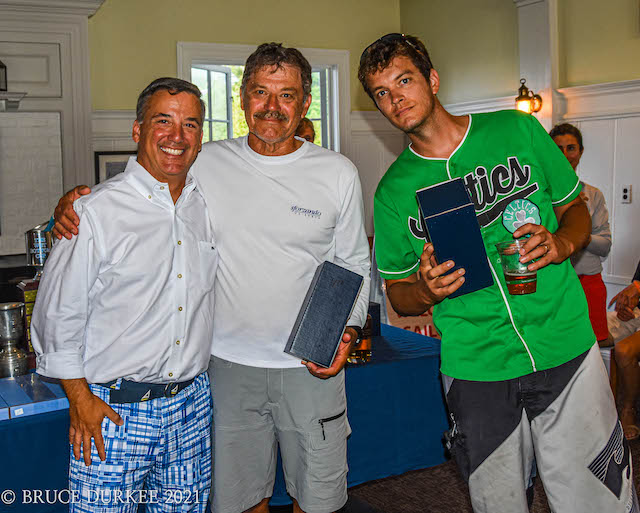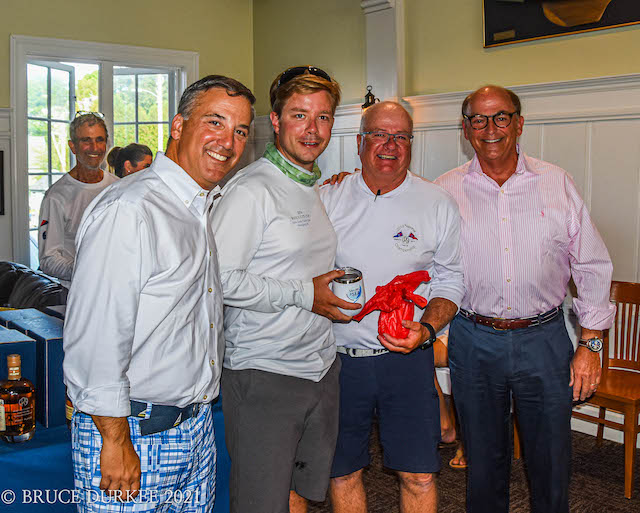 There were several other perpetuals awarded. The Corinthian Trophy, donated in 2006 by Pat Stadel, is awarded to the best finishing skipper under the age of 25. This year it went to Bridget Hickey, daughter of Angela & Dave Hickey and granddaughter of the late great Joe Duplin.
Tim & Catherine Maye of Chicago, with crew Tim Haines took home the Travel trophy for dragging his boat the greatest distance.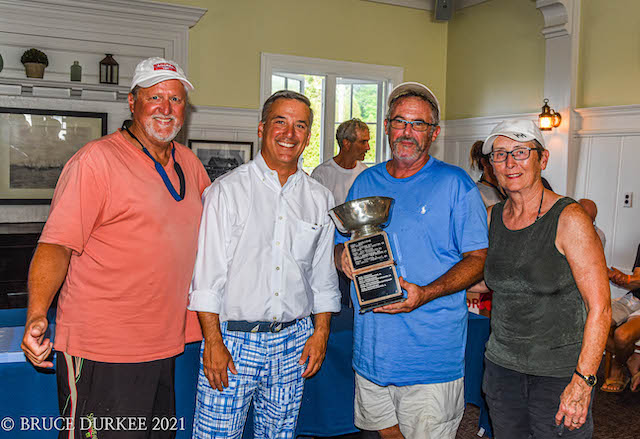 And finally, Fleet 5 won the Fleet trophy, which was contributed by Doug Trees in 2009 and goes to the fleet with the most finishers among the top five. Madam President Elise Nash accepted on behalf of Fleet 5.
Nationals Recap – Practice Race
The forecast called for a light southeasterly with sunny skies and warm temps, and that's about what we got, though with perhaps a little more pressure than expected. The pressure was in the 10-12 knot range from 170 degrees with a 1-2 foot chop. PRO Tommy Tompkins set a course of C 170 at 0.6 miles. About half of the 30 boat fleet made it out for this one. 17 boats left the dock but just 16 made to the course, as one had a break down on the way out.
Team Hooks / Pascal played the middle up the first beat and rounded first, and held that lead for the rest of race until they wisely veered from the finish line in the time-honored practice of not jinxing yourself. Just seconds behind him was Team Lane / Heffernan, who threw caution to the wind and took the gun. Finishing 2nd was reigning national champ Chris & Debbie Schreiber sailing with Shannon Lane, and taking 3rd was Steve Uhl, sailing with old friend and former national champ Jerry Blouin. Honorable mentions go to two Hull teams, Steve Clancy in 4th and Joe Berkeley in 5th (sailing 892, formerly Team Bloxham's Jumbly). All competitors seemed delighted by the beer fairy handing out cold ones to boats as they headed in.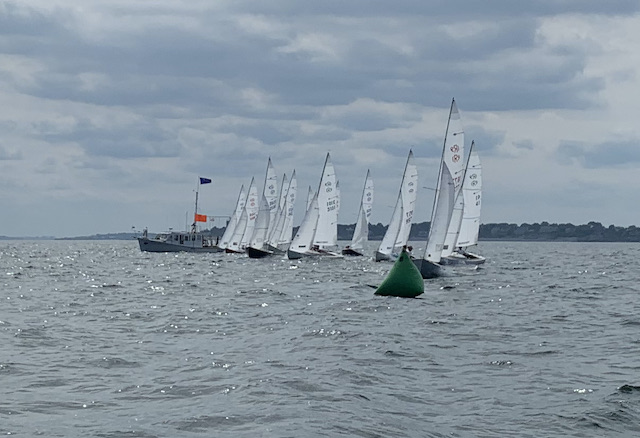 Nationals Recap – Day 1
The fleet rounded out to 31 boats in the final minutes of registration, and then headed out to a 12 noon first gun on what proved to be a perfect sailing day. The forecasters predicted a SSW wind at 7 to 11 knots and backing to SSE in the afternoon, and they nailed it. PRO Tommy Tompkins and his team got off four races, the first at around 185 degrees and steadily trending left so the last two were at 155 and 165. The current added some complexity to the tactical picture as it was going out during the first race, ebb during the second and then coming back in for the last two. So in the first race, for example, right was the current play but left the call for the backing breeze and also seemed to have a bit more pressure. In the third race when the current was running in and pushing port tackers off the track and on the nose for starboard approach, Team Fava / Nash came out of the right corner to round first despite a meaningful left shift. Go figure.
While all of that befuddled many of us, it made all the sense in the world to Team Taylor, who rolled a 2-7-5-4 for 19 points to win the day and take an early regatta lead. Obviously getting back on the water was a welcome change of scenery for Nat Taylor, who has spent much of the season in new parent mode. Taking 2nd just 2 points back was Hull's Steve Clancy & Marty Gallagher, with a line of 1-4-3-13 for 21 points. And finishing 3rd was Tom & Will Dailey, who put up 11-1-9-2 for 23 points. Honorable mentions go to Team Hooks / Pascal in 4th with a 5-5-14-1 for 25 points, and Team Fava / Nash with a line 13-3-1-10 for 27 points. Congratulations to all.
Nationals Recap – Day 2
Thursday's forecast looked iffy from the get-go, anticipating the remnants of tropical storm Fred pushing through our area around mid-day, replete with isolated cells scattered across the system and a lot of rain. A look at the weather radar showed most of that moving to our north and west, but a non-trivial piece at the southern end seemed to be making a beeline for us. The timing of its arrival was a key question for PRO Tommy Tompkins, who considered sending us out to get in 1-2 races before the fun started. Ultimately, with skies darkening, visibility eroding and blotches of red on the radar bearing down, he chose to fly AP and keep us on shore to wait it out.
By around 1pm, everyone's phones, all running various weather radar sites, started beeping simultaneously with a tornado warning, that would remain in effect until 1:45pm, leaving a pretty narrow window to drop AP, send us out, set up a course and start racing. An estimated 3:30-3:45 start would have left time for one race at best, in unsettled breeze, inclining Tommy T. to make the difficult decision to blow it off and start an hour earlier on Friday.
It was not an easy decision for him, nor did he take it lightly. He's won this event before, and favored upholding the standard of a national championship, which is to test competitors across a range of conditions. He very much wanted to get in at least one race in the 15-20 conditions, but ultimately chose to cancel based on his fact-finding, which included sending out patrol boats, reviewing buoy and radar data and even hailing the Salem ferry for condition information. He was thorough and diligent in his process, and while good processes don't always lead to the right outcomes, in this case it probably did. Hard decisions are never non-controversial, especially in retrospect when all of the unknowables are known. But I, for one, thought he made the right call and was impressed with his thoughtfulness.
Nationals Recap – Day 3
After a washout on Thursday, the RC decided to start us at 10am instead of 11 to get in at least three races. The Friday forecast promised a light westerly in the range of 5 to 10 and backing from 300 to 200 over the course of the day. But what we got was more like 1-2 with gusts to 3. The RC hoisted AP and we drifted for a while until the wind perked up to 3-5 from about 225, which was just enough to start us. We got in one and finished as the breeze died again. PRO Judy Adam, filling in for Tommy Tompkins, gave it another 45-50 minutes before waving the white flag, firing off three and calling it a regatta.
Taking 1st was Joe Berkeley, followed by Team Pandapas in 2nd and Mike Hebert in 3rd, which by the way was an extraordinary performance considering he was sailing in that light stuff with three, including old friends Ken & Barbara Wilson. Honorable mentions go to Team Fava / Nash in 4th and Chris Clancy (sailing Sweep) in 5th. Congratulations to all.
To say that throwing a nationals regatta takes a village is an understatement. It takes an army, and that's what we were fortunate enough to have. As so many stepped up in so many ways, it's daunting to try to thank them all, but if you'll bear with me, I'll going to give it a shot. First off, thanks to the CYC, especially the bridge, GM Dave Titus and dockmasters Jack Carney and Roger Hastings. The CYC was incredibly accommodating every step of the way. Thanks to the RC volunteers, with a specific shout-out to RC Chair Mark Toso and PROs Tommy Tompkins and Judy Adam. Thanks also to Chief Judge Jason Maher and his team. Thanks to the boat measurement team led by Stefan Thibodeaux, the sail measurement team led by Jim Taylor and Doug Trees, the logistics team led by Steve Uhl and the registration Team led by Annie Taylor. Thanks to all of our housing hosts, photographer Bruce Durkee, beer boat driver Adam Cook and a huge shout-out to Rebecca & Larry Ehrhardt for hosting the party on Wednesday night. Thanks to our many generous sponsors, who contributed a whopping $1850 of cash and another $2000+ in regatta supplies and auction items. Lastly, and importantly, thank you to the 2021 Nationals organizing committee, who ended up with a lot more than they bargained for by being forced to plan the regatta twice in consecutive years. They are Mark Rubin and Dave Rubin on sponsorships, Timmy Dittrich on social, Tom Dailey on housing and boat charters, Jocelyn Cook on trophies, Christina Pandapas on communications, measurer Stefan Thibodeaux, event treasurer Peter Sorlien and Steve Uhl on logistics. And a heartfelt thank you to my co-chair and thought partner Madam President Elise Nash, whose thoughtful collaboration, clarity of thought and generosity of spirit were nothing short of outstanding. It definitely takes a village.
Here are a few additional random thoughts in no particular order. * I so much appreciated my old friend Norm Cressy showing up to give out the Cressy Trophy. *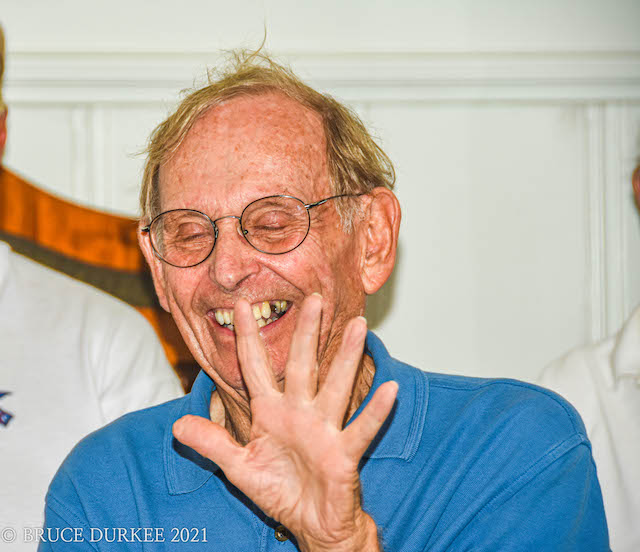 This was the first time sailing nationals with under the new crew rule allowing either two total crew or three. I think it went well. * 31 boats isn't a bad turnout, especially during Covid. * Tom Dailey's apple pie award for the most spins was a hit on a bunch of levels. * Boy is my brother Jim Raisides a snappy dresser, as you can see from the award shots. While he might give Chicago's Will Jablonski a run for his money, Will has to get the nod. *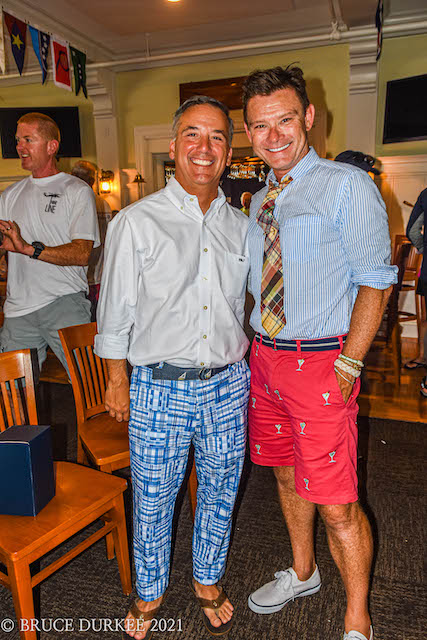 All of the organizing committee members did an outstanding job, but if I had to choose an MVP, it would be Steve Uhl because he covered so much ground. * As measurer, Stefan Thibodeaux has the right balance of technical skills, organizational skills and helpfulness. My guess is he'll go down as one of the best measurers Fleet 5 has ever had. * It's the little things that make a regatta a success, like taking the time to chat with people and throwing them beer on the water. The beer boat was really well-received. *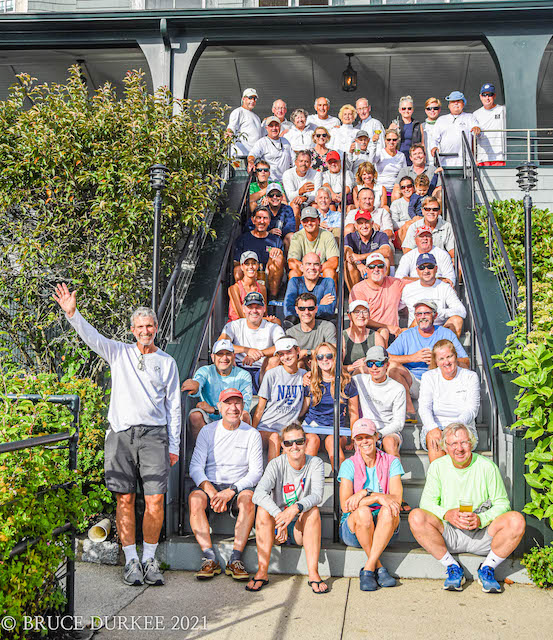 So in Cup competition, Nationals isn't included in our season scoring, so no changes from last week. The top-10 are listed below.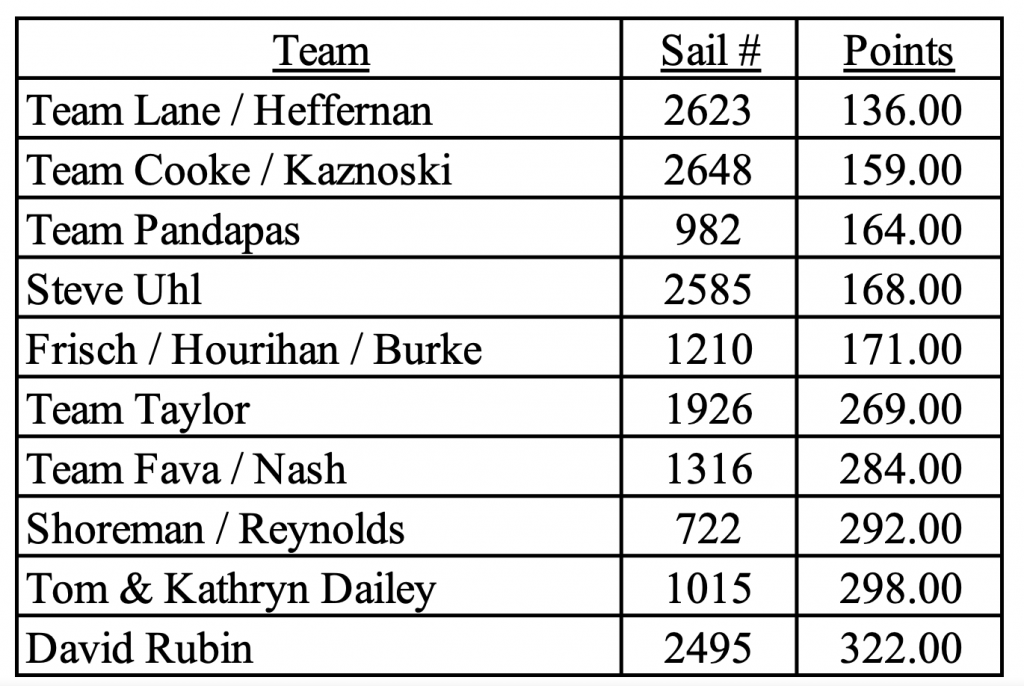 Week 14 racing will include Twilight 2-5 on Thursday night, which by the way is our next-to-last scored Twilight of the season. It also will include the 2-3 races of MRA Series 3-4.
Other News, Notices & Miscellaneous Scuttlebutt
Next Nationals In Chicago – The 2022 Rhodes19 Nationals will be in Chicago in mid-August.
If You Spin, Send It In – We got a ton of spins this week, but as nationals is not part of our regular season (and because I'm essentially lazy and can't be bothered trying to track them all), I'm not going to bother including them in our regular season count. The season count below is unchanged from last week.
Around Misery Race Postponed – Henri forced David Graham and CYC RC to postpone the Around Misery Island Race to Sunday September 12th, first gun at 1PM. Updated SIs will likely be available at the CYC or on the CYC web site. Hopefully everyone gets in in time for the 4:25 kick-off of Pats-Dolphins.
Savannah Needs Sails – Fleet Captain Doug Powelson of Savannah's Fleet 49 wrote in looking for used sails. Their fleet operates a club-owned boat model so has need for a lot of sails. In his words, "Could you please ask your club members or other Rhodes 19 sailors if they have any used sails they would like to sell to our fleet? In Savannah we are sailing every weekend and our inventory of good quality sails is very low, especially spinnakers." So if you have sails for sale, please reach out to Doug at dpwlsn@gmail.com. They'll pay for shipping.
Dirty Bottom – Rumor is that when Steve Uhl hoisted his boat for a quick scrub prior to the regatta, there was a bit of growth on the bottom. Too bad no one got a picture, but I assume it looked something like this.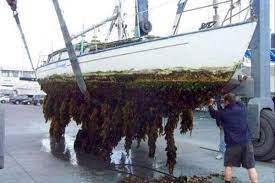 Mail Bag
Lots of emails, but nothing worth repeating.
–kp (kpandapas@comcast.net)