Road To The Cup – Week 9
Top 10 as of 7/24/22
Six boats braved the threat of thunderstorms to make it out for the last Twilight before the Race Week break. This week's update is from Steve Uhl. "Just six boats made it out for twilights, perhaps some scared away by the forecast of thunderstorms and strong winds. But the storms went north, and the wind settled into a healthy southwesterly, which made for a great night.
The first mark was a broad reach to Chappell ledge, with Team Martini leading, closely followed closely by Anne-Marije Veenland and Steve Uhl. The beam reach to Williams Rock was uneventful except that Williams Rock is right between the two buoys so, we all took a great circle route to get around it. A beautiful long beat back to the harbor followed with Teams Martini and Uhl engaged in a tacking duel. In the end, the finishing order was Steve Uhl, Team Martini, Anne-Marije Veenland, John Casler (with son Charlie Casler), Team Cook and Jay Wager."
So there you have it. Thanks Steve. Looks like the rest of us missed a nice evening of beer-can racing. Congratulations to all. As mentioned, this was the last Twilight before Race Week, and as you know, instead of racing this Thursday evening, we'll all be at Fleet 5's annual Race Week party, enjoying the unparalleled hospitality of Jennifer & Steve Uhl. Anyway, with two races of Series 2 sailed and five to go, we have a three-way tie (ignoring tiebreakers) with Steve Uhl, John Casler and Walter Colsman all sporting 7 points. Stay tuned.
Out on the MRA line, just eight boats made it out for the final day of Series 2 and our Race Week dress rehearsal. I find that a bit shocking, especially considering what a nice day it was. In fact, this was the first time in several years that the J70s outnumbered the Rhodes, which is also shocking, but I digress. One of those eight teams included newcomers Jacob Martz and Julianna Testa, who were sailing 1217 for the absent Timmy Dittrich. Jacob has crewed for Timmy in the past, and Julianna is a recent Tufts grad. Huge welcome to them, and suffice it to say, I haven't seen that much of 1217's transom since Team Pendleton / Raisides sailed it, but I get ahead of myself.
Mother nature served up another chamber of commerce day that, aside from being a little light, was glorious in every other respect, including warm temps, bright sun and flat water. The southeasterly took its time settling in, and RO Susie Schneider and her team rightly delayed for a bit while the breeze got its act together. Despite the late start, she still managed to get in three fair races for us (with the final an 'A-course'), which is typical of the top-notch RC work we've come to expect week after week.
The light conditions didn't seem to bother Team Martz / Testa a bit, as the newcomers rolled a 1-1-3 for 5 points to handily win the day. How do you like that? Sailing these boats in the light stuff is nuanced to say the least, and they killed it. They got good starts, sailed fast and executed clean, crisp mark roundings. All and all, an impressive performance. Well done! (Wouldn't they look good in their own boat.) Taking 2nd on a tiebreaker was Team Lane / Heffernan, who put up a 4-2-1 for 7 points. And finishing 3rd was Team Pandapas, with a 2-3-2, also for 7 points. Honorable mentions go to Team Uhl / Lane in 4th with a 5-4-4 for 13 points, and Team Dailey in 5th with a 3-6-5 for 14 points. Congratulations to all.
With that, we close out MRA Series 2 with 14 races sailed and two throw-outs. Taking 1st on the series was Team Lane / Heffernan with 40 points. Finishing 2nd was Team Taylor with 44 points, and taking 3rd was Team Pandapas with 47 points. Honorable mentions go to Team Cooke / Kaznoski in 4th with 71 points, and Joe Fava in 5th with 74, despite sailing just six of the 14 races.
So, with two of three series in the books heading into Race Week, Team Pandapas leads MRA by the slimmest of margins with 57 points, just 1 point in front of Team Lane / Heffernan in 2nd with 58 points. Team Taylor holds 3rd on a tiebreaker with 78 points, just in front of Team Cooke / Kaznoski in 4th, also with 78 points, and Team Frisch ./ Hourihan in 5th with 82 points.
In Cup competition, we finish the first half with Team Lane / Heffernan sitting atop the leaderboard with a 17-point lead. As you know, Race Week has the potential to turn all of this on its head, but a good showing would position them well to repeat as Cup winners. Stay tuned. The top 10 are listed below.

Week 10 racing will include the big enchilada – Race Week, which will run Thursday through Sunday. There will be no Twilight racing on Thursday night.
Also a reminder that next week's Race Week Edition of the RTTC will go out on Monday instead of Sunday.
Other News, Notices & Miscellaneous Scuttlebutt
Race Week Party – This year's Race Week party will be Thursday evening July 28th, generously hosted – again – by Jennifer & Steve Uhl at their home on Front Street. Please respond to the evite.
Support Lindsay Smith – Please help support Lindsay. Make your check payable to "Fast Mermaid Fund" and mail it to Alan McKinnon, 21 Robert Rd, Marblehead, MA 01945. Below is a recent shot of the Lindsay working hard at rehab.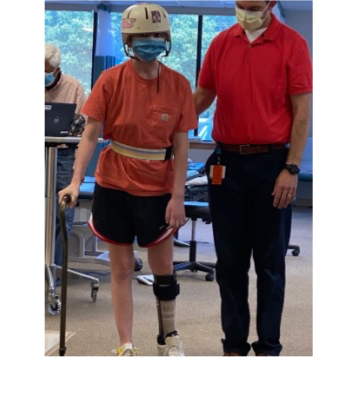 Register for Nationals – It's time to register for the 2022 R19 National Championships! The event will be held in Chicago from August 15th through the 19th, hosted by the fine folks of the Chicago Corinthian Yacht Club. So far, seven Fleet 5 teams have signed up and we hear that one more is chartering, which will get us up to eight. We can do better. Register today.
Chicago Housing – If you haven't sorted out your nationals housing yet, Fleet 12 members stand ready to open their doors. Contact Peter Kovats at pmkovats@comcast.net.
If You Spin, Send It In (aka Road to the Pie) – We heard of no fouls this week, but understand that Team Dailey did two last week, including one hit mark and one foul. Thanks to them for leaving it on the course.

Trailer For Sale – Looking for an affordable road-worthy trailer? Contact Robert Knight, Truro, MA. $1500 OBO. Class website has pictures. rbknight73@gmail.com.
Mail Bag
No mail this week.
–kp (kpandapas@comcast.net)