Top 10 as of 7/16/23
What You Need To Know
The R19 Coached Summer Clinic is this Saturday (7/22) and replaces MRA racing. Details below.
The Fast Mermaid Pursuit Race will by Sunday July 23rd. Register here.
You must register for Race Week.
Please RSVP for our annual Race Week party and let the Uhls know what you plan to bring. The evite went out last week.
Last Week's Racing
Twilight Series 2 started with a fantastic night for sailing with a 10-15 knot southerly. Inexplicably, turnout was muted with only four boats showing up, perhaps due to people being away, yacht club cruises, or maybe due to the forecast of gusts into the high teens (the Townies cancelled for that reason). In any event, here is our report from Steve Uhl, fresh back from Halifax.
"Beautiful twilight evening, but probably some skipped due to very fresh breeze with gusts close to 20. But it was very manageable as the southerly gave us smooth water. Walter Colsman, sailing with Larry Brown made it to Archer's rock first. A nice upwind beat to the harbor required some significant hiking, but nothing too crazy. 2585 edged out Walter in the end by a boat length – mostly due to shroud attachment problems Walter and Larry had to deal with."
So finishing 1st and back atop the podium was Steve Uhl, who continues to find ways to win. After one throw-out (a 2!), he's carrying 6 total points in seven Twilight races. Imagine that. Taking 2nd was Walter Colsman, and finishing 3rd was Jay Wager. Honorable mention to Team Colehower in 4th. Congratulations to all.
Out on the MRA line, just nine boats made it out for what appeared to be an iffy forecast of SSE 6 to 10 with a chance of showers. Fortunately, those teams were pleasantly surprised by partly cloudy with peaks of sun, no rain and pressure in the range of 10-13, which for many of us is two butts on the rail. The tide was going out all day, but that didn't seem to be a huge factor. More significant was the sea state, which was of the washing machine variety that provided surfing opportunities as the wind built. It was a driver's day.
One of the boats out there was 1210 but without Frisch or Hourihan aboard. Peter is reportedly on the Eastern Cruise and Seamus wasn't back from Halifax yet. In their places were two excellent sailors whose names I'm afraid I don't know. But they sailed well and hopefully, we'll see more of them (see boat for sale below!). A tip of the cap to Peter for getting their boat on the line, even when they can't get make it.
So, taking 1st on the day with a 2-3-1 for 5 points was Team Pandapas. Finishing 2nd on a tiebreaker was Team Uhl / Lane, who put up a 4-1-2 for 7 points, and taking 3rd was Team Lane / Heffernan who rolled a 1-2-4, also for 7 points. Honorable mentions go to our mystery team standing in for Frisch / Hourihan, who finished 4th with a 3-4-6 for 13 points, and to Team Denton in 5th with a 5-6-3 for 14 points. Congratulations to all.
One final note – EYC sailing director Franny Charles graced our line for all three races, taking videos of starts, mark roundings and whatever else he thought interesting. As you may know, Franny was at MIT for 40 years, much of that as the varsity sailing coach. So, I'm sure he managed to capture a few teaching moments. Rumor has it that Franny will join Stan Schreyer at the post-clinic debrief at 9am on Sunday morning, to share some of that video along with his observations.
So, in Cup competition, Team Uhl / Lane remains atop the leaderboard, actually dropping a couple of net points by virtue of throwing out a 10 in MRA Series 2. How does that work?, you ask. They finished last week with 41, gained back 10 on the throw-out (31), added 1 on the twilight bullet (32) and then another 7 for MRA (39). The top-10 are listed below.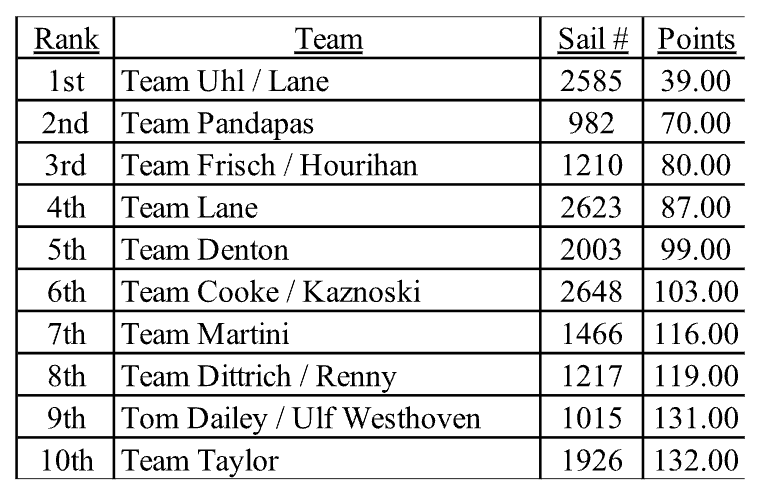 Week 9 racing will include Twilight 2-2 on Thursday night, and the clinic on Saturday (start time 12:30 – details below). This clinic replaces MRA Series 2 Day 5 for Fleet 5.
Other News, Notices & Miscellaneous Scuttlebutt
On-The-Water Clinic Details from Joe Fava.
We are looking forward to a great on the water clinic next Saturday July 22, featuring coaching by Stan Schreyer. A few key details:
We will have our own line in the vicinity of Children's Island run by Seamus Kraft, Fran Charles and Alec MacMaster.
With the events of Saturday (a Viper damaged Pegasus), our signal boat is uncertain but will be some kind of center console.
Beginning at 1230, we will start the day with a few practice starts using a 3-minute starting sequence, followed by 5-6 shortish races.
Stan Schreyer will provide on-the-water coaching during these races and starts.
We will use channel 69.
The debrief will be at 0900 on Sunday morning July 23 in the Harbor Room at CYC.
Any questions, give Joe Fava a shout – Joseph.c.fava@gmail.com or 617-880-9807.
Fleet 5 Web Site Outage – On Tuesday, Webmaster Nat Taylor reported a problem with the data center that hosts our site. "I was just notified that the datacenter where r19fleet5.org is on fire." Yikes! Nat monitored the situation with the intention of changing hosts if it looked like it would be an extended outage. But the data center got approval from the fire marshall to turn power back on and the site was back up Friday. According to Nat, "the file system got corrupted due to the unplanned shut down, but I was able to fix the issues." Thanks Nat!
Fleet 5ers Sail to Halifax – A few Fleet 5 members participated in the Halifax race last week. Timmy Dittrich raced on Fast Company, Fleet alum John Thompson, original owner of Hall Pass, sailed his Frers 36, also called Hall Pass. Grant & Chris Adam participated (not sure which boat), Seamus Hourihan raced his Gunboat Thirst, and among his crew were Steve Uhl and Bill Kaull. Here is a quick report from Steve Uhl.
" We had an upwind easterly the whole way, generally on the lighter side, but one night in the 20s. Craziness and painful last 20 miles as wind died and many boats entered the twilight zone. But finally beautiful, crisp Wednesday afternoon arrival into Halifax harbor." You'll find the results here. Below is a shot of Thirst crossing the starting line, with thanks to photographer extraordinaire Bruce Durkee.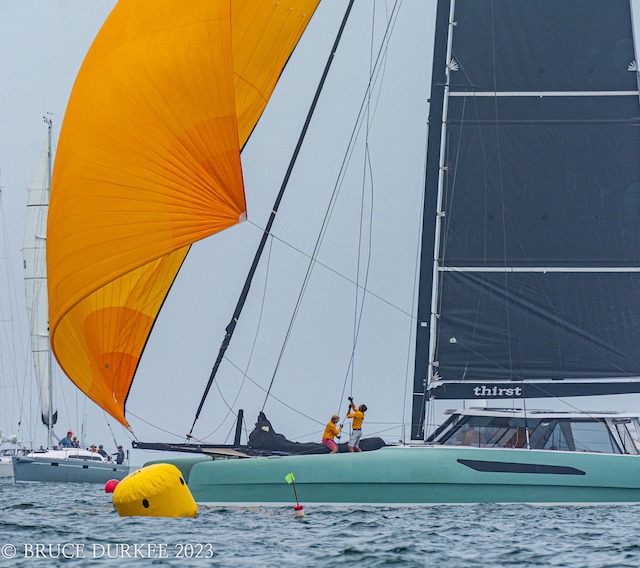 CYC Team Continues Practice for Invitational Cup – Team CYC wrapped up its first full regatta, sailing six races over the course of last weekend at the Newport Regatta with a score line of 1-5-8-4-3-5 to finish 3rd overall and 2nd in the Corinthian class (non-pro). Fleet 5ers (and alum) include Elise Nash, Juliana Testa, Jim Raisides and Evan Cooke. Nice job!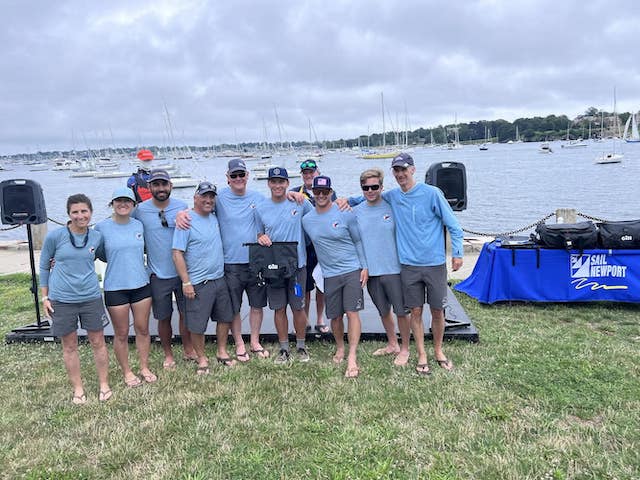 Fast Mermaid Pursuit Race – The Fast Mermaid Pursuit Race, a fund-raising event for Lindsay Smith, will be held July 23rd. You can register and get more info here.
Race Week Registration Reminder – As of this weekend, we 22 boats registered, which isn't bad, but we have more to go. Your MRA fee covers the entry fee, so you don't have to pay, but you do have to register, which you can do here.
Fleet 5's Race Week Party – Fleet 5's annual Race Week party will be Thursday evening July 27th, hosted (yet again) by Jennifer & Steve Uhl. The event will be potluck and, as usual, will include the freshly restocked fleet bar. The evite went out Friday. Please RSVP and mention what you plan to bring.
Race Week Crew Available – If you're looking for Race Week Crew, Jim Revkin is available (cell 203-619-2247 or james.revkin@gmail.com).
If You Spin, Send It In – We heard of no spins this week, so the Spin Tracker remains unchanged.
Remember if you spin, email kpandapas@comcast.net and let me know how many fouls you committed for which you exonerated yourself.
2023 Nationals in New Orleans – The 2023 Nationals will be held October 4-8 in New Orleans, hosted by Fleet 7 and the Southern Yacht Club. It's never too early to register. You'll find more details here.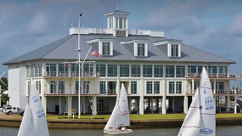 Sweet Boat For Sale – Steve Feeney is selling 1842, an O'Day built in 1968. The boat had keel and ribs done 3 years ago. Package includes a new Lewanda rudder and tiller, new sails and trailer. The boat is semi-race ready. The boat is located on 17 Ridge Road in Marblehead. Contact Steve at stevef21090@gmail.com, or call 781-631-2326. I have looked it over as well, so feel free to contact kpandapas@comcast.net if you want a second opinion.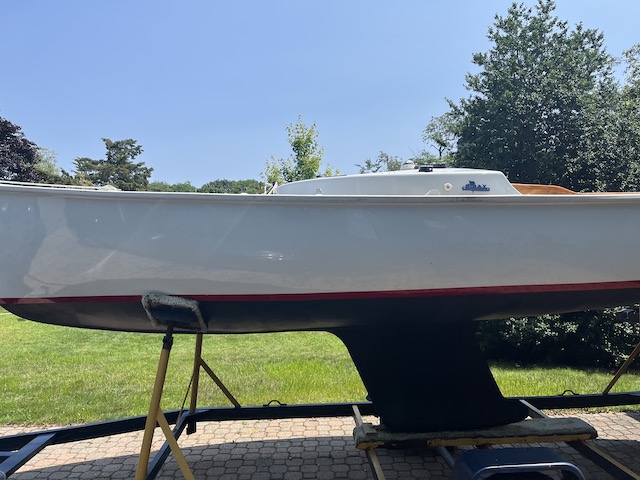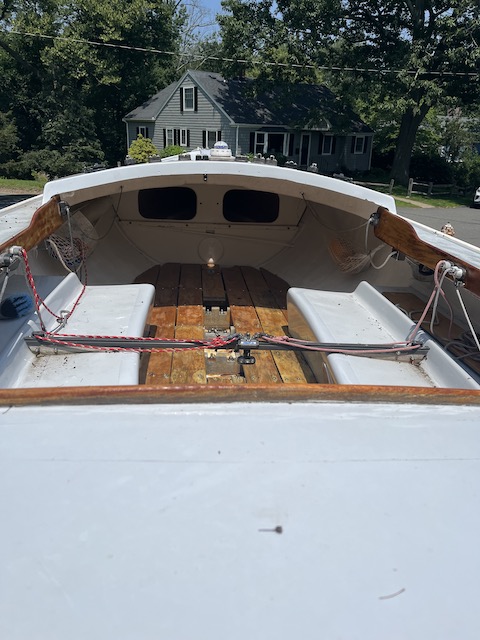 Mail Bag
Anne Marije Veenland sent in this shot from their cruise last week on the SV Hope. Pictured are Anne Marije, husband Bryan, Marine Regnault-Stoel and her husband Alex.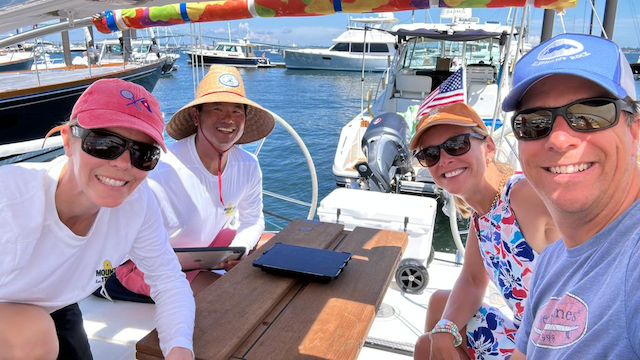 Complaints Department
Got Gripes? Don't be shy. Unload at kpandapas@comcast.net. The buck stops here.
–kp