What You Need To Know
The 2023 Nationals will be held October 4-8 in New Orleans, hosted by Fleet 7 and the Southern Yacht Club. Register here.
Next week's edition of RTTC will be the final edition for the 2023 sailing season. The next fleet publication after that will be the November newsletter, followed of course by the holiday edition of RTTC in December.
Fleet 5's 2023 Awards banquet will be Saturday November 4th at the home of Christina & Kim Pandapas.
Last Week's Racing
Out on the MRA line, Armageddon. The Harbormaster, club dockmasters and MRA all got out in front of this one early, each sending out notices on Tuesday warning us of projected weekend conditions and closures. The MRA's notice was unambiguous.
"The BYC was on the calendar to run the MRA races this weekend. However, the Boston Yacht Club's waterfront will be closing Friday 9/15 at 4:00pm and will remain closed throughout Saturday, 9/16. Therefore, there will be no MRA racing this weekend."
Thankfully, the storm stayed well offshore, which certainly prevented a lot of damage, but it still packed enough of a punch to flip a few boats on their moorings. Saturday featured a honking westerly in the mid-20s with gusts as high as the low 40s. Bottom line is that Saturday was indeed not a racing day, unless of course you sail Lasers or windsurfers, but I digress.
Anyway, that makes three consecutive race day washouts, including the last day of Series 3 and the first two days of the 3-day Fall Series. That leaves just one race day left in the Fall Series and our season. Talk about going out with a whimper. A one-day Fall Series is certainly not what the organizers had in mind, but what are you going to do?
So, in Cup competition, because there was no racing, there was again no change in the scoring, leaving us with a tie going into the final day.  Crazy, right?  Interestingly, neither of the teams currently tied for 1st – Teams Uhl & Pandapas – will be racing Fall Series Day 3 on the 23rd, as they both will be attending Joni Lane's funeral.  Their absence will open the door for the 3rd place team, Team Frisch / Hourihan, just five points back, to contend for the top spot, assuming they sail.  Of course, a lot needs to fall in place for that to happen (i.e. no wash out, more than two boats coming out to race, etc.), so it will be interesting to see how it all unfolds.  If there is no racing on the 23rd, the Cup will be decided on a tiebreaker for the second straight year.  How amazing is that?  The top 10 are listed below. 

Week 18, our final week of the 2023 racing season, will include Day 3 of the Fall series on Saturday.
Other News, Notices & Miscellaneous Scuttlebutt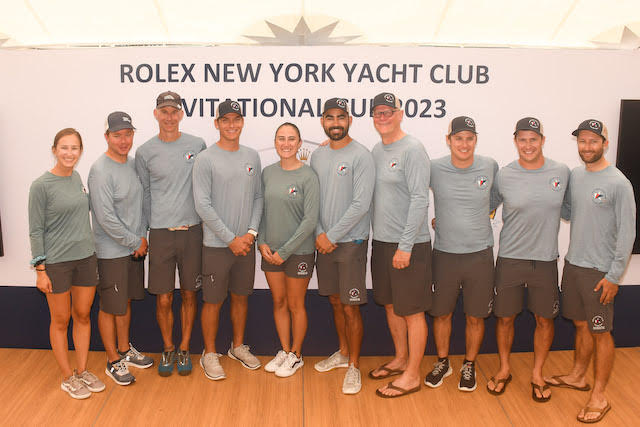 CYC Takes 2nd in NYYC Invitational Cup – Congratulations to Team CYC, who after several months of hard work, endless practice and widespread support among CYC membership, finished 2nd overall in a talented field of 19 boats.  Team CYC gained strength as the regatta wore on, winning the final day.  Who knows what might have been had the event not been shortened due to the hurricane.  But to finish 2nd on your first try in a field of top-notch international sailors is both impressive and a testament to the strength of CYC's sailing program.  Several Fleet 5ers contributed to this effort, including crewmembers Evan Cooke and Juliana Testa, as well as CYC campaign co-chairs Marisa & Joe Fava.  Congratulations to all.  You'll find results here and event photos by Bruce Durkee here.
2023 Nationals in New Orleans – The 2023 Nationals will be held October 4-8 in New Orleans, hosted by Fleet 7 and the Southern Yacht Club.  Register here.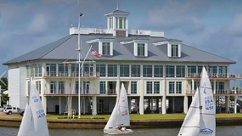 Nominations for Outstanding Crew – The Richie Santos Outstanding Crew trophy is awarded annually to that crew who has demonstrated excellence over the season in a crewing capacity. Nominations for this award must be in writing to the Fleet Captain, usually, but not necessarily, by their skipper. Nominations will be carefully considered by a super-secret jury, who will weigh the evidence and select the winner based on merit, a bit of subjectivity and the quality, humor and persuasiveness of the nomination letter(s), which will almost certainly be read aloud at the awards banquet. Nominations will be accepted until October 15th. Send your nomination to kpandapas@comcast.net with the subject line Outstanding Crew Nomination.
If You Spin, Send It In (aka Road to the Pie) – No racing, no incidents, so no changes.

Mail Bag
No mail this week.
Complaints Department
Got Gripes?Don't be shy. Unload at kpandapas@omcast.net. The buck stops here.