Road To The Cup – Week 12
Top-10 as of 8/12/18
We heard of no R19 action in last Sunday's morning series.
Seven boats made it out for Thursday night Twilights, but in the end, only five of them actually raced. The forecast was for a light southwesterly with a chance of thunderstorms, and that, along with a stiff incoming tide, is precisely what we got. With about five minutes before the first gun, the RC hoisted AP as the system dropping buckets of rain on Beverly and Salem seemed to have its sights set on us. In the end, the system delivered only a glancing blow, but the CYC dock house wind instruments suggested puffs in the low 30s. That was enough to send a few people home, including Jocelyn Cook who was out with Joan Thayer and her young daughter Hannah. Once it was through, just five boats remained. Here's a shot of the big ugly sent in by Jocelyn.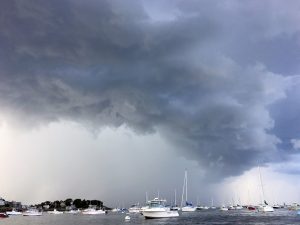 The storm aftermath blew up the light southwesterly and left us with an up-and-down, very shifty northerly. The RC set a clockwise course to the nun off the fort, then to the bell off the mouth and back, twice around – a pretty short course but everyone knew the wind would crap out as the weather moved off shore, and of course it did. John Casler & Connie Blake nailed the port-tack start at the pin, forcing over the over anxious Teams Pandapas and Taylor, who both were forced to restart. Team Pandapas dipped on port and headed right while Team Taylor headed left. Within seconds, pressure came in from the right, leaving Team Pandapas over-stood and with a healthy lead. That breeze died 5-10 minutes later on the second leg, giving way to the dreaded spinning Windex, leaving us all trying desperately not to be sucked into the harbor on the incoming tide before rounding the can. We eventually got back a 1-2 knot southwesterly which enabled us to ghost to the finish, mercifully shortened to one lap. All and all, an entertaining evening. So taking 1st was Team Pandapas, followed in 2nd by Team Taylor and John Casler in 3rd. Honorable mentions to Team Colsman in 4th and to Steve Uhl, who had the sense to bail after the first mark to make his dinner reservations. An additional honorable mention to Hannah Cook, who didn't let a little thunder squall ruin her day.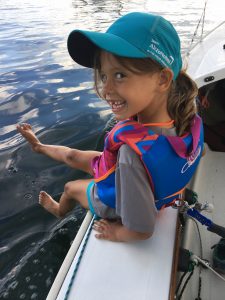 Out on the MRA line, we made it little further than we did last week, but not by much. The forecast of the 8-9 knot southeasterly proved wildly optimistic, leaving those of us silly enough to go racing in the pouring rain, paddling towards Halfway Rock. For the record, it was not an unentertaining paddle, with all of the cool Panerai boats around. We also found ourselves for a while in an acre or two of blue fish munching on mackerel, some of them pretty big, so that also was entertaining. But unfortunately, that was the highlight. The BYC announced over the radio at about 12:15 that they would be going into AP at 12:30. But by 12:25, they had thought better of it and announced that N over A would go up with three guns at 12:30. So around we all turned, waiting to thumb a lift from the first available motor boat (huge thanks, by the way, to the BYC patrol boat). It was a great decision by the BYC RC to can it, and good for them doing it before we all made it all the way out there. Totally the right call.
So with that, after losing the first two days of the three-day MRA Series 3, it's all tied up at nil, with just one day left to sail. Fingers crossed for next week.
So, in Cup competition, with no MRA again this week, the numbers have changed only as much as they were impacted by Thursday's Twilight. The top-10 are listed below.
| | | | |
| --- | --- | --- | --- |
| 1st | 982 | Team Pandapas | 127.00 |
| 2nd | 1926 | Team Taylor | 171.00 |
| 3rd | 1210 | Frisch/Hourihan | 192.00 |
| 4th | 2648 | Team Cooke/Kaznoski | 194.00 |
| 5th | 2585 | Steve Uhl | 226.00 |
| 6th | 2435 | Larry Ehrhardt | 231.00 |
| 7th | 2692 | Team Heffernan/Harsono | 232.00 |
| 8th | 1299 | Team Felton | 256.00 |
| 9th | 3172 | Dave Nelson | 256.00 |
| 10th | 2623 | Team Lane/Heffernan | 263.00 |
Week 13 racing will include Twilight 2-5 on Thursday night, the 2-3 races of MRA Series 3-3 this Saturday and the informal (unscored) CYC Cooke Town Class Sunday Series on Sunday.
Other News, Notices & Miscellaneous Scuttlebutt
Sportsmanship Update –There were no spins on the Twilight course, and of course there was no MRA racing, so no new spins to celebrate. Below are the standings, and thanks to those on it for their sportsmanship. Remember, if you spin, send it in.
Labor Day Party – Our annual Labor Day Party will be Saturday September 1st and hosted by old friends Vonda & Jim Raisides. Like we did last year, we're planning to mix it up with our friends from the J70 fleet. More details to follow.
2018 Lobster Bowl Regatta – Hosted by the Portland Yacht Club in cooperation with Etchells Fleet 27 and R19 Fleet 52, this 2-day regatta is in Falmouth, Maine. Boat launching and skippers meeting will be Friday September 21, and racing will be Saturday and Sunday September 22-23. Early entry fee is $225/boat if paid before August 15. Entry fee after that is $275/boat. Here are the links for the NOR and to register, and you also can contact Chris Morin at etchellsfleet27@gmail.com or 207-807-9243.
Nationals in New Orleans – This year's Nationals will be in New Orleans on October 3-7, hosted by our friends at Southern Yacht Club. If you've never been, take it from us that the Southern guys know how to throw a party. You can get more info and download the NOR here.
For Sale #2566 – This is Jud Smith's old boat in which he won the 2006 Sandy Bay Nationals. It has been well maintained, and includes a trailer, newer main, jib and spinnaker. Asking $11,000. Contact Debbi Hale at: cinnabar19@comcast.net or 603-986-5350.
Mail Bag
Not much mail this week – just this from Jocelyn Cook after the Thursday night squall. "As soon as we got back to the dock – the most magical rainbow I've ever seen presented…., first illuminating just the lighthouse and then growing through the sky. I can only imagine what it looked like for all you who stayed."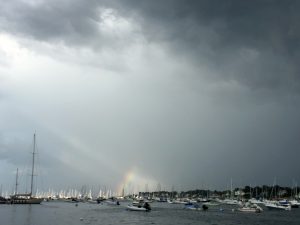 –kp (kpandapas@comcast.net)