Road To The Cup – Week 13
Top-10 as of 8/19/18
We heard of no R19 action in last Sunday's morning series.
Seven boats showed up for Twilights on Thursday night to find a very solid 15 knot northwesterly, which got everyone salivating after the recent stretch of light air. Unfortunately, it was not to be. The RC posted a course intended to start with a broad reach out to the mid-channel buoy, port rounding, a beat up to the nun off the fort and then back to the finish. Almost perfectly synchronized with the starting whistle, the breeze went hard right and shut off, turning the reach into a light air beat to get out of the harbor, and in short order it became a drifter. Only Steve Uhl, sailing single-handed, managed to get his bow out into the new, though dying northeasterly, and he got launched. He was halfway to the gong before the rest of us cleared the lighthouse. The RC, trying to be helpful, shortened the course by radio, changing the first mark from the gong to the much closer can off the mouth. That of course is a no-no, as you can only shorten a course at a mark of the course. But it ultimately didn't matter as the air shut off completely and the RC abandoned. Congratulations to Steve Uhl, who was the clear winner. Honorable mentions go to Stefan Thibodeaux, who rounded the new first mark 1st, and to everyone else for keeping their sense of humor. Just two Twilights left.
Out on the MRA line, the good news is that we got a race in. The bad news is that we got only that one race in before the RC sent us in under a blackening sky. Interestingly, that race also proved to be the first Saturday race we've sailed since Race Week. Can you believe that? One race in the month of August, and that's how it will stay because we don't sail again until the Labor Day Regatta on September 1st. Crazy right? But I'm getting ahead of myself.
The forecast called for a 10-15 knot southwesterly, clocking to the northwest in the afternoon and moderating down to the 5-10 range, with possible thunderstorms. Eight teams shrugged off the disappointment of the last couple of weeks and rolled the dice again on another suspect forecast. We sailed out and got our pre-race numbers during the relatively consistent southwesterly portion of that program, though a few minutes before the first gun, conditions began to change. The breeze clocked right and the pressure became episodic and localized, leaving some boats in Windex-spinning holes while others sailed by just boat lengths away. Karen Tanebaum definitely had her hands full, but knowing the possibility of thunderstorms later, soldiered through and started the Js on time, much to the detriment of a couple of teams who were stuck in holes and had trouble making it to the start.
Our race was an up-and-down affair in which the lead changed often with every shift or delayed decision to cover. Steve Uhl started at the pin and jumped out to an early lead on a lefty at the gun, and led for much of the race, with Teams Cormier, Frisch/Hourihan and Pandapas also in that mix. Those four rounded the top mark on the second beat in that order, with the first three jibing left while the fourth stayed right. Right paid and resulted in a photo finish with Team Frisch/Hourihan taking Team Pandapas by a nose. Taking 3rd was Steve Uhl. Honorable mentions go to Team Cormier in 4th and Team Nobel in 5th. Congratulations to all.
As it turned out, the RC's decision to send us in was spot on, though the storm beat us to the harbor. Fortunately, it was more heavy rain than wind. I don't think the gusts ever exceeded the high 20s (which they can and very often do).
So with that, the truncated Series 3 comes to an abrupt and unceremonious conclusion, leaving the series final standings identical to those of the one race we sailed. Congratulations again. Next up is Series 4, the 2-day Labor Day series, and hopefully we'll get a few races in then.
So, in Cup competition, with no twilight, the scores are updated by the one race with DNS teams adding 9 points. The top-10 are listed below.
| | | | |
| --- | --- | --- | --- |
| 1st | 982 | Team Pandapas | 129.00 |
| 2nd | 1926 | Team Taylor | 180.00 |
| 3rd | 1210 | Frisch/Hourihan | 193.00 |
| 4th | 2648 | Team Cooke/Kaznoski | 203.00 |
| 5th | 2585 | Steve Uhl | 229.00 |
| 6th | 2435 | Larry Ehrhardt | 240.00 |
| 7th | 2692 | Team Heffernan/Harsono | 241.00 |
| 8th | 1299 | Team Felton | 265.00 |
| 9th | 3172 | Dave Nelson | 265.00 |
| 10th | 2623 | Team Lane/Heffernan | 269.00 |
Week 14 racing will include Twilight 2-6 and the informal (unscored) CYC Cooke Town Class Sunday Series on Sunday. There will be no MRA racing on Saturday as the three clubs marshal their RC resources to run the Storm Trysail Club Ted Hood Regatta.
Other News, Notices & Miscellaneous Scuttlebutt
Labor Day Party – Our annual Labor Day Party will be Saturday September 1st and hosted by old friends Vonda & Jim Raisides. Like we did last year, we're planning to mix it up with our friends from the J70 fleet. The event will start at 6:30, be potluck and of course include the fleet bar, stocked and delivered by Dave Reynolds. Expect an evite sometime this week.
Sportsmanship Update –There were no spins in the abandoned race on the Twilight course. On the MRA course, we observed one tacking-in-the-zone incident and heard the 'P' word, but to our knowledge, no spins were spun and no protest was filed. Below are the standings, and thanks to those on it for their sportsmanship.
Congratulations to Grant Adam – Fleet 5 progeny Grant Adam with crew Sam Bradley finished 6th overall at the Chubb U.S. Sailing Junior Championships, competing for the Bemis Trophy sailing 420's at Lake Erie's North Cape Yacht Club. The Bemis Trophy is a national ladder event requiring sailors to first qualify in their local area. Grant and Sam represented Area A.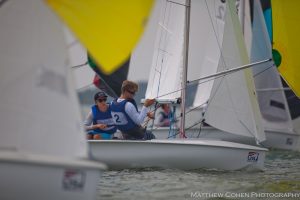 Pleon Elections – The Pleon held its elections last week, and voted in two of Fleet 5's young members to lead the club in 2019. Congratulations to Commodore Hunter Zonnenberg and Secretary Sophie Lane.
Pleon Awards – Four of Fleet 5's young members took six of the club's several perpetual trophies. Congratulations to 420 sailor Hunter Zonnenberg who won the Ajax Trophy, which is awarded for 'love of boating and the sea.' Opti sailor Courtney Houget took the Sarah Madden Trophy, which is awarded for outstanding effort and enthusiasm. Courtney's older sister Ashley Houget, who regularly graces our line, won the Coach's Award in the 420. Laser sailor Will Daily took the Macaulay Sprit of Sailing Award. And finally, congratulations to 420 sailor Christopher Pandapas, who won both the Leonard Munn Fowle Memorial Metal for greatest improvement in racing and tactics, and the notorious Hacker Award for shredding a chute on the bow anchor of a moored boat. It's not often a person wins both of those in the same season. Congratulations to all.
2018 Lobster Bowl Regatta – Hosted by the Portland Yacht Club in cooperation with Etchells Fleet 27 and R19 Fleet 52, this 2-day regatta is in Falmouth, Maine. Boat launching and skippers meeting will be Friday September 21, and racing will be Saturday and Sunday September 22-23. Entry fee is $275/boat. Here are the links for the NOR and to register, and you also can contact Chris Morin at etchellsfleet27@gmail.com or 207-807-9243.
2018 Nationals in New Orleans – This year's Nationals will be in New Orleans on October 3-7, hosted by our friends at Southern Yacht Club. If you've never been, take it from us that the Southern guys know how to throw a party. You can get more info and download the NOR here.
2019 Nationals Up For Grabs – As the class readies for its annual meeting in New Orleans, class leadership is working to identify bidders for next year's nationals. Your Fleet 5 leadership believes that three times in five years would be too much, and also probably wouldn't be good for the class. So Fleet 5 will not be bidding this year.
Fall Twilight Reminder – Remember the CYC is planning to run two additional Twilights after Labor Day this year, adding September 6th and 13th. Those days won't be included in our season scoring, but for those who just can't get enough booth-run beer can racing (John Casler), there you go.
So Long To 892 – Rick Smyers & Jeff Sachs sold 892 to Joe Berkeley, who is planning to campaign it with the Hull fleet. 892 has a storied past in Fleet 5, once owned by El Jefe himself, Jim Taylor, and more recently by Jeremy & Katie Bloxham, who in the early 2000s sailed it to wins in Race Week, East Coasts and Nationals. While we're sorry to see it leave Fleet 5, we hear she's in good hands and wish Joe luck. As an aside, Team Pandapas is pleased to no long have to deal with the confusion that was common as RC's often mixed up 892 and 982 in their OCS hails. Here's a shot of Jeremy & Katie at the 2001 ECs in Boston Harbor.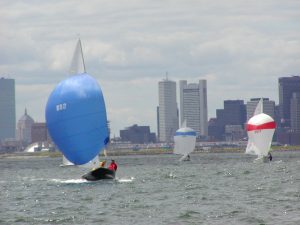 For Sale #2566 – This is Jud Smith's old boat in which he won the 2006 Sandy Bay Nationals. It has been well maintained, and includes a trailer, newer main, jib and spinnaker. Asking $11,000. Contact Debbi Hale at: cinnabar19@comcast.net or 603-986-5350.
Mail Bag
John Casler continues to lob in in commentary on what he regards as the misguided notion of prioritizing work over Twilights, sending in this link that discusses a study on the benefits of a shorter work week for people over 40.
Christina Pandapas, who as a Pleon Board member, concerns herself with all things Pleon, sent in this troubling shot of, what everyone assumes was the work of departing Pleon coaches. Take a look.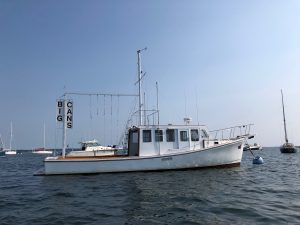 Hmm, wonder what they're getting at. Anyway, Christina reports that the CYC wasn't the only RC boat pranked, writing that, "ETO said 'Cool Ass' but no word on what was on Alberg over at BYC." Of course, end of season pranks are not unheard of, but we feel compelled to point out that there is no evidence at all that our respectable and upstanding young Pleon coaches actually did this, in fact, Commodore Chloe Brown lobbed in a complete denial.
Finally, someone directed us to check out a shot posted on FB by Jeff Silverman. We've all been frustrated by motor boaters' penchant for steering directly at us, but aren't we usually pretty sure they will eventually turn? Not this time, I guess. You knew it had to happen right?
–kp (kpandapas@comcast.net)