Road To The Cup – Week 9
Top 10 as of 7/21/19
Twilight Series 2 kicked off with a bang on Thursday, with 7 boats showing up, including Team Lane / Heffernan in their Twilight debut. By all accounts, it was a beautiful evening featuring a light, shifty northeasterly that got lighter as the race progressed and ultimately gave up the ghost around sunset. This one featured our first mark-rounding controversy of the season, but let's start with this summary by John Casler & Walter Colsman.
"Thursday evening was pleasant, with light air out of the north east. An evil genie convinced the RC to send us to "23' ( the green flasher off Eagle) – a very long beat in light air, then to '19' (Can 1 off the light house), back out to '20' (the nun in front of Children's Island), and then back in. This meant leaving 23 to starboard, and taking a wild guess as to which side to subsequently leave 19 and 20. Either a port rounding or a starboard rounding passes 19 on the side farthest from 20.
"A square starting line for a change was complicated by the array of moored boats right at the pin. 1775, with son Charley Casler crewing for the first time in a decade or two, nailed the start and continued over toward the Fort before tacking into a position to cross the fleet. Boats spread out in light conditions and plenty to think about: wind velocity, wind shift, current? There was a lot of sailing seemingly parallel to the mark.
"The left side of the course turned out to be the correct play, as the better air in that direction ultimately trumped any current considerations on the other side. The race to '23' was competitive between the three boats that went that way, with Mike and Rene in Harm's Way catching the right end of a 30 degree wind shift to seal the deal. Walter, single handing 2561, came within inches of hitting 23, which would have been a nasty scrape, with 1775 right behind.
"With the breeze dying, the course was shortened via radio, with mark 20 mercifully dropped. On the way back in, each boat effectively managed a horizon job on the next, Harm's Way, 2561, 1775, 1466, 1219, with Calgon and Action dropping out due to the lateness of the hour. One Townie finished with lots of victory whoops while the other was towed in. Flashlights were useful…, beautiful evening."
Okay, so first of all congratulations to Team Lane / Heffernan in 1st, to Walter Colsman sailing solo in 2nd and to Team Casler in 3rd. Honorable mentions to Team Martini in 4th and whoever was sailing 1219, who is unregistered (so unscored).
But if you're confused by the course, join the crowd. Here is shot of the RC's original course, courtesy of Walter Colsman, who took the liberty of charting out his view on the string rule.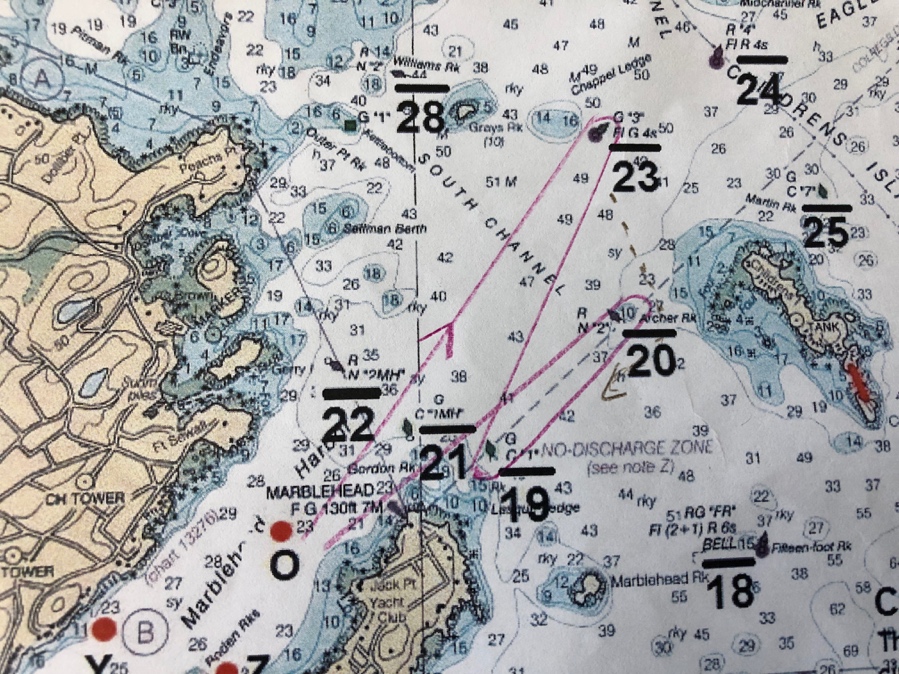 Walter added this, "So the rounding sequence is starboard, port, port, and when 20 was dropped, rounding 19 switched to starboard."
Confusing, right? Here is what the SIs say. "A mark shall be passed on the side farthest from the next mark." So Walter's string rule looks reasonable enough, though it's certainly possible that a starboard rounding of '19' would have satisfied the rule as well. And it's pretty clear that he's right about what happens when '20' is dropped. So what does the RC have to say about it? This from Joe Whipple, "There is only a problem if people are wedded to the idea that all marks must be rounded to the same side." Well there you go!
Out on the MRA line, 13 teams showed up for the final dress rehearsal before the big show. Making their debut was Team Hoguet, featuring Ashley Hoguet on the helm with sister Courtney and dad Ramsay. Also making his first appearance in I don't know how long, was Tom Dimond, who skippered 1210 with Seamus Hourihan crewing, representing yet another powerful permutation of Team Frisch / Hourihan / Burke. For those who don't know Tom, he was a dominant force in our fleet and class for half a decade during the second half of the 90s. The team of Dimond, Hourihan and Mark Crawford won Nationals three consecutive years in 1995 (New Orleans), 1996 (Marblehead) and 1997 (Chicago). They were unstoppable. Welcome back Tom.
The forecast predicted a light southerly and that's exactly what we got, with a good dose of hot, as temps were in the high 80s. The breeze oscillated between 150 and 180, though there seemed to be a little lefty with pressure that lived near the top of the track. Pressure was in the range of 6-7 knots, with occasional gusts to 8, with an incoming tide for the first race and flood-to-outgoing in second. For the second week, the EYC and BYC seemed to have combined resources, with the EYC sending out ETO with BYC's Mike Michaud serving as RO. He raised a lot of eyebrows when he announced we'd get started on time, given the 4-5 knots we were seeing at the time. But he pulled it off. Elise Nash sent in this on the topic. "Props to Mike Michaud and crew for getting us racing on time. I thought for sure we would be AP'd but he started us right at 12:30 and the breeze was great. And honestly, thanks to everyone doing race committee today – it was hot out there and with Raceweek coming up, these guys have a long week ahead." Couldn't have said it better myself.
So with a light-air day, the light-weight Team Pandapas prevailed with a 1-1 for 2 points to win the day. Taking 2nd on a tiebreaker was Bill Heffernan, sailing with Charlie Thomas, who rolled a 4-3 for 7 points, and finishing 3rd was Team Cooke / Kaznoski who put up 3-4, also for 7 points. Honorable mentions go to Team Lane / Heffernan in 4th with a 7-2- for 9 points, and Team Dailey in 5th with a 5-7 for 12 points. Congratulations to all. One final note, several (but not all) of us were running their Kattack trackers for both races. You can watch those races here.
So with that, MRA Series 2 comes to a close. Taking 1st with 18 points was Team Taylor. Well done. Finishing 2nd with 20 points was Team Cooke / Kaznoski, and taking 3rd with 24 points was Team Pandapas. Honorable mentions to Bill Heffernan in 4th with 29 points and Team Frisch / Hourihan Burke in 5th with 34 points. Congratulations to all. These results, by the way, are unofficial and generated by your fleet scorer, as the MRA scoring site seemed to have inadvertently added an extra race (we sailed 7 races, not 8). Apologies in advance if I mess this up, and of course we will update you next week if I am mistaken.
So, in Cup competition, Team Taylor holds a 22 point lead heading into RW, which seems pretty solid, but with 25 plus boats on the line, you never know. Team Pandapas pushes back up to 2nd on the strength of their good day. The top-10 are listed below.
Week 10 racing will include the big enchilada, Race Week at Marblehead NOOD, which will run four days from Wednesday through Sunday. There will be no Twilight race on Thursday, nor will there be a race on Sunday morning. Twilights will resume on Thursday August 1st, and the (unscored) CYC Cooke Sunday Series resumes on Sunday August 4th.
Other News, Notices & Miscellaneous Scuttlebutt
Race Week Party This year's Race Week party will this Thursday evening July 26th, again generously hosted by Jennifer & Steve Uhl at their home on 160 Front Street. The food is potluck and Larry Ehrhardt will provide the fleet bar.
Mini-Clinic – The mini-clinic with CYC Sailing Director Kevin Dooley is scheduled for Saturday August 10th, so circle the date. The expected format will include Kevin doing some filming and photos during the day's racing, and he'll follow racing with a debrief at the CYC. The debrief will be in the Harbor Room at about 4:30, though that time could flex depending on when we get in.
Sportsmanship Update – To our knowledge, there were no spins this week, so below are the spin standings heading into Race Week. Remember, if you spin, send it in.
Nationals 2019 – The 2019 Championship Regatta will be held August 21-24 in Hingham Bay, hosted by our friends at the Hingham Yacht Club. The NOR is available on the regatta website.
CYC Commodore's Ball – Several fleet members attended the CYC Commodore's Ball on Saturday night. Here are a couple of shots to give you the flavor. The first includes (from left) Christina Pandapas, Elise Nash, Fleet 5 alum Vonda Raisides, and Marrisa Fava, all dressed to kill.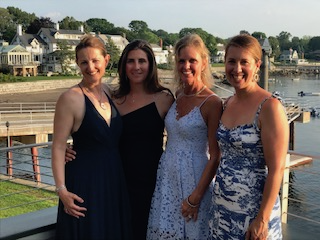 The second is Elise Nash posing with her date (kidding Mike!). Apparently she goes for the silent type.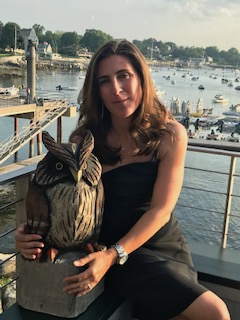 Mail Bag
Pete Kaznoski sent this the CYC blurb below, with this comment, "This is awesome. Great recent results from fabulous efforts. Congrats to all."
"Congratulations to Team Captain Will Bailey, Wade Waddell, Duncan Swain, Henry Dumke, Clark Uhl, James Moody, Bobby Savoie, Tara Ferraris, Miranda Bakos, Sam Madden, and David Larson for winning this weekend's Corinthian Young Guns Team Race Regatta. The event was hosted by the Seawahnaka Corinthian Yacht Club in Oyster Bay, NY. Team CYC lost only one race in the round robin before sweeping the knockout round and defeating the New York Yacht Club in the finals."
We got this from Steve Sovis. "I wanted to let you know Stefan and I have reduced 1645's price to $6500. If you could make this update in your next release we would appreciate it. Thanks." Done. You can reach Steve at stevesovis@gmail.com.
Finally, apparently it took Jocelyn Cook a while to make back to the float on Thursday night. "The upside (if there is one) to abandoning as the sun dipped below the horizon was that when I finally made it to the float, this beauty awaited me."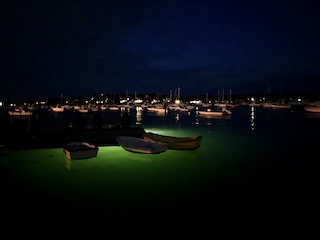 –kp (kpandapas@comcast.net)