Road To The Cup – Week 10 – Race Week Edition
Top-10 as of 7/29/19
As you know, there was no twilight racing Thursday night due to Race Week. Instead we were treated to Jennifer & Steve Uhl's gracious hospitality – again! That, by the way is a direct quote from the last several year's Race Week editions of RTTC. Honestly, I'm not sure how many years in a row they have opened their home during Race Week, but as always, they pulled out all the stops and continue to outdo themselves. Many thanks to them, and also to Larry Ehrhardt for making sure we all got enough to drink.
So let's start with Junior Race Week. Close to 160 kids descended on what has become a centerpiece of the junior racing schedule. That's a little down from years past, due in part to demographics as well as to some conflicting regattas, the most impactful of which was Club 420 Nationals in Newport. The 420 Champ fleet was largest at 38 boats followed by the 420 Greens at 35 boats. Rounding out the fleets were Opti Champs (34), Opti Greens (32) and Lasers (20). As always, the fleets were split into four lines for 420s, Lasers, Opti Champs and Opti Greens.
The event was scheduled to run Monday through Wednesday, though raced only two day as Tuesday was a washout, with NE 20+ and a line of thunderstorms in the forecast that ultimately spawned a tornado on the Cape. Monday's conditions included cloudy skies and a building northeasterly that started light and topped out in the low teens. Tuesday, as noted, was sufficiently unpleasant as to blow off three, and Wednesday featured sunny skies and a gentle sea breeze that arrived late morning.
Several Fleet 5 spawn competed in this event, and hopefully I catch them all. The biggest contingent again this year was in the 420 Champ fleet, including Haley Nelson (7th), Ashley Hoguet (10th), Christopher Pandapas (29th), and Molly Lane (37th). One sailor competed in the 420 Green fleet, Sophia Ianchulev (7th), and one also in the Opti Champ fleet, Courtney Hoguet who you may recall was out on the MRA line with her dad and sister last week. Congratulations to all.
As in years past, legions of Fleet 5 members volunteered to support this regatta. Three of the four PROs are card carrying members of Fleet 5, including Alex Felton on the Laser line, Peter Frisch on the 420 line and Kim Pandapas on the Opti Champ line. Other Fleet 5 members and alums who served on RC included Christina Pandapas, Joe Fava, Rob Ferro, Kent Hallawell, Barbara Hallawell, Ken Adam, Judy Adam and John Todd. Ramsay Houget served this year as safety czar and Mike Lane also ran a safety boat. On top of that, former Dru Slattery crew Rick Myers served as a scorer and all around dude-in-charge. Jocelyn Cook did housing for the event. She also hustled down to the club on Tuesday after the cancellation, collected the unused food and ferried it off to local shelters, group homes, food pantries and senior service organizations. How awesome is that? Anyway, I'm sure I missed a bunch, so sorry, but it's clear Fleet 5 members again stepped up in a meaningful way. Thanks to all.
Finally, I'd like to give a shout-out to Forbes Barber, who absolutely killed it running a CYC patrol boat. Forbes is a member of the CYC Sailing Team, and Exhibit A as to how important it is for Race Committees to embrace young, active racers. He also, by the way, would look really sharp in his own Rhodes 19, so let's all get going with the Fleet 5 bear hug.
So let's get straight to the bottom line. Congratulations to Matt Hooks & Rob Pascal, who put on an exceptional Race Week performance. They sailed consistently from start to finish, across conditions, exhibiting speed, patience, smarts and good decision-making. Ultimately, they took it on a tiebreaker with 42 points over ten races (with no throw-outs), a feat all the more impressive considering that Rob is a new dad with an 8-day old at home. The victory earned them Race Week bragging rights and our coveted Race Week perpetual trophy; the Spittoon. Really well done!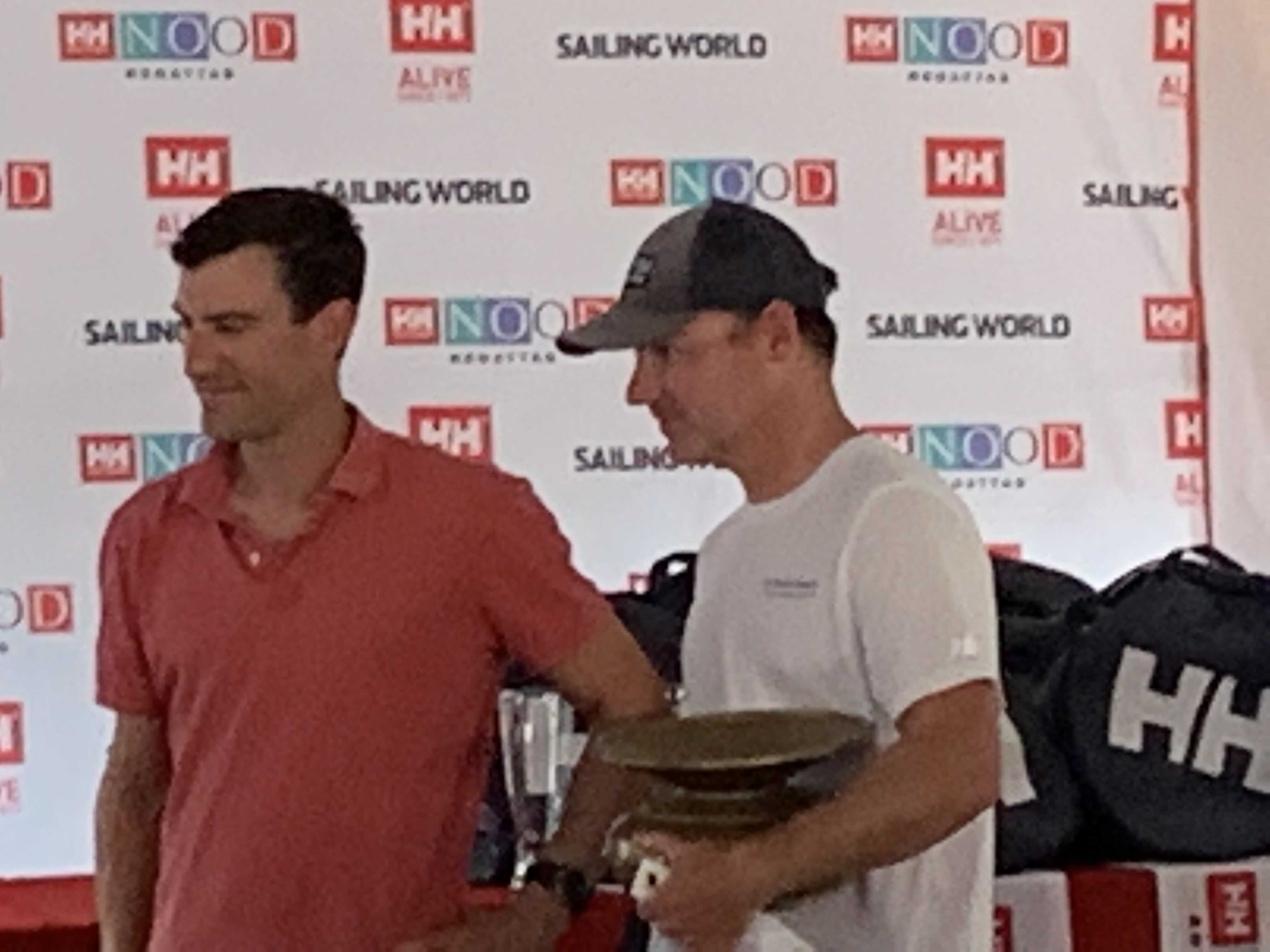 In addition to winning the Spittoon, Matt's day got a little bit sweeter when he received the Cressy Trophy, one of Race Week's two perpetuals, awarded for the regatta's most outstanding performance. Well deserved. Matt wrote in with this, "It was really special winning this in Norm Cressy's old boat and with Norm in the house. He's a legend, and it's an honor. The old Fat Lady can still get up and go!" Indeed it can!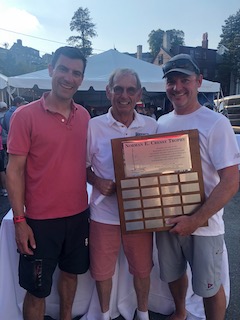 Taking 2nd was Dave Nelson, sailing with longtime crew Ken Delpapa. It looked to the rest of us as though Team Hooks / Pascal's victory was a foregone conclusion after Day 2, but Team Nelson wasn't buying it. After a slow Day 1 start, last year's Race Week champs came roaring back to mount a serious challenge, and ultimately the two boats went hard at each other on Day 4. In the end, these two exceptional teams finished in a tie with 42 points, each with lines that included three bullets and two 2nds, so a beautifully sailed regatta for both.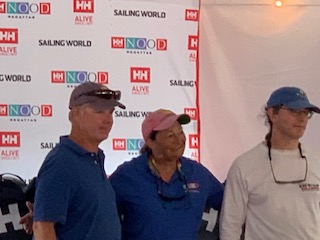 Not to be lost in this drama is the solid performance turned in by Team Taylor, who took 3rd with 51 total points and a single-digit line that included three 2nd place finishes. These guys brought it, and particularly impressive was how well they sailed in the light stuff. Really well done.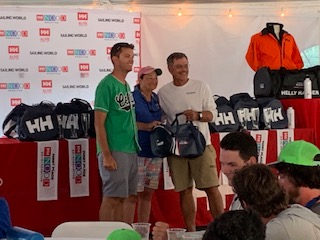 Honorable mentions go to Team Frisch / Hourihan in 4th with 56 points and Team Cooke / Kaznoski in 5th with 72 points. So congratulations to all. You'll find the complete scores here.
Race Week Recap – Day 1
Day 1 started with a sketchy forecast of light and variable that was expected to give way to a light sea breeze in the early afternoon with the tide coming in hard all day. Instead, we got a pretty solid sea breeze in the 7-10 knot range from about 110 that built for a while up to around 12-13 and then slowly eased back to the 5-7 by the end of the day. Between the current and washing machine seas, it was a driving day for sure, forcing the heavier crews to put their bows down further than the lighter ones. There were certainly oscillations, and being in phase and climbing the ladder was productive, but the pressure differentials were probably the most impactful variable.
All of this was academic to Team Hooks / Pascal, who killed it with a 1-1-2 for four points to win the day and take a commanding early regatta lead. They did it by getting three A+ starts, sailing ungodly fast and called their own shots all day. I'm not sure they were forced to tack once. NOOD did a nice feature on Matt here. Taking 2nd on a tiebreaker was Chris & Debbie Schreiber, sailing Chris Small's boat, who rolled an 8-2-1 for 11 points. And finishing 3rd was Team Pandapas, with a 3-4-4, also for 11 points. Honorable mentions go to Team Cooke / Kaznoski in 4th with a 2-5-5- for 12 points, and Team Frisch / Hourihan in 5th with a 4-3-9 for 16 points. One final honorable mention goes to PRO Susie Schneider and her EYC team, who did a great job all day.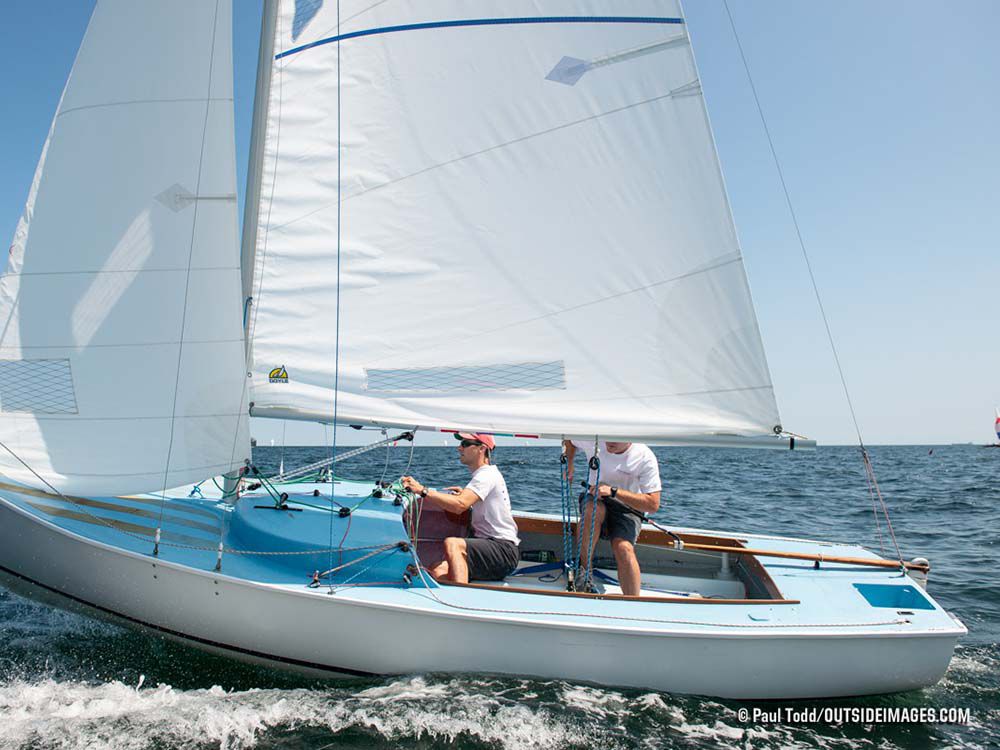 Race Week Recap – Day 2
The Chamber of Commerce outdid themselves on Friday as conditions included sunny skies, temps in the 70s, sparkling water and a gentle southeast sea breeze. The pressure was light, for sure, topping out in the high single digits, with 15-degree oscillations. The tide was ebb when we started, so coming in for most of the day, making winning the pin a risky bet and rounding the weather mark a challenge. We got in two races, and due to early shifts, left was generally favored in Race 1 and right in Race 2. But like Thursday, this was mostly about staying in the pressure and patiently climbing the ladder. The breeze lightened considerably in Race 2, leaving current a more impactful factor and the long, slow beat that much more painful. This was a day where patience paid.
Taking 1st was Chris & Debbie Schreiber, who apparently found the conditions to their liking, rolling a 4-4 for 8 points to win the day. This is a team used to sailing in the 20+ Caribbean trade winds so no one-trick ponies are they. Finishing 2nd on a 3-way tiebreaker was Team Fava / Nash, who put up an 8-1 for 9 points, and taking 3rd was Team Nelson / Delpapa with a 7-2, also for 9 points. Honorable mentions go to Team Taylor finishing 4th with a 2-7 for 9 points and who showed they can bring it in the light stuff, and to Team Hooks / Pascal in 5th with a 1-9 for 10 points.
So, after two days of racing with five races sailed (and no throw-outs), the top 5 looked like this. Team Hooks / Pascal led with 14 points, Team Schreiber held 2nd just five points back with 19, Team Pandapas was in 3rd with 23 points, Dave Nelson held 4th with 29 points and Teams Taylor & Frisch / Hourihan were tied for 5th with 30 points.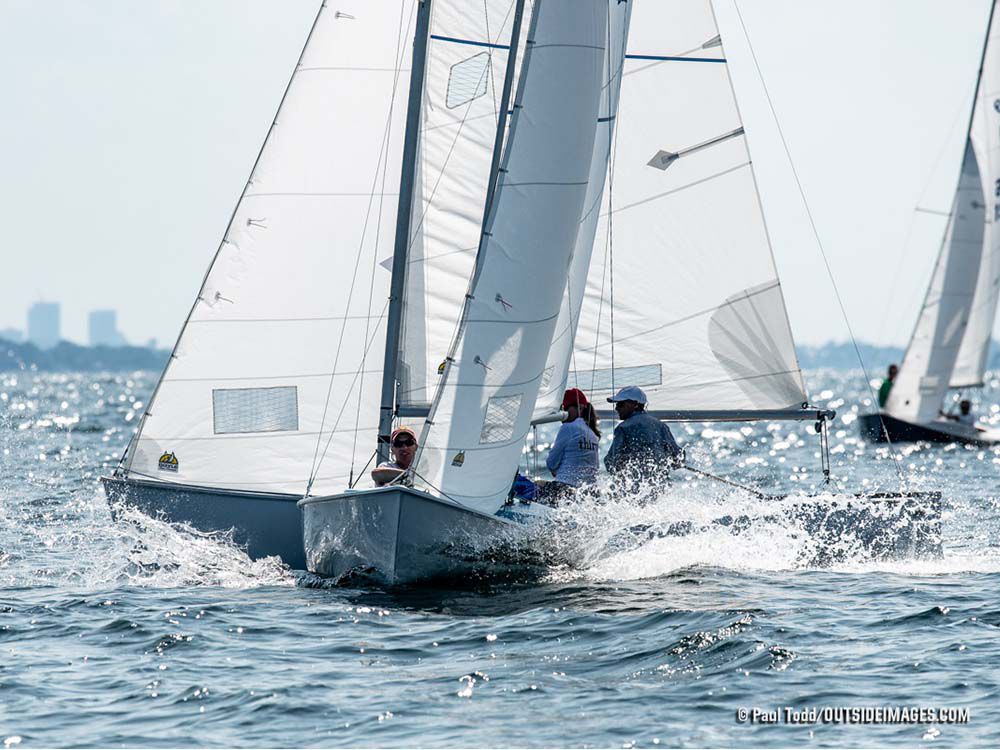 Race Week Recap – Day 3
Saturday featured another beautiful sailing day, though of a completely different variety than Days 1 & 2. The forecast predicted a 6 knot southeasterly that would build to the 11-12 range by the end of the day. The forecasters got the direction right but the pressure wrong, as we sailed out to low teens and saw a solid 14-15 for most of the day. That caught several of the lighter teams by surprise, leaving them without a third and consigned to a day of full hikes and going sideways. The other side of that coin, of course was the relief felt by heavier teams who had been forced to endure 5-10 for the first two days of the regatta. The seas were impressive and uncharacteristically confused and sloppy, particularly in the shallower water near the Brimbles where the RC set up. Upwind driving was an exercise in concentration and working to finesse the bow through the waves. If ever a case was to be made for the stabilizing effect of jumpers, this was it – it was a jumper day. Downwind featured surfing conditions, which aside from just plain fun, provided the opportunity to pass clumps of boats at a time.
Not surprisingly, last year's Race Week winners Team Nelson / Delpapa were one of the teams pleased with the conditions, and their performance showed it, with a 2-1-1 to handily win the day. They were absurdly fast in this condition (and jumpers had to be an asset). When they got the room to put the bow down, they simply sailed away from everybody. Well done. Finishing 2nd on a tiebreaker was Team Hooks / Pascal, who put up a respectable 3-7-2 for 12 points, and taking 3rd was Team Taylor, who rolled a 4-2-6, also for 12 points. Honorable mentions go to Steve Uhl in 4th with a 6-8-3 for 17 points, and to Team Cooke / Kaznoski in 5th with a 7-6-4, also for 17 points. Honorable mention also to Team Ehrhardt (Larry and young son, Allan), who rolled a 1-4 in the first two races before heading in.
Day 3 has often been the Race Week inflection point: a day when the deck gets shuffled, hearts are broken and mathematical realities are begrudgingly accepted. It also is the setup day that foreshadows the one-on-one Day 4 battles and all the drama that goes with them. This day was no different. Though Team Hooks / Pascal held onto 1st place, their 14-point Day 2 lead was cut in half. Team Nelson / Delpapa surged into 2nd on the strength of their exceptional day, and Team Taylor climbed from 5th up to 3rd, with Team Frisch / Hourihan grabbing sole possession of 5th. The previous 2nd and 3rd place teams of Schreiber & Pandapas dropped to 6th and 7th respectively.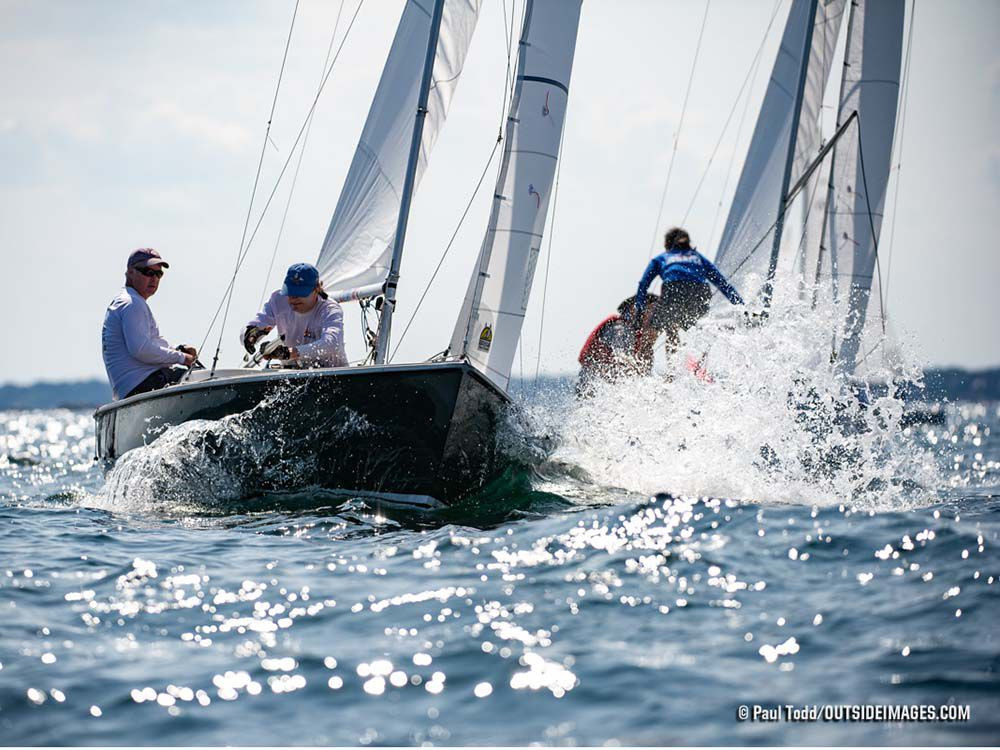 Race Week Recap – Day 4
Day 4 featured another picture-perfect sailing day with sunny skies, temps in the 80s and a relatively well-behaved 8-10 knot southeasterly that hung in there for the entire racing day, which consisted of two races for the Rhodes (three for others). There were fairly regular oscillations in the 10-degree range, and of course, you didn't want to ignore them. But as with the previous lighter days, pressure was the dominant consideration, and it was spotty. Find a lull and boats on either side sailed by you. Current also was not insignificant and was particularly nasty out around Halfway Rock where the RC dropped the weather mark. All in all, it was a perfect day, marred only by the unfortunate timing of our second start, which sent us off the starting line as the J70s rounded their leeward mark. That created challenges across our fleet, both upwind and at the windward mark, which some of us navigated well and others less so. It's interesting, and in this case not helpful, how similar the two fleets' upwind speeds were in those conditions.
The finishing order on this one was impacted by some end-of-regatta match racing with boats tactically willing to give up finishing positions in order to push others down. Taking 1st with a 3-3 for 6 points was Team Frisch / Hourihan. Those guys hung around the hoop the entire regatta and finally put a knockout day together on Day 4. Well done. Taking 2nd was Tom & Will Dailey, who had one of their best days in the Rhodes, rolling a 2-6 for 8 points. Congratulations to them. And finishing 3rd on a 3-way tiebreaker was Team Nelson / Delpapa, with a 1-8 for 9 points. Honorable mentions go to Team Taylor in 4th with a 7-2, also for 9 points, and to Team Shoreman / Reynolds in 5th with a 4-5, also for 9 points. Congratulations to all.
So, a few random thoughts in no particular order. Great to see Nancy & Jerry Blouin at the Party on Thursday night. Wish they still lived here. * This fleet is very tough. There are not a lot of holes in our lineup. * Where the hell was Larry Ehrhardt on Thursday & Friday? * I so love when Chris & Debbie Schreiber come sail with us. They're both great sailors and really fun to have around. * Did anyone see those huge schools of fish out by Satan's on Saturday? They were massive. * How often do we get in four days of Race Week with no fog or washouts? Pretty spectacular, right? * PRO Susie Schneider said it best over the radio at the start of Day 4 when she said, "Four great sailing days, this can't be Race Week."
There was a bit of porch consternation around this year's Race Week scoring not including a throw-out. We wondered what prompted the change, so reached out to NOOD Administrator Kelly Ferro for an answer. She wrote, "The OA removed the throw out to be consistent with our other events. MRA approved the change." So there you have it, mystery solved.
Finally, if passion is a key ingredient to success, then we can all expect great things from young Ashley & Courtney Hoguet. After sailing Junior Race Week, they raced their Rhodes for three of four days with us, and we hear Ashley is off to do another regatta on Monday. Amazing, right? On the topic of achievement, John Irving wrote in Hotel New Hampshire, "you have to get obsessed and stay obsessed." Well, the Hoguet sisters seem to be doing precisely that.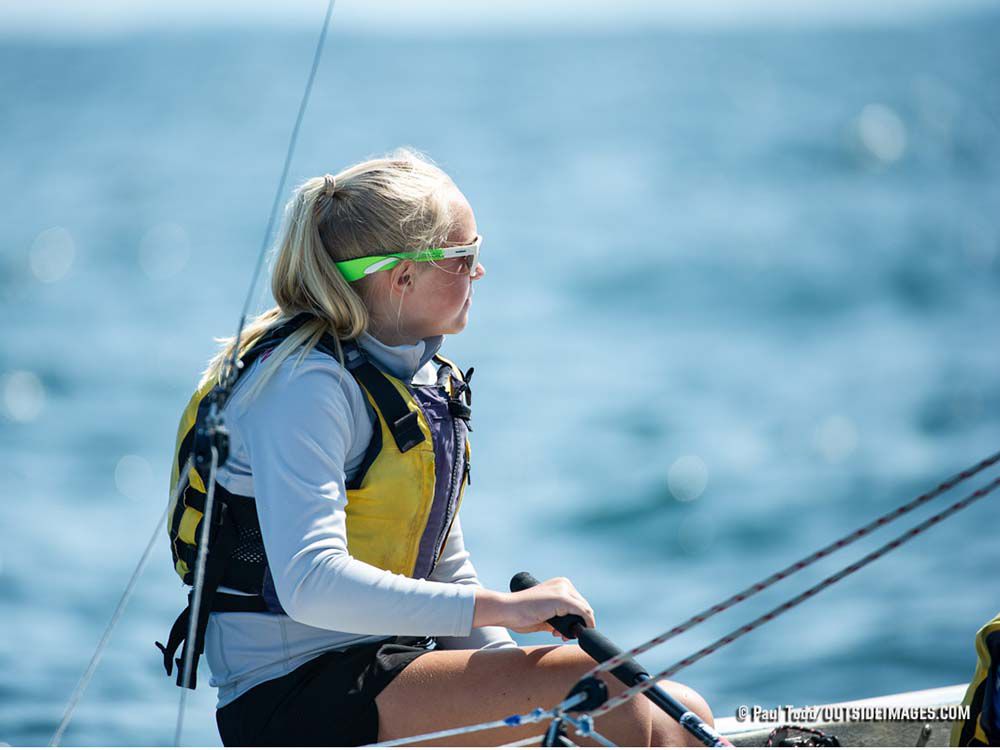 So, in Cup competition, a lot of reshuffling. At the top of the leader board, Team Taylor extends, Team Frisch / Hourihan / Burke reclaims 2nd, Team Pandapas drops back to 3rd and Team Hooks / Pascal surges from 8th up to 4th. Amazingly, and as a demonstration of how impactful Race Week can be to cup scoring, Dave Nelson joins the top 10 despite not racing MRA. The top 10 are listed below.
Week 11 racing will include Twilight 2-2 on Thursday night, the 2-3 races of MRA Series 3-1 this Saturday and the informal (unscored) CYC Cooke Town Class Sunday Series on Sunday.
Other News, Notices & Miscellaneous Scuttlebutt
Sportsmanship Update – Race Week is a typically an aggressive affair, though this one seemed remarkably void of infractions. Team Lane did a circle for a pre-start foul and both Teams Pandapas and Cooke / Kaznoski each did one for hitting a weather mark. We also noted two incidents that included contact for which no protest was hailed and or spins spun. One was a pre-start port-starboard inside one minute on Day 3, and the second was a windward-leeward while rounding the weather mark on Day 4 (which because it was in the zone should have been two spins). So below are the standings, and thanks to those on it for their sportsmanship. Remember, if you spin, send it in.
Labor Day Party – Circle Saturday August 31st for our annual post-race Labor Day Party, which this year will hosted by old friends Sloan & Charlie Pendleton. Like last year, this will be a mixer with our friends from the J70 fleet. More details to follow.
Nationals 2019 – The 2019 Championship Regatta will be held August 21-24 in Hingham Bay, hosted by our friends at the Hingham Yacht Club. The NOR is available on the regatta website.
Need Crew – Jocelyn Cook has been stitching together crew all season, but still has some holes to fill (below). If you're interest, email her at jocelyn.n.cook@gmail.com.
MRA August 3rd, August 10th, August 17th and Labor Day Regatta on August 31st & September 1st
Twilight – August 12th & August 29th
Nationals – August 21st – 24th
Mail Bag
Rick Berliner sent this in a week or so ago and we forgot to include it. Better late than never. "Today Stefan & I spotted a seal, fish in his mouth, about 40 yards above the starting pin between our races while we were waiting for the j70s to round before our sequence started. Surfaced his head twice for about 10 seconds." Hmmm. Sushi…
John Casler sent in an email string on last week's Thursday night course kerfuffle. "Kim, it came out at dinner that it was Bart Snow who goaded the RC, against their better judgment, to post that course last night. So here is some back and forth."
John Casler: "Bart, following post-race discussions in the Harbor Room tonight, I will be giving the Townie fleet '23, 19, 20' as a course for both races on Sunday."
Bart Snow: "That won't give them much of a beat as the wind will be SE. How about 28, 20, 23, 25? Don't always think triangles. W's are good too. Variety is the spice of life."
John Casler: "Done! Perfect! I will put up another hook for the fourth mark, and then announce over the radio that the rounding will be in accordance with a star map of Cassiopea."
Bart Snow: "These courses sound like quarterback audibles."
John Casler: "And, like Tom Brady, not playing with a fully inflated football."
Pretty ugly, right? How dare they drag Tom Brady into this.
We got this upbeat email from Jocelyn Cook, who despite having her share of Race Week breakdowns, remains enthusiastic. "I wanted to say how much I enjoy racing with Fleet 5. It's such a huge learning. I'm encouraged by the little steps… relatively good starts, sticking with people upwind, dowsing with others and not finishing alone. I learned so much and value the shouts of encouragement or tips between races. The friendly waves and smiles across the water are huge encouragements."
Finally, many of you may have heard that Team Shoreman / Reynolds lost their rudder during the last race, which by the way didn't stop them from rolling Team Pandapas, but I digress. What you may not know is that two of their competitors came to their aid. Dave Reynolds sent in the picture below with the comment, "Thanks to Mike, Renee, Steve and Peter for making sure we were safe and helping us out." Yes, that's a Rhodes towing a Rhodes, and as far as I'm concerned, that's Fleet 5 in a nutshell.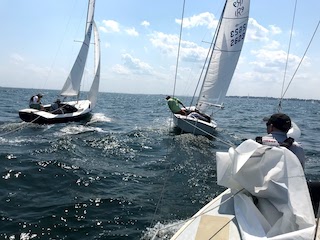 –kp (kpandapas@comcast.net)