Road To The Cup – Week 15 – Labor Day Edition
Top-10 as of 9/5/22
Eight boats made it out for the final Twilight of our short season, which was held on a picture-perfect evening featuring 10-12 from the northwest and relatively flat seas. Unsurprisingly, three of those teams were among the top five in our super tight Cup competition, including Team Lane, Steve Uhl, and shockingly, Team Frisch / Hourihan, who obviously are taking this cup thing seriously and unwilling to surrender points unnecessarily. More shocking still – Seamus Hourihan crewed for Peter Frisch while, as you know, it's usually the other way around. Amazing, right? These guys always keep you guessing. Anyway, our final Twilight report of the season is again from Steve Uhl.
"A beautiful evening for the twilight finale. Probably due to the nail-biting road to the cup scores, team Frisch / Hourihan made their first appearance in … ever? Not sure, but fun to have them out there. The nice northwesterly drew a course of Archers Rock then a nice beat to Williams Rock and home. But before Williams Rock was posted, the RC briefly had the harbor nun as mark 2 – and not everyone picked up the change (the RC posted properly and announced it on the radio – but going to the wrong marks is a twilight race tradition). At mark 1 it was Team Lane, followed by Ann Sousa sailing with Joan Thayer. On the beat Ann took the lead, partially due to Team Lane not picking up the last-minute course change, but also they were sailing super-fast from my vantage point. In the end, Team Sousa / Thayer led back into the harbor, followed by Steve Uhl, Team Frisch / Hourihan, Team Colsman and Anne-Marije Veenland. Thanks to the RC for all the great twilight racing this year."
Worth mentioning is that Team Lane's lead coming out of mark 1 was impressive. I can't imagine their frustration surrendering such a large a lead, so honorable mention to Team Lane, just on principle. By the way, I echo Steve's appreciation to PRO David Graham and his team for delivering yet another terrific Twilight season. He cares deeply about Twilights and works his butt off to make Twilight racing what it is, and we all owe him a tip of our caps.
And with that, Twilight Series 2 is in the books. Taking 1st with an impressive 11 points is Steve Uhl. Finishing 2nd with 20 points was Walter Colsman, and taking 3rd with 24 points was Team Taylor. Honorable mentions go to Team Martini in 4th with 25 points and Team Sheldon / Sousa in 5th with 27 points. Congratulations to all.
So, for the series, congratulations to Steve Uhl on a dominant Twilight performance overall, finishing with just 18 points for the combined series, which is just over half as many points as the 2nd place team. That, of course, earns him a year of bragging rights as well as the 2022 Charlie Barr Trophy, awarded each year to our Twilight champion. Well done! Taking 2nd overall was Team Colsman with 35 points, and finishing 3rd was Team Martini with 41 points. Honorable mentions go to Team Lane in 4th with 44 points and Team Taylor in 5th with 51 points. Congratulations to them, and to everyone who participated. The complete 2022 Twilight season results are below.



Before we move on to MRA, I mentioned above that three of the teams who sailed Thursday night were in the top 5 in Cup competition. To underscore how critical Thursday nights can be to Cup scoring (as well as to build a little suspense), the tables below show the top five rankings going into Thursday, and the top 5 coming out of Thursday but before the weekend's MRA scoring.

Out on the MRA line, our final weekend of racing included two days – both Saturday and Sunday, though packaged not as the Labor Day Series as in years past, but as the final two days of Series 3. Let's start with Saturday.
The forecast called for, and this a direct quote, "Variable winds less than 5 kt becoming SE 5 to 10 kt in the afternoon. Mostly sunny. Seas around 1 ft." Well at least they got the SE part right. Conditions included pressure that built through the morning into steady mid-teens, where it stayed through all three of our races. That stirred up the seas, which built throughout the day into impressive swells that made for challenging upwind steering and fun surfing going down. Ten boats showed up, but a breakdown forced Team Martini to head back in before racing started. Two more bailed after race 1 and a yet another after race 2, leaving just six boats for the final race, and unsurprisingly, they included four of the five boats contesting the Cup.
Team Lane / Heffernan had themselves a very consistent day, putting up a line of 2-3-2 for 7 points, to win the day. Taking 2nd on a tiebreaker was Team Frisch / Hourihan, who rolled a 5-2-1 for 8 points, and finishing 3rd was Team Uhl / Lane, with a 3-1-4, also for 8 points. Honorable mentions go to Team Pandapas in 4th with 1-5-3 for 9 points, and Team Dittrich / Renny in 5th with a 7-4-DNC (7) for 18 points. Congratulations to all.
As you'd expect, the day's racing jumbled up cup scoring yet again and produced the 3rd leader in three days. Interestingly, the second MRA throw-out kicked in after ten races, which resulted in net points for the day of: Team Lane / Heffernan -1, Team Frisch / Hourihan +3, Team Pandapas +3 and Team Uhl / Lane +4. Below are the top 5 in Cup standings going into the final day.
Just eight boats showed up for the final day of MRA, which was a shame as the folks who stayed home missed an excellent day of racing. All the marbles were on the table for this one, as each of the top three teams, separated by a scant five points, came out looking to close the deal.
The Sunday forecast called for SW wind 5 to 8 kt, becoming SE in the afternoon with one foot seas, and that's about what we got. Pressure gradually increased over the afternoon to the two-butts-on-the-rail range, with building seas, but nothing like Saturday. The current ran hard in all day, which on our track was top-to-bottom, and stiffer in the deeper water on the left, leaving left-side port tack a bit slower. The current also resulted in some sporty moments trying to clear the pin at the start. Over the afternoon, several boats were forced to bail and spin at the pin. The RC did an excellent job keeping things moving, getting in three fairly long races and giving racers their money's worth.
Taking 1st on the day was Team Pandapas, who put up a consistent 2-2-2 for 6 points. Finishing 2nd on a tiebreaker with an impressive 1-1-5 for 7 points was Steve Uhl, sailing with Stefan Thibodeaux, and taking 3rd was Team Frisch / Hourihan, who rolled a 3-3-1, also for 7 points. Honorable mentions go to Team Lane / Heffernan in 4th with a line of 4-4-3 for 11 points, and Team Dittrich / Renny in 5th, who put up a 5-5-4 for 14 points. Congratulations to all.
So, that closes out Series 3, won handily by Team Frisch / Hourihan with 19 points. Well done. Finishing 2nd was Team Pandapas with 23 points and taking 3rd was Team Uhl with 28 points. Honorable mentions go to Team Lane Heffernan in 4th with 41 points, and Team Dittrich / Renny in 5th with 63 points. Congratulations to all.
The end of Series 3 also closes out the MRA overall, which totals the net scores of all three series. Taking 1st for the season was Team Pandapas, with series scores of 10-47-23 for Series 1, 2 & 3 respectively, for a total of 80 points on the season. Finishing 2nd was Team Lane / Heffernan with an 18-40-41 for 99 points. And taking 3rd was Team Frisch / Hourihan, who put up scores of 7-75-19 for 101 points. Honorable mentions go to Team Uhl in 4th, with scores of 20-74-28 for 122 points, and Team Dittrich / Renny in 5th with 18-76-63 for 157 points. Congratulations to all. You'll find the complete MRA scores here.
So, in Cup competition, the nailbiter going into Sunday was further complicated by netting Sunday's results with the third throw out of Series 3. That's right – three throw outs. The SI's provide for one after five races, two after ten and one for every additional five. We got in 15 races in Series 3, which triggered the third. So, in terms of net points on the day, Team Uhl threw out their 5 for 2 net points on the day. Both Team Frisch / Hourihan and Team Lane / Heffernan netted 3 points. The end result of all of that, astonishingly, was a tie at the top, with both Team Uhl and Team Lane / Heffernan finishing with 243 points. Can you imagine that? In all my years of doing this, I've never seen anything like it. Applying the tiebreaker, we counted bullets over the course of the season across all series included in Cup scoring. Team Lane / Heffernan finished with five bullets and Team Uhl finished with eight. Tie broken, and congratulations to Steve Uhl, who after 20+ years of chasing it, finally took home the prize – the Nick Nichols Season Championship Trophy. Well done! The 2022 top 10 are listed below.

And with that, our 2022 season draws to a close. Some unofficial racing remains, including a couple more unscored Twilights, as well as some potential Fall weekend racing (see Rob Ferro's proposal in the mailbag below). But this will be the last edition of RTTC for the 2022 season. There will, of course, be a final Holiday Edition in December, and we'll be back in the spring to do it all over again.
But before I go, a few shout-outs are in order. First, thanks to the three clubs who make all this possible. Thanks particularly to the fine folks of MRA, without whose hard work all year, there would be no regular summer racing. They all deserve our appreciation. And thanks to the legions of RC volunteers who continue to give up their days so we can play. And as previously mentioned, I'd like to give a special shout-out to David Graham, who labors every week of the summer to bring us Twilights.
Finally, please know that while I sign these every week, it takes a village to put them out. Huge thanks to Steve Uhl, Walter Colsman and his eminence John Casler for keeping us informed about Twilights, and thanks also to all of you contribute pictures and emails. Thanks to my better half, Christina Pandapas, who does the all-important job of keeping me out of trouble with questions like, "Geez, do you really want to print that?" And thanks also to Nat Taylor who posts them to Fleet 5's web site and Facebook page. I ask that they all accept an appreciative tip of my cap, and I urge you to thank them when you see them.
Week 1 racing is expected to include the first two days of MRA Series 1 on Saturday May 27th and Sunday May 28th, 2023. Have a great offseason.
Other News, Notices & Miscellaneous Scuttlebutt
Welcome Team Hefler – Many may remember old friend Greg Hefler, who sailed Etchells out of CYC for years. About seven years ago, he was forced to stop due to a heart issue. Though that issue remains unresolved, Greg and his daughter Hanna Hefler have purchased a Rhodes and plan to race it. Greg writes, "I bought #1933 from a friend down in Padanaram. It is sitting at Concordia right now. I'm ordering a new trailer from Triad this fall. The ribs have been done and I will have Concordia Awlgrip the hull this winter. I will reach out to Dolan about the bottom. The boat actually came with a new suit of sails (Doyle) and a Lindsay rudder. Jack has a drysail spot for me for next season too." How awesome is that?
Greg adds, "Hanna is my daughter (and a new junior member at the CYC) and has been doing the woman's sailing program at the CYC on Fridays. If I'm still powered by battery next season, Hanna will be sailing the boat and I can be the GM of the program."
So, huge welcome to Greg & Hanna. We look forward to seeing them at our parties and on our starting line next season. Below is a shot of Greg from about ten years ago.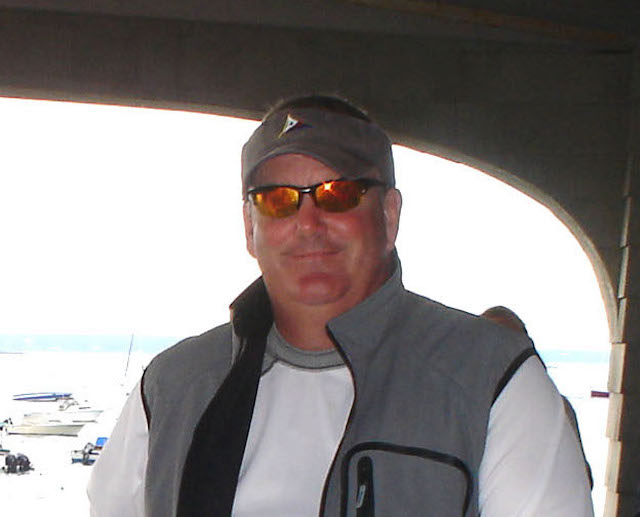 Labor Day Party Cancellation – Apologies to all for the last-minute party cancelation. Suffice it to say that cancelling was the last thing any of us wanted to do, but it was unavoidable due to a circumstance outside of anyone's control. The next party will be the Awards Banquet, the details of which are still being worked out. Stay tuned.
Fall Series Cancellation – More than a few folks were caught off guard by this week's MRA cancellation notice of the Fall series. Just to provide a little context, MRA had included the three days of Fall Series on its schedule as a placeholder, and if you looked carefully, you would have seen that, in contrast to the other events, none of the three clubs were listed as running it. MRA knew at the beginning of the season that the RC's of all three clubs would be needed to run the Star Worlds, so would be unavailable to run Fall Series. They kept it on the schedule, however, in the hope that some alternative might present itself, such as booth racing, or perhaps someone stepping up to run races with minimal resources and using government marks (see Rob Ferro's email below). So the truth is, MRA didn't cancel Fall Series, they had simply never planned to run it. Admittedly, the dates should probably not have been on the calendar, but their inclusion was evidence of MRA's heart being in the right place. Your MRA Rep (yes me, guilty as charged) probably also could have done a better job perusing the schedule and asking better questions. In any event, we continue to be appreciative of all that MRA does and look forward to continuing to strengthen Fleet-MRA communications in the years to come
Outstanding Crew Nominations – Nominations are now being excepted for the 2022 Outstanding Crew Award. Nominations must include a supporting paragraph describing why you think your nominee should win, and if it includes something funny or embarrassing, all the better. It's entirely likely that the letter nominating the winner will be read aloud at the awards party, so make it good (and keep it clean). The winner will be decided by the Fleet leadership, who for the most part, are above board and cannot be bought! Send your nominations to elise.mazareas@gmail.com this week while it's fresh in your mind, or certainly by no later than September 30th.
If You Spin, Send It In (aka Road to the Pie) – We had one spin from last week. This from Steve Uhl, "I just remembered I hit a mark and spun on Saturday so you can add that to the list. Hit the offset for no particularly good reason." Thanks Steve, it's added. If there were any spins this weekend (aside from people bailing at the pin on Sunday), we didn't hear about them. So, that closes out our spin tracker for the 2022 season. Congratulations to Team Dailey and Team Pandapas, whose four spins apiece top this year's list of honest, law-abiding, room-avoiding, sportsmanship-observing rules violators. Their sportsmanship will be celebrated at the awards party where they'll each be awarded a pie (or possibly they'll each get a half a pie – not sure yet). Thanks to everyone who left it on the course and contributed positively to our culture of fair sailing.

Support Lindsay Smith – Please help support Lindsay, who has been having a rough go of it lately. Make your check payable to "Fast Mermaid Fund" and mail it to Alan McKinnon, 21 Robert Rd, Marblehead, MA 01945.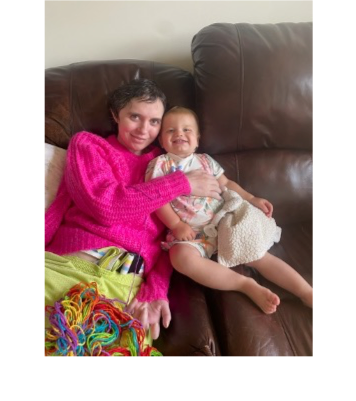 Mail Bag
Fall Series Proposal – Old friend Rob Ferro wrote in with this proposal to provide some racing this fall.
"Hi Folks. If there is interest, I would be happy to run a couple weekends of racing for the Rhodes19 fleet this fall. Some of the most memorable sailing takes place in the fall as the wind is usually up and the fires are lit in the clubhouses. All Rhodes19's are invited. There is no obligation for MRA membership, and no fees are requested. Operationally: I have several inflatable marks from West Marine. We will be using a 17' Montauk as well as Bob Winter's Grady White, which he is willing to operate and donate to the cause. My suggestion is we stay inside Cat Island and keep the windward mark at .60-.75 Nautical Miles.
"I'll look into a first-place trophy. Most likely a donation from West Marine. Let's say 5 makes a fleet. A bit short on time to organize a keg donation unless someone wants the role. Reach out to me via (reply all) so we know the level of interest and from there any questions or concerns should be asked directly.
"So to be clear, this is not being run by the CYC, EYC, BYC Etc.. What is being offered is two weekends of racing following the end of MRA season. Let me know your interest."
Robert Ferro 781-927-9000 / robferro2001@gmail.com
Tucker Thompson Back at CYC on September 22nd – Joe Fava wrote in asking us to post this. "My friend and brother in sailing Tucker Thompson is coming back to CYC Thursday night September 22 for an America's Cup presentation for us. What really happened to American Magic? Why is the Royal NZ Yacht Squadron hosting the Cup in Barcelona (do they really like Paella that much?). Did I mention Mt. Gay will be on hand serving drinks? Cocktails at 6:30, Presentation at 7. No cost, bring a friend…but please register here (so we have enough Mt. Gay…and seats)." Adding my two cents, this is a must-do. If you've never heard Tucker speak, he's awesome.
Nationals Photos – Morgan Van Ness sent in this message, which includes a link to 2022 nationals Photos. Thanks to Morgan and to Chris Carville.
"Chris Carville has been kind enough to let us host our pictures from the event on his SmugMug page. Our photography team (thanks Bryan!) took several thousand photos, so be prepared to sift through a variety of shots when looking for your boat. I hope to eventually have a curated list of highlights from each day, but it's taking some time to sift through. Some of the progressions/roundings are really exciting to watch and there are quite a few different spinnaker set techniques highlighted. I only have skipper emails, so please share with your crew."
–kp (kpandapas@comcast.net)