Road To The Cup – Week 9
7/19/20
Finally, some racing. For the record, our opening day of the 2020 season was a Twilight race on July 16th. Imagine that, July 16th. Don't get me wrong, I'm ecstatic that we're finally back in business. It's just mind blowing when you think about the fact that our first race occurred exactly one week before the start of what would have been Race Week, but I digress.
Eight boats showed up for Thursday's Twilight, which was an absolutely picture-perfect evening with a gentle northeasterly in the 8-10 knot range. This first Twilight report of the season is brought to us by El Jefe himself, who also by the way, drew first blood.
"The first Twilight race of the year featured great conditions and a great turnout, but the story started with two tangled tales of the hoist."
"First, after saying that I was going to take a Covid rest from weekly bottom scrubbing this year, in the interest of marine science I did give it a go at about 3:30 Thursday afternoon. Sad to say, while no fauna in evidence, there was plenty of flora after just 10 days in the water, so I guess I'll be scrubbing after all. Even worse, the small rust tumors on the keel that I thought I could ignore given the short season have already grown, making what would have been a modest maintenance job this spring into a much bigger one for next year. Serves me right.
"Second, while the CYC decision to close the crane pier at 5PM Tuesday through Thursday made good sense early in the year, it was an ugly surprise for Teams Kaznoski, Fava and Lane this Thursday. A flurry of animated phone calls involving our Sailing Cmte Chair (Joe Fava) Vice Commodore (Jim Raisides) and Sailing Director (Kevin Dooley) did get the boats in the water in time. Thanks, Kevin, for putting in the extra time to allow use of the hoist, and for taking some video of the racing. Be alert for that becoming available.
"Oh yeah, the race. The conditions were great, with a nice, steady, dry northeasterly of +/-10 kts at about 45 magnetic, which kicked up a short, steep, R19 stopping chop once clear of the lighthouse. The course was #28 (near Gray's Rock), #25 (just north of Cat Island) and back, twice around(!). The turnout was equally great, with Teams Casler, Martini, Dittrich (singlehanding), Kaznoski, Fava, Lane, Thibodeaux and Taylor participating. #1926 was saved from single-handing with the able assistance of new Rhodes owner Anne Marjie Veenland.
"The start was complicated by the boats in the mooring field aligned bow to stern parallel to the starting line. Since we were maybe ½ boat length early, having a sizeable cruising boat just on the pre-start side of the line was like having the Patriot's offensive line blocking for us as we killed a few seconds. We were on the edge of OCS, but there were at least two other boats even more so, so off we went on a broad reach for #28 (Nun 2). We went low early because, as usual, I was navigationally challenged, but being able to come up with a hotter angle approaching the mark nosed us ahead of Team Lane. We rounded with a 2-3 boat length lead, with Team Fava close behind in third. I have no idea what the rest of the rounding order may have been, but it must have been tight given all the verbal exchanges overheard.
"Next was a long square bumpy beat to #25. Team Lane was bow up and eating us up early, I think partly because we got out into the current header first (the tide was ripping in) and partly because they were just set up better. Dropping the traveler +/-1" in the chop seemed to make all the difference, and we re-established a more comfortable lead. We picked a nice (lucky?) layline on port to #25 in the ripping current, and rounded first ahead of Team Lane, with the two father/son teams, Fava and Kaznoski next around. The long reach back was uneventful for 1926 but not for Team Lane, who had to fight off a serious challenge from Fava & Son right to what turned out to be the finish, after the RC wisely shortened by calling off the second lap. The finish order was 1926, 2623, 1316, 2648, (1217? 1466?), 41 and 1775 DNF.
"Finally, a huge thank you to the MRA, Mark Toso and the CYC RC, and especially David Graham and Bart Snow for all the hard work that they have put into giving us sailing nuts a game to play. They should all know how much we appreciate their efforts."
Roger that. So, for the record, taking 1st was Team Taylor, followed by Team Lane in 2nd and Team Fava in 3rd. Honorable mentions go to everyone else, especially Timmy Dittrich for sailing his first R19 race single-handed.
Out on the MRA line – and isn't it nice to say that? I'll think I'll say it again just for fun. Out on the MRA line, the forecast called for SE 5-10 in a scorcher, a classic sea breeze setup, and that's pretty much what we got, though the pressure built in to two-on-the-rail by race 3. No more-perfect a sailing day has ever graced our waters. Here's a shot of the first MRA start of the season.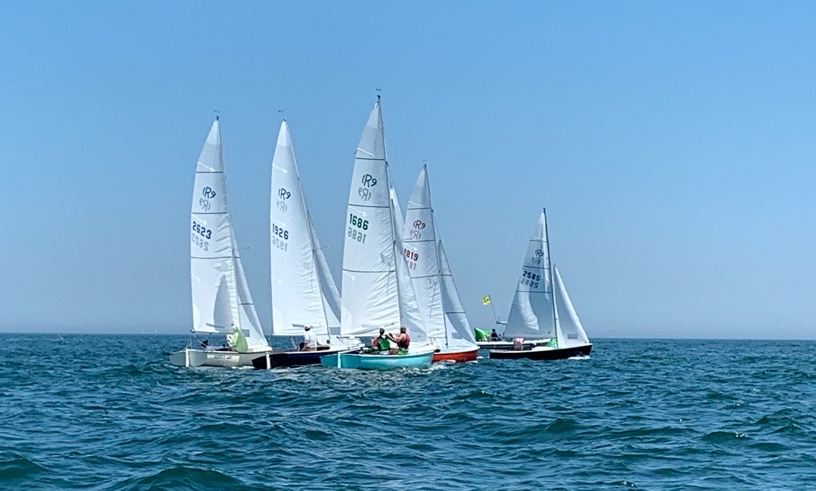 The strategic set-up was not atypical – the wind suggested going left on the developing sea breeze, while the current play was right to avoid the strong adverse current of the outgoing tide on port tack in the deeper water. But on this day, the breeze trumped (sorry) current as there was simply more pressure on the left side. From my vantage point, left paid all day.
Eight boats showed up for this most festive occasion, though regrettably, MRA recognized only six of them in the scoring, suggesting that two failed to register. In the words of the fine folks of King's Landing – "shame." Shall I show you who? Sure why not, here you go.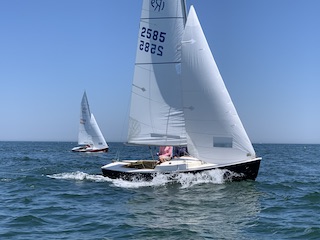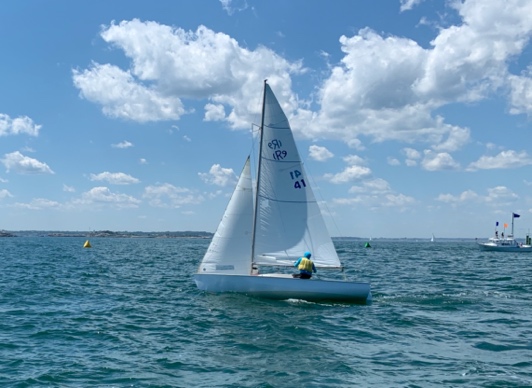 Shame…
So taking first on the day was Team Lane/Heffernan with a 2-1-2 for five points. Not a bad first day on the water for them. Well done. Taking 2nd with a 1-3-3 for 7 points was Team Kaznoski with young Wilson Kaznoski on the helm. Boy that kid's good, and cool as a cucumber. I really admire that. And finishing 3rd on a tie breaker was Eric Thornton, who rolled a 4-4-1 for 9 points. Honorable mentions go to Team Taylor in 4th with 3-2-4, also for 9 points, and Team Martini with a 5-5-DNS for 16 points. Congratulations to all. For the record, we saw two spins, one by Team Taylor and the other by Eric Thornton, both for hitting the top mark in the strong current. Well done. Please register!!
One final MRA note, the MRA SIs limit boats to three people. We ran into the Berliner family (mom, dad and their two kids) sailing around on Saturday, who wanted to race but could not due to the 3-person limit. I wonder if an amendment is possible that relaxes that limit for all family members.
So in Cup competition, we're still all tied up because as you know, there will be no season scoring this year. But much to the expected disappointment of Team Sorlien/Thibodeaux, who have enjoyed their perch atop our tied standings for the better part of the season, we replace that table today with a new table which tracks daily race metrics, like bullets, top-3 finishes, etc. This could very well evolve from week to week as I'm essentially making it up as I go. So bear with me. If there is a stat you think I should include (or not include), just let me know.
Week 10 racing will include a Twilight on Thursday evening, the MRA Summer – Day 2 on Saturday and morning booth racing on Sunday. The CYC Cooke Sunday Racing series is not on the MRA calendar for Sunday morning, most likely due to the fact that Sunday would have been the last day of Race Week. But that day is listed on the SIs, and we quote, "Races are scheduled for July 19, July 26, August 9, 16, & 23." So there you go.
Other News, Notices & Miscellaneous Scuttlebutt
Harbormaster Relaxes Phase 3 Guidance – Remember all that stuff about numbers of people in a boat and competitions versus tournaments that we talked about in last week's edition? Forget about it. Harbormaster Mark Souza made the unilateral decision this week to relax those restrictions within his jurisdiction, opening the door for boats with 2-3 (or more) people to sail scheduled tournaments. That sent the Junior Race Week regatta committee and its overachieving co-chairs Christina Pandapas & Jean Skaane scurrying to restore the 420 line to the event, just two days before the close of registration. What a moving target that event has been. And yes, if you're wondering, the harbormaster's decision, made just days after pulling the plug, would have enabled NOOD to run Race Week.
Twilights Opened to Sonars – The Thursday Twilights, which traditionally have included just the R19 and Townie fleets, will now include a start for Sonars. That's great news as it allows more folks to get out and see why Thursday night racing is so special. A lot of virtual ink was spilled this week debating just where in the starting order to put them. In the end, the consensus was to start them last, so R19s start first, Townies second and Sonars third. Last I checked, those changes weren't yet reflected on the CYC SIs link, but I'm sure they will be soon.
Gate Gate – As Jim Taylor mentioned in his Twilight race wrap, several dry-sail sailors arrived at the CYC after work to launch for the first race of the year, only to find the crane pier gate locked up tighter than Trump's tax returns. This was surely a confluence of temporary operating protocols, overreaching state crane-use regulations and perhaps a bit of miss or failed communication, but fortunately it all worked out in the end. Everyone launched and made it to the church on time. The hoist will be available next Thursday until 7pm, and then on subsequent Thursdays until 6pm which is consistent with the late summer (earlier) Twilight start time.
Welcome Austin Barber – Congratulations to Christine & Forbes Barber, who welcomed their second son Austin Lincoln Barber on Monday. Wow, what a great name. Sounds like the protagonist in a John Grisham novel; definitely a name he'll have to grow into. Anyway, here is the report from Forbes. "Here is Austin L. Barber, born 19:51 Monday the 13th. At 8lbs 13oz and 21 inches, he appears headed for the 5o5 fleet so far! Everyone is happy and healthy, and looking forward to escaping "lockdown" at the Beth Israel and getting back to Marblehead tomorrow."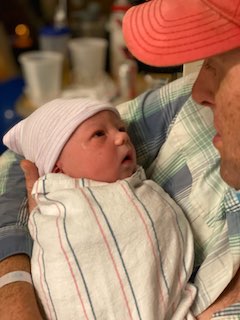 Where's MoMo? – We've received more than a few inquiries as to why Team Pandapas was a no-show for the long-awaited first racing of the season. The short answer is that their much needed rib job, started in February and targeting a May 1 completion, seems to have run a little long. A recent status text actually used the words "finish up" so there is reason for optimism. Don't worry, it'll be done next week…
Sails for Sale – Need a jib? This from Steve Uhl. "I discovered FOUR jibs in my basement – they are all in surprisingly good shape and are for sale." Email Steve at steve@macwayuhl.com.
Mail Bag
Steve Uhl weighed in on our possible use of What's App. "FWIW, what's app worth a try. Has worked for lasers pretty well. I can see it for things like "did twilight just get cancelled", "who's doing Tuesday booth race" etc. Last year I remember [one of the Fleet members] sort of complaining that she had no way of knowing game day status etc." I agree with that. I think it's worth a try. If you're interested, download the app and click on this link. Questions, email Elise Nash at elise.mazareas@gmail.com.
Last word this week goes to Christina Pandapas, who wanted to offer a few well-deserved shout-outs. "There really are no words to aptly express gratitude to all the organizations, businesses and individuals who are making MJRW 2020 possible this year with only 13 days to pull it together. We have so many stories — like Sail Salem who stepped up big time by giving us space for all the visiting 420s at the last minute. There's Staples in Salem, who knocked 20% off a sizable print order, saving us a lot of money, and turned our signage around in 8 hours. Marblehead Sports Shop did all the volunteer shirts in less than a week, set up an MJRW 2020 virtual gear store in a nanosecond and is providing on-site order delivery to our participants. Marblehead Opticians, RibCraft, West Marine, US Sailing, and individual donors gave us amazing prizes so we could run a virtual raffle. The Town of Marblehead – Board of Health, Harbormaster, Public Schools, and Recreation & Parks came through in every way from helping us with our extensive COVID protocols to allowing us to use the high school parking lot for a drive-through registration and even waiving the permit fee for our trailer storage. Trading Company offered us space in Little Harbor and moved a bunch of trailers to give it to us. And, last, but absolutely not least – the Corinthian, Eastern and Manchester Yacht Clubs who all said "We're in!" when we made the go-ahead call on July 7th. I'm actually getting a little choked up writing this. To give the young sailors this regatta after all they've missed over the last five months is nothing short of phenomenal. There may be no social events, no tent, and no food, but MJRW 2020 has a lot of heart. Thank you, thank you, thank you." What she said.
Let's be safe out there. Please don't let down your guard.
–kp (kpandapas@comcast.net)