Road To The Cup – Week 10 – Race Week Edition
7/26/20
Let's start with Junior Race Week. Close to 135 kids participated in what has become a centerpiece of the junior racing schedule. This year, however, it was the junior racing schedule as practically all junior regattas across the northeast have been cancelled for obvious reasons. Regatta co-chairs Christina Pandapas & Jean Skaane, however, were not to be denied and were unrelenting in making this happen, and it did. Tip of the hat to them, and how great is it that our young sailors got a little normalcy in the midst of so much disruption.
The event ran Monday through Wednesday, though they raced just the first two days as Wednesday was a scratch, with a struggling northeasterly that just couldn't get its act together. Monday's conditions included partly cloudy skies and a building southwesterly that started light and topped out in the high teens. Tuesday featured sunny skies and a gentle westerly in the morning that intermittently gave in to an anemic sea breeze in the afternoon, creating convergence conditions that turned weather legs into drifting runs.
Several Fleet 5 progeny competed in this event, including Molly Lane, Haley Nelson and Sophia Ianchulev (420s), Ethan Cook (Opti Green) and Ashley Hoguet (Laser). Ashley, you'll recall, has for years jumped off her JRW boat and skippered her dad's Rhodes in the senior edition of RW. Sorry she didn't get to do that this year. Next year Ashley. Anyway, congratulations to all.
As in years past, several Fleet 5 members volunteered to support this regatta, starting with Christina Pandapas serving as co-chair. Chairing a junior regatta is big job under normal circumstances, but the degree of difficulty this year with evolving guidance and strict COVID protocols was off the charts. Really well done. RC numbers were modest due to density guidelines, which forced skeleton crews. Two of the four PROs were card-carrying members of Fleet 5, including Alex Felton on the Laser line and Kim Pandapas for Opti Champs. Other Fleet 5 RC included Joe Fava, Rob Ferro, Ken Adam and Mike Lane. Old friend Rick Myers served as a judge, Jocelyn Cook and Kaki Ianchulev on organizing committee, Stephan Ianchulev on medical, Frank McNamara served as scorer and Ramsay Houget was this year's safety czar. I'm sure I missed somebody, so sorry, but it's clear Fleet 5 members again stepped up. Thanks to all, and thanks to the CYC, EYC and Manchester YC for supporting this event.
As to senior Race Week, that obviously didn't happen, but worth remembering is that Thursday not only would have been the opening day of NOOD, but it also was to have been the date of our traditional RW party hosted by Jennifer & Steve Uhl. To be clear, when we were planning the season, the Uhls stepped up to host this party – again – for the 11th straight year, and for that we are eternally grateful. Hopefully they give us a raincheck.
As to the opening day part, we actually missed nothing, as racing would certainly have been cancelled; early because of no air and later because of thunderstorms. Here are a couple of shots of the conditions at 12:30 (first gun) on Thursday.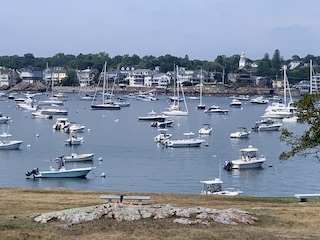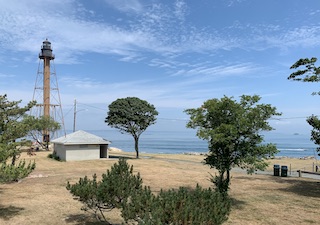 See how the boats are all pointing in different directions? That's never a good sign, right? And as I said, that was followed later in the afternoon by severe thunderstorms. So, no racing on Thursday, and frankly, Friday was pretty light too. If we had sailed, which is debatable, it would have been Team Pandapas / Team Schreiber conditions for sure.
Of course, since Race Week was cancelled, the CYC added a Twilight to the calendar for that day, and as you'd expect, that was scrubbed too. Here is the report from John Casler, which includes the cancellation email from CYC RC member David Graham. First from John (a man of few words), "Here is the July 23 Twilight Report" And then from David, "With the weather Radar painting t'storm imagery that will run through here at least until 7:00 PM, I have decided to pull-the-plug on racing this evening. Remembering that we still would need to get our sailors out to their boats prior to 7PM, I am certain that it is the wise course of action." And there you have it.
Out on the MRA line, Saturdays forecast called for light and variable giving way to a building sea breeze, with 90-degree temps. What we got was more like a fickle southerly that kept trying to be a sea breeze, but failed miserably, probably due to how warm the water is. As a result, we got an oscillating breeze that favored the left due to the current lift on the incoming tide, until it didn't when the pressure kicked in on the righty. The breeze topped out at around 7-8 knots and skippers sat on the rail infrequently. These were challenging light-air conditions for sure, and certainly did not favor those who came out with three (or four in the case of Team Berliner). EYC PRO Susie Schneider called it after just two races, most likely because she couldn't take the brain damage. Here is a shot of our RC volunteers before the PTSD set in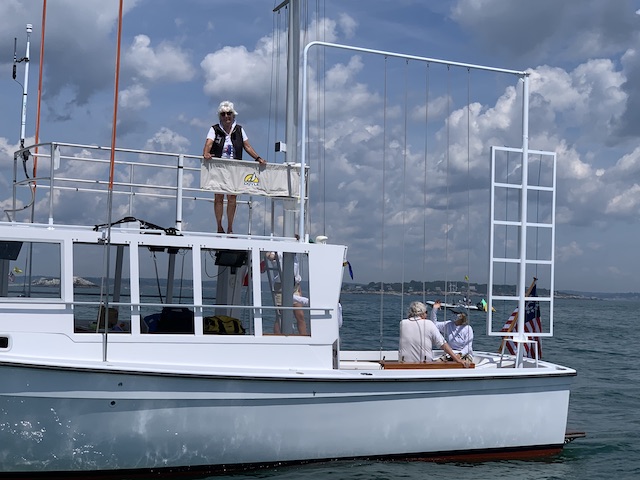 We had an impressive turnout (under the circumstances) with 14 boats, that included a lot of folks out for the first time this year, as well as two first-timers to our MRA line, both named Tim. One was Timmy Dittrich sailing solo and the other was Tim McCaffrey. Also gracing our MRA line for the first time in a while was John Casler, also sailing solo. Welcome to all.
So taking first on the day with s 2-2 for 4 points was Team Taylor, this week including Yati Harsono crewing. Well done. Here's they are coming out of a leeward mark, working to get a nose out on Steve Uhl.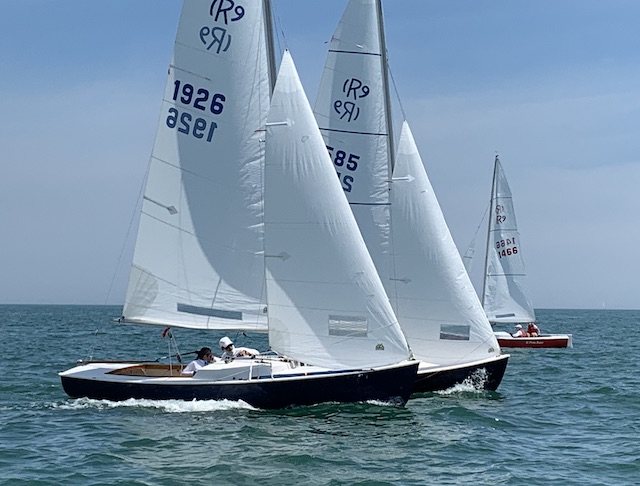 Finishing 2nd on a tiebreaker with 5-1 for 6 points was Team Kaznoski, again with young Wilson Kaznoski on the helm. And taking 3rd with a 1-5, also for 6 points was Team Lane / Heffernan. Honorable mentions go to Team Frisch / Hourihan who took 4th on a tiebreaker with a 4-3 for 7 points, and Eric Thornton in 5th with a 3-4, also for 7 points. Congratulations to all.
By the way, here are a couple shots of Team Frisch / Hourihan executing a near flawless set on their way to a quick jibe. Note in the first shot that they're hoisting with no pole and the chute is almost fully up as the bow is passing the mark. The goal is for the chute to be pulling before your transom clears the mark. As you can see in the 2nd shot, they did that beautifully. Not to pick on Team Taylor, but you'll see that they are four boat lengths into their run and the chute isn't even up yet, let alone pulling.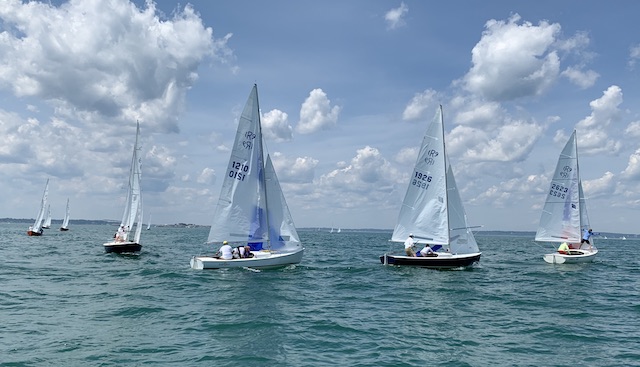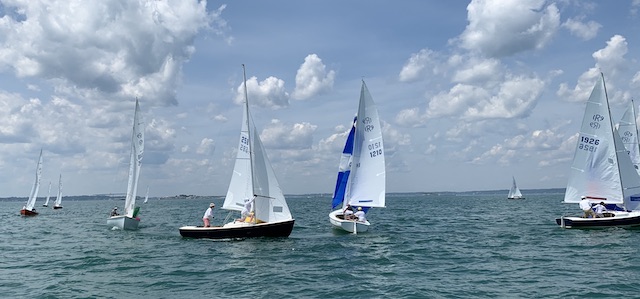 A scoring note – two boats were not scored last week due to having failed to register, but as it turns out, only one of them didn't register. Steve Uhl, had in fact registered so was mistakenly (regrettably) not scored for the day. Adding insult to injury, he was then unjustly accused and shamed in these very pages. The truth is that Steve registered in the first five minutes registration was open, so was probably the first to register. Sorry Steve, we owe you one. Next time we get a shot of your chute wrapping, we won't print it (at least right away!). Anyway, the problem apparently was with Clubspot, and we're told that problem now has been corrected. So, no shame for Steve. His finishes last week were 5-3-5, good for 5th on the day, bumping Team Martini to 6th. The table below reflects the updated scores.
So, in Cup competition, we're still all tied up because as you know, there will be no season scoring this year. But the table below has all of the relevant stats for the season so far. In the all-important category of races sailed, we have a 3-way tie at the top.
Week 11 racing will include a Twilight on Thursday evening, MRA Summer – Day 3 on Saturday and morning booth racing on Sunday. Don't forget that the earlier Twilights starts commence this week.
Other News, Notices & Miscellaneous Scuttlebutt
MRA Updates the SIs – The MRA issued Amendment 2 to the SIs, which relaxes the three-person limit that kept Team Berliner off the course last week. However, it also stipulates that all sailors will wear face coverings, which strikes us as onerous for family members who live together (like Teams Berliner, Kaznoski, Pandapas, etc.). We reached out to MRA Chair Mark Toso to ask about that, and here is what he said. "I believe family members have always been exempt from this requirement (i.e. they live together or are together frequently). Neither the MRA or the Harbormaster want to be the face mask police."
An 'Oh Crap!' Moment – Saturday's turnout of 14 boats would have been even better had old friend Walter Colsman sailed. That was his plan, but after launching, he discovered that he'd left his rudder at home. Don't you hate it when that happens?
New Look for Peter Frisch – In case you were wondering -yes, that was in fact a mustache (sorry we didn't get better shot), which cries out for a look-alike contest. We're thinking Ron Jeremy. What do you think?
Wedding Bells for Yadi – Congratulations to Yadi Harsono, who is engaged to marry Jim Delaney. How awesome is that? No date has been set yet, but we'll try to keep you posted.
They're Back (sort of) – Giving the Sonars a Twilight start is starting to bear fruit. Check out this inquiry from our old friends on 1217. "Team Bad Hombres (Durkee, Raisides, Pendleton) is thinking of coming out of retirement and would like to grab one of the Sonars for the Thursday Twilight race. Is there a boat available?" Now that's what I'm talking about!! I might have to do Twilights in a Sonar, just to have the chance to cross swords with them again. They later threw down this gauntlet, "We're awesome in the light stuff." Bring it.
Updated Booth SIs – The Twilight SIs have been amended to include Sonars, and Sunday Series SIs have been amended to include the 2.4 Meter Class. There is no change in the start times for the Rhodes 19 Class or the Townies. The 2.4 Meter Class will start on Sunday mornings six minutes after the Townies. The Sonars will start on Tuesday and Thursday evenings nine minutes after the Townies. Those docs are attached.
NOOD Swag – Jennifer Davies of Sailing World / NOOD delivered all of the Marblehead Race Week bags, hats, etc. that we would have gotten had the event occurred. Thanks Jen. Mark Toso is working with the Fleet Captains to figure out how best to distribute them. Stay tuned.
Mail Bag
Not a lot of mail this week. Just this on Twilight start times from John Casler, who wrote in with this concern. "Just a thought that with the Sonars now starting after the Townies, there would not have been a lot of time left for them last night before sunset. Maybe for 7:00 starts, the changeover ought to be a week or two earlier in July?" Good thought.
Let's be safe out there. Please don't let down your guard.
–kp (kpandapas@comcast.net)