Road To The Cup – Week 19
9/27/20
You may recall there was some discussion about extending Twilights one more week, and as of last week we hadn't heard if it was going to happen.  Well it did, and thankfully a few folks got the message in time to sail, as five boats showed up for the absolute final Twilight of the season.  This week's report is from Jim Taylor. 
"We had a nice warm 'August' evening for our final Sept 24 Twilight race.  The gradient SSW had been goosed a bit thermally to maybe 6-8 kts SE for most of the afternoon, but the thermal faded by race time, and what was left was an unstable (puffy and shifty) 4-6 S-SSW.  Our faithful 'CYC Booth' team set a course of 22-21, twice around.  Team Colsman, Stefan Thibodeaux, Timmy Dittrich, John Casler and #1926 (the latter five single handing) all made an appearance.
"The start was complicated by a powerboat tied to the same mooring as the pin, but we all got going reasonably evenly on a broad port gybe reach.  Everyone immediately sailed by/away from #1926, much to the surprise and consternation of her skipper, and they continued to do so until he pulled a large wad of weed off his rudder.  At the bottom mark it was Team Colsman, Stephan, Tim, #1926, and John.  It was a beam reach to #21, and making good use of a barberhauler for rail sheeting, #1926 inched by #1217, with both boats well behind Team Colsman and Stefan, who tacked to port towards the middle of the harbor mouth shortly after rounding.  #1926 continued on starboard towards the lighthouse, lucked into a left shift and more breeze on the left, and finished the first lap with +/- 2 length lead.  That lead proved short lived, however, as Team Colsman again got by downwind, with Stefan, Timmy and John further back.
"The barberhauler worked its magic on the reach again, allowing #1926 to roll Team Colsman and round Mark 21 with a slight lead, and go back left to the lighthouse well again.  This time, however, the breeze went hard right, and Team Colsman crossed clear ahead on starboard, for our fourth lead change.  The wind continued to march right, so that on port we were soon sailing more or less parallel to the finish line.  Being bow out on port in the big header gave #1926 an opening, and both boats tacked for the finish.  Team Colsman was unlucky to have to pinch up and over a moored boat, allowing #1926 to sneak by and win by a bow, rail to rail, followed by Stefan and Tim.  John retired after one lap, having wisely compared his estimated time to sail a second lap to the 7PM launch shutdown.
"Fleet 5's participation in the Thursday Twilights has never been higher, and neither has the fun factor on the race course.  We all owe a huge shout out to Bart Snow, the Townie fleet, and especially David Graham and his 'CYC Booth' team for all of their hard work, creativity and patience in giving us so many opportunities to indulge our boat racing habit.  They all need to know that we very much appreciate their efforts."
Thanks Jim.  So for the record, congratulations to Jim Taylor on the bullet, finishing 2nd was Team Colsman and 3rd goes to the late-starting Stefan Thibodeaux, who, in the Mail Bag below, provides us with some insight into what it took to get him out there.  Honorable mentions to Timmy Dittrich in 4th and John Casler who had to bail out in order to derig before launch service shut down. 
Out on the MRA line, eleven boats made it out for the final day of our 2020 season, which is a pretty decent turnout for Sept 26th.  Neither J70s nor Vipers joined us, so we had the line to ourselves.  The forecast called for a 5-10 knot southeasterly, going left and then right, with sunny skies and temps in the 60s, and that's just what we got.  The tide was ebb at about 1:45, so out early and then in later.  Bottom line – it was a gorgeous July day in late September.  The RC got in three nice races, with courses that alternated left and right with the oscillations at a distance of 0.6. (At least that's what I know for the first two races, as we skipped the third.)  So the drill seemed to be to protect the left while getting in phase and climbing the ladder.
Larry Ehrhardt would be the best person to ask about navigating the conditions, as he won the day with a 4-2-1 for 7 points.  Well done.  Taking 2nd with a 3-3-2 for 8 points was Team Frisch / Hourihan / Burke, this time with Seamus steering and Nick up front.  And taking 3rd was Team Taylor who rolled a 5-1-4 for 10 points.  Honorable mentions go to Team Lane / Heffernan in 4th with a 1-7-3 for 11 points, and Team Uhl in 5th with an 8-4-5 for 17 points.  Congratulations to all. 
Below are a couple of season-ending shots.  First is the fleet sailing in for the final time, courtesy of Adam Cook, and second is a little post-race revelry at CYC, courtesy of Yati Harsono.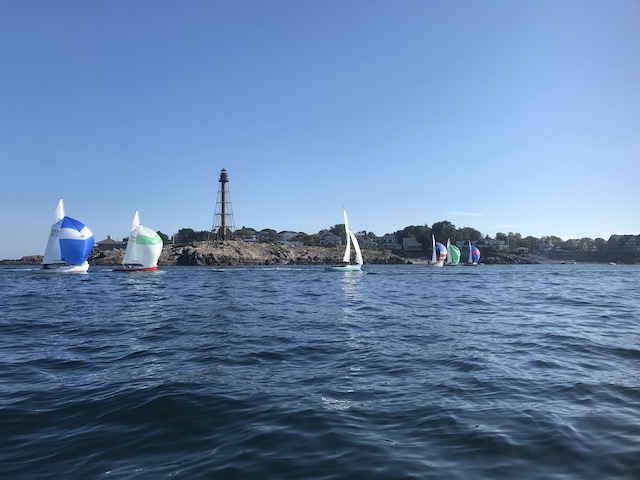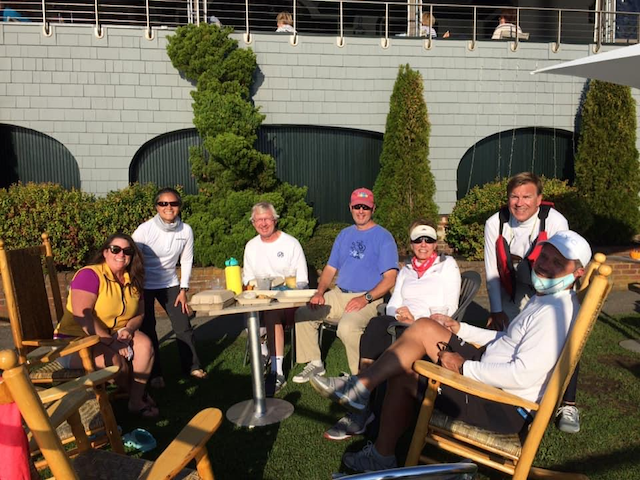 So, in Cup competition, we finish the season all tied up because, as you know, there was no season scoring this year.  But in the all-important category of races sailed, a tip of the hat to Steve Uhl, who finished the season with 26.  Not bad for a half season.  Right behind him is Timmy Dittrich with 25 races, followed by Stefan Thibodeaux with 24.  For Timmy and Stefan, that feat is all the more impressive when you consider that they sailed single-handed all season.  Really well done.  Another category worth noting is number of MRA days won.  Taking 1st there was Team Frisch / Hourihan / Burke, who won the day three times.  Taking 2nd in that category is Larry Ehrhardt, who won the day twice.  Finally, in the category of number of bullets, which includes Twilights and MRA, Steve Uhl and Team Frisch / Hourihan / Burke both put up six.  The rest of the stats are below. 

As this season winds down, I'd like to take a minute to give a well-deserved shout out to the dozens of folks who made racing possible this season.  Let's start with the fine folks of MRA. 
Pulling together our racing every year is a herculean effort that involves countless meetings coordinating and juggling a complicated harbor schedule of events hosted by all three clubs.  This year, the level of difficulty went up exponentially as MRA had to navigate the complex, nuanced and ever-changing web of local, state and federal regulations and guidance.  In the end, they had to throw out the book, rewrite the SIs and effectively take it week-by-week.  Less dedicated folks might have thrown in the towel, resigning themselves to a season without racing.  But this group stood tall, exhibiting patience, judgement, flexibility and the willingness to evolve with the circumstances.  Chairman Mark Toso provided exceptional leadership throughout, though certainly everyone contributed.  We owe them all a heart-felt thank you.  So thanks to Mark, Treasurer Judy Adam (both CYC), Secretary Susie Schneider (EYC), BYC team members Joe Guglielmo, Don Miller and Karen Tenenbaum, CYC team members Ken Adam and Mike Lane and EYC team members Alan McKinnon, Patrick Andreasen, Jack Cochrane and Nancy Glover.  This group really raised the bar and demonstrated how well our three-club collaboration can run.  Thank you.
Of course, it doesn't happen on the water without the race committees, and this year was particularly challenging.  COVID-depleted race committees created staffing challenges each week, forcing RCs to get creative to deliver the same quality of racing short-handed and with a fraction of the resources.  That was even more challenging for CYC, which never launched Pegasus, forcing that group to run races from their charming, though not particularly seaworthy blue Eastern.  The quality of the racing was every bit as high as it has always been, which is testament to the RC's volunteers' experience, talent and dedication.  Below is a list of all of the folks who not only gave up their Saturdays, but took some degree of personal risk, so that we could sail this season.  Please say thank you next time you run into any of them.

Of course, Twilights are also a big part of our racing schedule and they wouldn't be possible without the RC volunteers in the CYC booth.  This year's racing was run almost exclusively by David Graham, who I believe was in the booth for every single race.  How about that?  Of course, he had help, including Joe Whipple among others, though David was very much the driving force, so a huge tip of the cap to him and his team.
Finally, with the end of the sailing season regrettably comes the end of these weekly RTTC emails.  I know – a bummer, right?  How will you ever get through the winter without your weekly dose of me?  But hey, now you have another reason to look forward to next season.  Anyway, please know that while I sign these, it takes a village to put them out every week.  Huge thanks to John Casler, Steve Uhl and Jim Taylor for keeping us informed each week about Thursday nights, with a special shout-out to Steve Uhl for reporting on a couple of MRA Saturdays that I wasn't around.  Thanks also to my better half, Christina Pandapas, who does the all-important job of keeping me out of trouble with questions like, "Geez, are you sure you really want to say that?"  And thanks to our distribution department of Jeff Shoreman and Martha Martini who took time out of their Sundays to email them.  Thanks also to Nat Taylor who posts them to FB and the Feet 5 web site.  I ask that they all accept a grateful and appreciative tip of my cap, and I urge you to thank them when you see them.
Not sure when you'll see the next full newsletter, but I'd guess sometime before our virtual awards party, which we are still figuring out.
Week 1 racing will (hopefully) include the first day of the two-day Spring Series on Saturday May 29th, 2021.  Have a great offseason.
Other News, Notices & Miscellaneous Scuttlebutt
Courageous Regatta on October 3rd –Courageous is hosting a regatta October 3, and asked us to spread the word.  Here are the details from Caitlyn Ridgely.  You'll find more details here, or can reach Caitlyn directly at (857) 452-1767 or caitlyn@courageoussailing.org.
–          One-Day R19 Fall Regatta
–          Date: Oct 3 (Rain date, Oct 4)
–          Rhodes 19 Masks and Mainsails Charity Regatta: more boats, more races!
–          Calling all Courageous Challenge, Frostbite, and Weeknight racers, and Rhodes 19 racers far and wide!  This will be our big one of the regular season – we're shooting for a competitive fleet with at least 20 boats on the line.  And, to make up for all the big races that weren't in 2020, we'll pack as much racing as possible into this one, aiming for first gun at 1pm and racing straight through to 5pm.
–          We are asking all participants to contribute whatever they are comfortable with, with a suggested minimum donation of $50/person or $100/team. If that's not possible due to a Covid-related cause of any kind, that's ok, just let us know.  Our goal is simply to get people out on the water for a competitive event and a good cause.  All donations will go directly to help us be there to support our Courageous kids through an extraordinary time.
Please let us know ASAP if you would like us to reserve a boat for you!
Frostbiting at Courageous – Anne Marije Veenland wrote into remind us that Rhodes sailing doesn't have to end this weekend.  "Frostbiting at Courageous will be on as well starting Nov 14th, for those are interested in sailing, and/or sharing a boat, let me know.  Free parking available on pier 3, water side, pretty close to Courageous at Pier 4 in Charlestown.  Spread the word 😊."  You can reach Anne Marije at annemarijeveenland@gmail.com.
Winter Sail Discounts – Doyle has always offered fall discounts for their sails and I assume will do that again this year.  However, North Sails has also now gotten into the act.  Here's a note from North's Stan Schreyer. 
"Can you spread the word that I am offering a fall discount to Fleet 5 for Rhodes 19 sails?  I can discount 10% if we receive 5 orders or more.  I realize there are not many North Sails in the R19 fleet.  However, Ched Procter developed a new design for us last year.  We sold a set to Chris Clancy down on the south shore, and he had some success with them this year.  Pricing is as follows – Main – $1328, Jib – $889, Spinnaker – $1403, which include tax and shipping, and but do not reflect any discount." 
You can contact Stan at stan.schreyer@northsails.com, or call 978.745.1400 x106. 
Mail Bag
This late September sailing can be dicey with earlier sunsets and fall weekday launch schedules.  As you know, John Casler had to bail on the race to make sure he could get in.  "I took a flyer, and would not have finished in time to derig for 7:00 launch closing."  But that's nothing compared to what Stefan Thibodeaux did to get out there, fueled by his competitive desire to stay perched atop the attendance standings.  He sent this in after Thursday's racing, apparently unaware that we had one more day of MRA.
"As you know, we are tied for 1st place, so tonight we can seal the win for the season.  I get to the dolphin at 4:40 and bring the sails down to wait for the launch.  The launch driver informs me that service stops at 6 tonight, so I pick up the sails and start walking back to the car.  Then I look and it seems that Steve's boat is out sailing, so I turn around and get on the launch.  I arrive at the boat at a 5:15.  I have my radio on and hear the gun go off so I start my watch.  I make it to the line 1 minute after the start.
"On the way back to the Dolphin, I remove my shoes, shirt and pants and stuff them in a bucket with my phone and drop it off on the Dolphin's float.  I then sail the boat back to the mooring which is right next to the yellow house across the harbor from the dolphin.  I put the boat away and then I put my life jacket on and swim back to the Dolphin, where I arrive in my life jacket and underwear.  At this point I figure they are not any worse than a Speedo so I walk to my car and drive home with the knowledge that we have secured 1st place."
Wow!  To be clear, he swam all the way across the harbor at dusk in his underwear so he could sail the twilight.  There's dedication and then there's DEDICATION.  How can anyone possibly top that?  As to the standings, he's right.  That race did put him in 1st for races sailed, so it was his to lose.  Of course, he didn't make it out Saturday and dropped to 3rd as a result.  But I'm regarding it as a moral victory none-the-less.  Congrats Stefan, not just for a herculean effort to sail on Thursday night, but for a great season and for getting the last word in this year's RTTC.
Let's be safe out there.  Please don't let down your guard. 
–kp (kpandapas@comcast.net)