Road To The Cup – Week 18
9/20/20
Seven boats showed up for the final Twilight of the year, closing the book on a truncated though very well-attended Twilight season. Our account blends reports from Steve Uhl & John Casler. First Steve.
"So in Twilight racing, we had the most unusual course I've ever experienced. In a light westerly, the RC sent us into the harbor, to a red ball right off of Crocker Park. I've never raced in through the mooring field before, which was also complicated by the light and very shifty wind, especially approaching Crocker Park. What wind there was tended to die by the park, so the fleet converged near the rounding, preparing for a long drift back. John Casler lead around the first mark.
"Fortunately, just as we rounded, a fresh easterly blew in so we all had a very nice beat back to CYC. Finishes were – Steve Uhl, followed by Team Colsman, Sheldon/Sousa and Tim Dittrich. #2 through #4 were all overlapped in a true photo finish. Not sure finishes after that but other boats included John Casler (who lead around the first mark), Team Martini and Team Cook."
John adds, "As to rounding first, coming in to the mark on port I got the benefit of a puff off the BYC bar whereas starboard tackers Steve and Walter had a wind shadow from a picnic table on the property between BYC and Crocker Park. The mark was right in near the shore, and about the size of a basketball."
Thanks Steve & John. I know the Townies sometimes race in the harbor, but to my knowledge, this is the first time we've done it. Sounds like fun, and a nice way to close out the series – love the concept of being in the wind shadow of a picnic table. So, congratulations to Steve Uhl on the bullet. As to the other finishes, they must have been close as, in contrast to Steve's report, the official results put Team Sheldon/Sousa in 2nd and Team Colsman in 3rd. Honorable mentions to Timmy Dittrich in 4th and John Casler in 5th. Congratulations to all. Beanie Eisner sent in this photo of the action.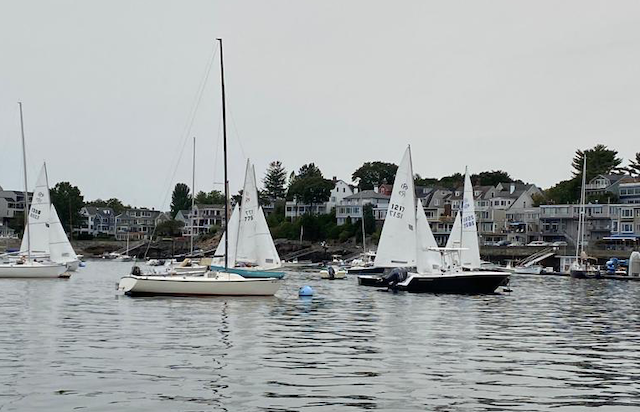 Out on the MRA line, there was all kinds of handwringing on Friday about the Saturday forecast (including me), which at one point suggested NE 15-20, gusts to high 20s with seas in the 5-7 foot range and temps in the 50s. Brrr. As they did a few weeks ago, the RCs reached out to fleets to gauge enthusiasm and possible attendance. By Saturday morning, however, the forecast looked more moderate, calling for a dying northeasterly in single digits with gusts in the mid-teens, and that's what we got. Team Pandapas was busy with painters and house chores, so this week's report is courtesy of Steve Uhl.
"Well the morning looked cold and windy, but honestly, it turned out to be a beautiful race day. Wind started NE very fresh but fun. Turnout for first race was seven, limited by it being a no-solo day.
"The first race was a heavy air drag race – Team Uhl / Lane (Kathleen Lane) were first to the mark but were passed by Burke / Hourihan with better course awareness to jibe right away, on the way to the first of their two wins on the day.
"The second race breeze shifted to 70, and mid-race, the breeze shut down a bit and oscillated across a 45 degree arc. That totally befuddled most of us except Larry Ehrhardt, who just sailed away from the pack. Larry missed the first race with a breakdown I think.
"Since it was a beautiful day, Susie ran a 3rd race for us, a quick A course at more like 120 heading. Burke / Hourihan won, followed by Uhl/Lane who nosed out Lane/Harsono by about 3 feet.
"Also out today crewing with Stefan Thibodeaux was Peter Sorlien.
"So Team Burke / Hourihan win the day with 1-3-1 for 5 points. Team Uhl / Lane takes 2nd on a tiebreaker with 2-4-2 for 8 points, and Team Lane / Harsono finish 3rd with a 3-2-3, also for 8 points. Honorable mention go to Debbie Noble in 4th who sailed fast and was in the mix, and Larry Ehrhardt in 5th on the strength of a single race bullet.
"Fall sailing can be sweet. Don't be dissuaded by the cold appearance – it was beautiful on the water today. One more day to go."
Thanks Steve. Well done. You're really making an argument for this exit strategy thing!! Kidding – inside joke. Anyway, congratulations to all.
So, in Cup competition, we remain all tied up because as you know, there is no season scoring this year. But in the all-important category of races sailed, Steve Uhl bounds into a 1st place tie Team Sorlien / Thibodeaux, both knotted at 23 races each. Pretty good for a half season, right? The rest of the stats are below.
Week 19 racing will be the final weekend of this very unusual season, and include MRA Fall – Day 6 on Saturday. There were rumors of extending Twilights one more week, but I've heard nothing more about that so assume it's not a go.
Other News, Notices & Miscellaneous Scuttlebutt
Can You Spare a Trailer – Walter Colsman is picking up a new trailer, but they seem to be back ordered and need a trailer to use in the meantime. If you can help him out, email wcolsman@gmail.com.
Courageous Regatta on October 3rd – Long-time fleet member Rick Saunders mentioned that Courageous is planning to host a regatta October 3, and asked us to spread the word. We don't have any details other than Caitlyn Ridgely is hoping to get all 22 Stuarts on the line. If you're interested in learning more, give Courageous a call.
Time To Make Your Lists – A final reminder that fall is the best time to get organized for spring. If there is stuff you need to do, like repair this or replace that (and frankly on these old boats, how could it be otherwise?), write it down. Maybe even take advantage of the fall sales and get what you need now.
Some Things Can't Be Rushed – We've been chronicling Jeremy Bloxham's methodical boat restoration journey for it seems like 7-8 years now. He sent in the photo below to let us know that's he's getting close. We look forward to seeing Team Bloxham on our line next season.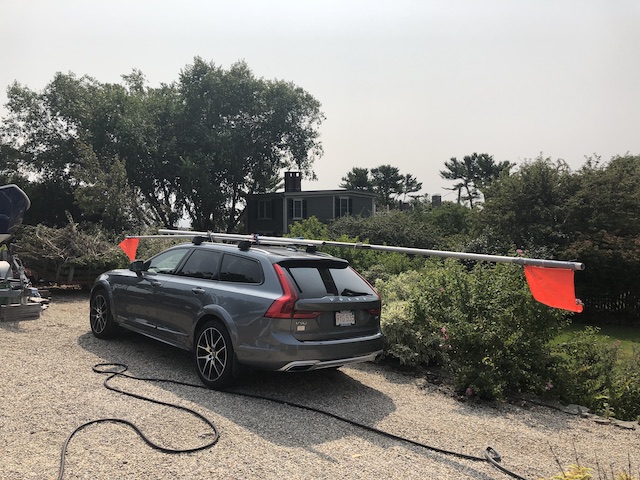 Mail Bag
On the topic of this year's Twilights, for which the turnout this year has been great, John Casler sent in this this. "With the increased Twilight turnout, I think it worth noting how generous David Graham has been with his time. He personally now runs just about all of the Thursday races and the Sunday races, and probably the Tuesday races as well. It would be nice if we could find a way to recognize that effort." Well, let's start with this. Thanks David!!
Jocelyn Cook wrote to update us on a range of topics. "Whelp, today marked the end of the racing season for Calgon, and from the looks of it, even the ducks had gotten the message that 2020 is off kilter …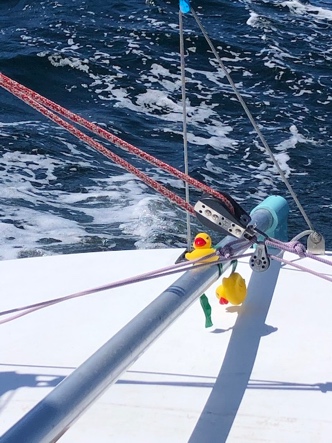 "Now Calgon is home and settled in for the winter (with our now crowded little boat area) and little Miss is apparently embarking on a winter training program with the new hiking bench Adam built today 🤣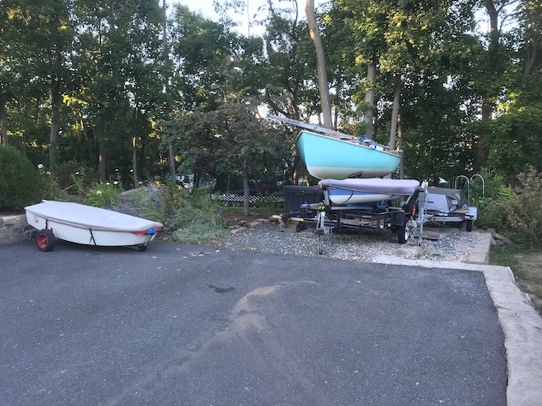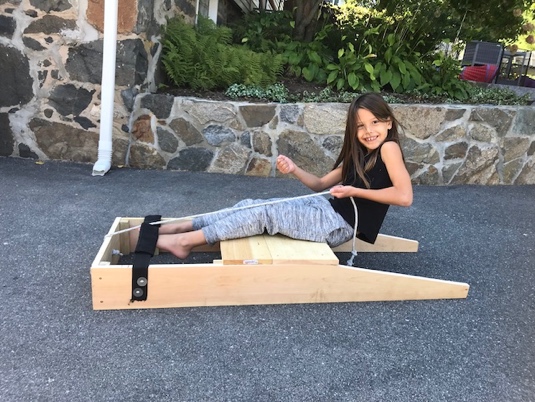 "MANY, many thanks to all those involved with RC /MRA for their dedication and determination to make the very best racing season possible for this year."
That is starting to look like a boat yard. Hope all those trees are in good shape. Love the hiking bench. That guy has talent. By the way, does little Miss have a name other than little Miss?
Final word today goes to Jim Taylor. Though we haven't yet gotten our act together with respect to a virtual Fall "awards" party, Jim lobs in an early nomination for this year's Hacker Award.
"After a totally frustrating day on the water last Sat, I left my sailing bag on the grass by the CYC steps where we always do while Yati and I tried to adjust our attitudes with a post-race beer. When we got up to go, my bag was gone, along with a VHF radio, life jacket, vest, and spray jacket. Somebody picked up the wrong bag, yes? Maybe, but multiple checks with the staff and of the lost and found over several days came up empty and had me thinking very dark thoughts of my fellow sailors and club members. No dice through Thurs twilight. Then Friday AM I get an email from Steve Uhl, who found my bag in his storage shed. Seems he picked it up leaving the club Sat in a rush, more or less as I expected someone had.
"As a result, I hereby nominate Steve for the 2020 Hacker's Award, for taking my bag, stopping to chat with us on his way out, apparently with it over his shoulder, and putting it in his shed without noticing for most of four days. And possibly eating my PB & J race day sandwich. This will make Steve eligible to win an unprecedented two Hacker's Awards in three years, as he won the inaugural (?) Award in 2018 for falling out of his boat at a finish line. (Nat and I fished him out and got him back to Woodstock). All's well that ends well."
Hey, hey, hey – lay off my pal Steve, who after all, is my exit strategy. One question for Steve – how was the PB & J?
Let's be safe out there. Please don't let down your guard.
–kp (kpandapas@comcast.net)