Road To The Cup – Week 5
Top 10 as of 6/26/22
Five teams showed up for our second Twilight of the season. That's two Twilights in a row – I guess it's finally summer. Our writeup this week is from Steve Uhl.
"Second week in a row brought a healthy Southeasterly, with 5 boats in attendance including Timmy Dittrich making his twilight debut. The course was a reach to Williams Rock, a beat back to Green Can #1 and return. Hopefully a few more boats will join next week. Also sailing a second twilight in a row was new fleet member Jay Wager in "Shake Your Buoy" (1219).
"The start was the usual affair, though with the added pressure of Seamus Hourihan spectating close to the pin from his moored Thirst, and Kathleen & Mike Lane spectating as well on their evening cruise.
"At Williams Rock it was Steve Uhl followed closely by Team Martini and Walter & Christopher Colsman. But by then the wind had shifted more east, making the beat just a long port tack, which would ordinarily result in an uneventful follow-the-leader affair. But Team Martini's speed had me checking my rudder for weed and as the wind laid down we all converged upon entering the harbor. Team Colsman almost stole it all with a hug-the-shore harbor entry. The last two minutes were painful – it was anyone's race as we all searched for a last wisp of breeze to reach the finish. In the end it was Uhl, Martini, Colsman, Dittrich and Wager.
Thanks Steve, and a big welcome to Jay Wager. Steve did such a good job, there is no need to recap other than say congratulations to all.
Out on the MRA line, 12 boats showed up for this first day of Series 2. Season debuts included Team Taylor, Team Thornton and Jocelyn Cook, while Rich & Rosie Denton made their MRA debut. Welcome to all.
We were treated to what was really the first chamber of commerce day of our young season. The water was sparkling with cloudless sunny skies and temps in the 70s. The only thing missing was breeze. The forecast called for a light southeasterly, and that's just what we got. It was so light, in fact, that we enjoyed a postponement while we all waited for the easterly to settle in, which it eventually did. The RC got off two, the first of which was one of those painful, chew-through-the-mainsheet kind of affairs where you nearly give yourself a stroke willing the boat along. The second was a bit better, though by then close to half the fleet had called it quits and headed for the bar.
Continuing their momentum after a dominating East Coasts was Team Frisch / Hourihan, who took 1st on a tiebreaker with a 6-1 for 7 points. Certainly in Race 2, they were simply faster than everyone else. Congrats to them. Taking 2nd, rolling a 3-4, also for 7 points was Steve Uhl & Kathleen Lane, and taking 3rd just one point back was Kathleen's husband Mike Lane, sailing with Yati Harsono, with a 5-3 for 8 points. Honorable mentions go to Team Cooke / Kasnoski in 4th with a 1-DNC for 9 points, and Kim Pandapas, sailing with Stefan Thibodeaux, in 5th with a 4-5, also for 9 points. Congratulations to all.
One minor point – these scores are taken off the MRA site, but putting on my scorer's hat for a second, Team Taylor started race 2 and retired, so is incorrectly scored as a DNC. Assuming that is corrected to DNF, that will change the number of starters, which changes the DNC scores a little.
So, in Cup competition,. The top 10 are listed below.

Week 6 racing will include Twilight 1-5 on Thursday night and the 2-3 races of MRA Series 2-2 this Saturday.
Other News, Notices & Miscellaneous Scuttlebutt
Support Lindsay Smith – Please help support Lindsay. Make your check payable to "Fast Mermaid Fund" and mail it to Alan McKinnon, 21 Robert Rd, Marblehead, MA 01945.
Race Week – The Helly Hansen Sailing World Regatta Series (formerly NOOD) will be held Thursday through Sunday, July 28-31. You must register separately for the event and can do that here. Your MRA registration fee covers the entry fee, so you don't have to pay more, provided you register before July 7. It appears that they are planning to impose a $75 late fee for boats registering after July 7.
Race Week Party – This year's Race Week party will be on Thursday evening July 28th, generously hosted – again – by Jennifer & Steve Uhl at their home on Front Street. Circle the date!
Register for Nationals – It's time to register for the 2022 R19 National Championships! The event will be held in Chicago from August 15th through the 19th, hosted by the fine folks of the Chicago Corinthian Yacht Club.
If You Spin, Send It In
To our knowledge, we had just one spin this week. Thanks to Team Taylor for leaving it on the course.

Sails for Sale – Team Pandapas is clearing out the sail locker. They're selling a main (2017), a jib (2018) and two chutes (2016 & 2018). If you're interested email Kim at kpandapas@comcast.net.
Mail Bag
Tom Dailey wrote in with this very generous note. "Kim, Will & I are just back from what may have been the last Sonar regatta, which made us thankful for the Rhodes class. Remember the buzz of the prize-giving Nationals party at Corinthian? Contrast that with the award-ceremony no-show of the professional crew who won the Sonar event. There were virtually no perpetual trophies. Sonar class website is a dead-end. No event photos. Cheap tchotchkes. Don't get me wrong – the host club was wonderful, RC was tight, and I'm grateful to the dumpster broker who was lead event sponsor – that guy poured cash and got no return.
"But behold the ongoing usefulness of the Rhodes contrasted with the Sonar demise. It's not about the boat. You, Elise, Mike, countless others, and those who came before produce a terrific product that succeeds where others fail. Thank you."
Thank you Tom, and right back at you. I see the results of your ongoing efforts every time the lasers go out in shockingly large numbers. I have long believed that fleets survive and thrive in proportion to the efforts put in by a small number of dedicated individuals. You're right that Feet 5 has been fortunate to have many of those for decades. Back in the day, John Casler and Kent Hallawell alternated being fleet captain for 10-15 years, and a steady stream of proactive leaders have continued to step up ever since. We are fortunate. I would add that it's probably time for the next generation of fleet leadership to step up (you know who you are.)
Walter Colsman solved the mystery of 1219, writing, "1219 is Jay Wager and he had Kevin Burke as crew." There you have it.
Finally, Joe Fava sent in the picture below, apparently incredulous that some people are early risers. "Kim and Pete – enjoying some quality time together at 7:05AM Saturday morning waiting for the crane to open."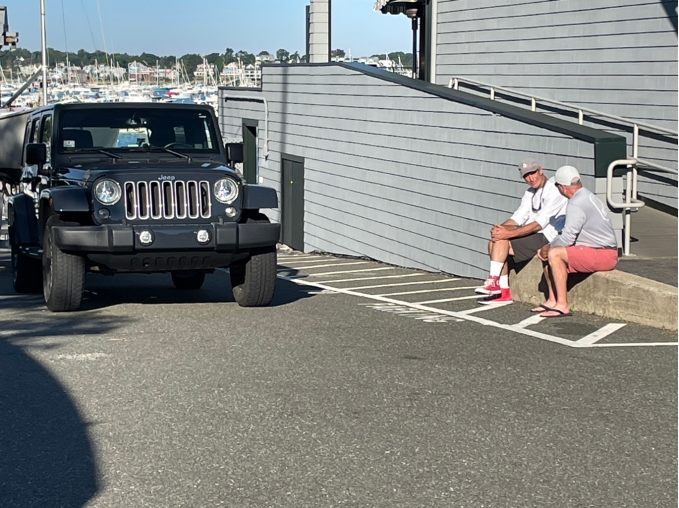 –kp (kpandapas@comcast.net)