Road To The Cup – Week 6
Top 10 as of 7/3/22
Happy July 4th!
Ten teams showed up for the holiday week Twilight and were treated to picture-perfect conditions. Amazingly, due to an equipment failure, John Casler was not among them – again. This week's report is from Steve Uhl, who won by a half leg, so is a good person to write it.
"A record turnout of 10 boats were out for twilights, and it would have been 11 had stalwart John Casler not had an equipment problem. It was a beautiful evening leading into the holiday weekend, with a light southerly. Three nice twilights in a row – we can safely declare our prior curse of bad weather twilight nights officially over.
"There were lots of boats making their first season appearances: Anne-Marije sailing with her father, Sarah Sheldon & Ann Sousa in Garuda, Mike & Kathleen Lane, and Jim Taylor sailing solo.
"The course was red nun, green can, twice around. With so many boats and a short reach to the nun, the mark-rounding was pretty crazy with lots of maneuvering – but it was Jim Taylor, Team Lane and Steve Uhl first around. Jim and Mike went left on the beat, Steve went right, and it turned out to be all 'right' with better pressure as well as righty, letting Steve pass. Final finishes were Steve, Team Lane, Jim Taylor, Sarah Sheldon, and Walter Colsman (sailing solo)."
Thanks Steve. Pretty risky declaring a premature victory on the weather. I hope you don't jinx next week. If that ends up a washout, we'll know who to call. Anyway to recap, taking the siren, and with it, a commanding lead of Series 1 was Steve Uhl. Finishing 2nd was Mike Lane, and taking 3rd was Jim Taylor. Honorable mentions go to Team Sheldon / Souza in 4th and Walter Colsman in 5th. Congratulations to all. So, with just one race day left in Series 1, here is how it stacks up.
Out on the MRA line, Fleet 5 started to flex its attendance muscle a little as 15 boats made it out for what proved to be a spectacular day of racing. Several teams made their debuts, not just because it's July (for criminy sakes), but also because Race Week is coming and it's time to get our acts together. Inaugural appearances included perennial favorites and always dangerous Matt Hooks & Rob Pascal, Chris Remeika & Adam Roberts as well as the enigmatic and also always dangerous Joe Fava. All three of these teams are contenders and I wouldn't bet against any of them to win Race Week. Team Hooks /Pascal has already won it. And you'll recall that Adam Roberts, sailing with Parker Dwyer, took 3rd last year. And racing with longtime sailing partner Elise Nash, Joe took 2nd. So, three boats with a lot of talent.
Anyway, Joe is without Elise this season while she cares for her newborn Cameron James Nash, who you may recall arrived back in May. Ably filling in was Townie sailor and CYC team racer Peg MacMaster. Huge welcome to her! Also joining us for the first time was J70 sailor and CYC team racer Dan Gabriel, who raced with Timmy D. Clark Uhl and his longtime friend and college crew Addie Sutton joined Steve for the day, with Clark at the helm. Lot of horsepower on that boat. Finally, joining Evan Cooke & Pete Kaznoski was the increasingly impressive Wilson Kaznoski, who you may recall came out and spanked us all on the first day of Series 1. Wilson wasn't driving this time, but I'm sure he added a lot. Welcome to all, and sorry if I missed anyone.
With a Friday night forecast of Armageddon, everyone pretty much assumed Saturday would be a washout – so much so that MRA felt the need to do an early morning polling of the fleets, for which we are grateful. One MRA sailor (and a commodore to boot), was pretty vocal on Saturday morning that it was a mistake to sail. But thankfully he was wrong, as the Saturday forecast improved materially, and our day of thunderstorms with damaging winds, hail and swarms of locust turned into a partly sunny, 8-12, shifty southeasterly with flat water. In other words, it was perfect. The BYC RC did an outstanding job of staying on top of 20-degree shifts, were wonderfully communicative and managed to get off three fair races. A tip of the cap to them.
Taking 1st in convincing fashion was Team Fava / MacMaster, who put up a line of 7-1-1 for 9 total points. Well done! Finishing 2nd was Team Frisch / Hourihan, with an 8-4-2 for 14 points, and taking 3rd was Team Taylor, who rolled a 1-2-DNC (13) for 16 points. Can you imagine that? They took 3rd for the day sailing just two of the three races. Honorable mentions go to Team Remeika / Roberts, who also skipped race 3, and took 4th on a tiebreaker, putting up a 2-3-DNC (13) for 18 points, and to Team Pandapas in 5th who rolled a 6-5-7, also for 18 points. Congratulations to all.
So, in Cup competition, it's still early but things are starting to take shape. The top 10 are listed below.
Week 7 racing will include Twilight 1-6 on Thursday night and the 2-3 races of MRA Series 2-3 this Saturday.
Race Week Preview
Some of the big guns coming out this week got us to looking ahead to Race Week and anticipating what a food fight it will be. In case you haven't seen it for a while, here is what we're racing for.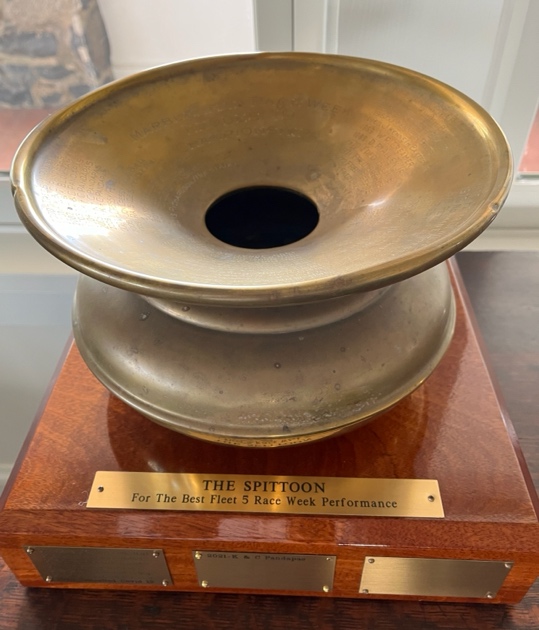 That ugly hunk of metal is our most coveted prize. Officially, the Spittoon is awarded to the best Fleet 5 performance in Race Week, so if someone from another fleet won, it would be awarded to the best Fleet 5 finisher. So, it's possible there may be one or two 2nd place finishes in there, but the reality is that someone from Fleet 5 always awarded it.
There is a lot of history there, so much so that I had to build the base back in 2014 because the Spittoon itself ran out of engraving room. The first to win it was J. Kenneth Baxter Jr., who won it in 1964, and then proceeded to win it each of the next four years for a total of five. In addition to Mr. Baxter, several folks have won this multiple times, including Jon Cressy (4), Team Pendleton / Raisides (4) (and Charlie won it a fifth sailing with Jon Cressy), Fred Brehob (5), Norm Cressy (6) and Team Pandapas (6). More to the point, there are several names engraved on this award who will be trying to win it again in three weeks, including Jim Taylor, Team Hooks / Pascal, Mike Lane, Renee Heffernan, Team Cooke / Kaznoski and Seamus Hourihan.
Team Frisch / Hourihan is sailing very well, and certainly made a compelling case at East Coasts. And of course, if they win it, that sets them up to go after the coveted and historically unattainable triple crown, which includes East Coasts, Race Week and nationals. You can never count out Team Taylor, who certainly threw down the gauntlet on Saturday. Team Cooke / Kaznoski has been sailing lights out all season. Or how about Team Hooks / Pascal, Chris Remeika & Adam Roberts, not to mention Joe Fava who is ungodly fast? Both Mike Lane and Renee Heffernan have won it before, so how could you not include Team Lane /Heffernan in there? And while seemingly on the back nine of their Fleet 5 careers, if it's light, you can't rule out last year's Spittoon winner Team Pandapas. There are also plenty of dark horses who haven't won it yet but who could, like Steve Uhl, Team Dailey or perhaps Larry Ehrhardt. So, who is your money on?
Other News, Notices & Miscellaneous Scuttlebutt
Support Lindsay Smith – Please help support Lindsay. Make your check payable to "Fast Mermaid Fund" and mail it to Alan McKinnon, 21 Robert Rd, Marblehead, MA 01945.
Race Week – The Helly Hansen Sailing World Regatta Series (formerly NOOD) will be held Thursday through Sunday, July 28-31. You must register separately for the event and can do that here. Your MRA registration fee covers the entry fee, so you don't have to pay more, provided you register before July 7. It appears that they are planning to impose a $75 late fee for boats registering after July 7.
Race Week Party – This year's Race Week party will be on Thursday evening July 28th, generously hosted – again – by Jennifer & Steve Uhl at their home on Front Street. Circle the date!
Register for Nationals – It's time to register for the 2022 R19 National Championships! The event will be held in Chicago from August 15th through the 19th, hosted by the fine folks of the Chicago Corinthian Yacht Club. So far, seven Fleet 5 teams have signed up, including, Timmy Dittrich, Tom & Will Dailey, Team Lane / Heffernan, Team Pandapas, Chris Remeika, Wilson & Pete Kaznoski and Steve Uhl. We hear also that Rick & Rosie Denton will be chartering, which will get us up to eight. That's awesome, but we can do better. Register today.
Nationals Eligibility – Just a reminder – the class maintains eligibility requirements for participating in Nationals that are intended to keep the pros from parachuting in and disrupting our regattas. Those requirements are a low bar if you're a regular, but could be an issue if you're not. If you're planning to go to Chicago but haven't sailed much this year, suggest you review Article XII in the Rule Book. If you have any questions, contact her eminence Elise Nash, who as fleet captain, is the arbiter of all Fleet 5 members' eligibility.
Fleet 5 Alum Shan McAdoo Recognized – Congratulations to old friend Shan McAdoo, who recently was awarded the Nick Scandone Spirit Award at the 20th anniversary Clagett Regatta for disabled sailors, held in Newport. For those newer to Fleet 5, Shan was a long-standing and very successful member of Fleet 5, including a Race Week win in 2000. He skippered for years with crew Doug Trees, until multiple sclerosis finally forced him to take a step back. Shan continues to share his unbridled passion for sailing & competition as he simultaneously adjusts with the challenges MS puts in his path every day. A well-deserved tip of the cap to Shan.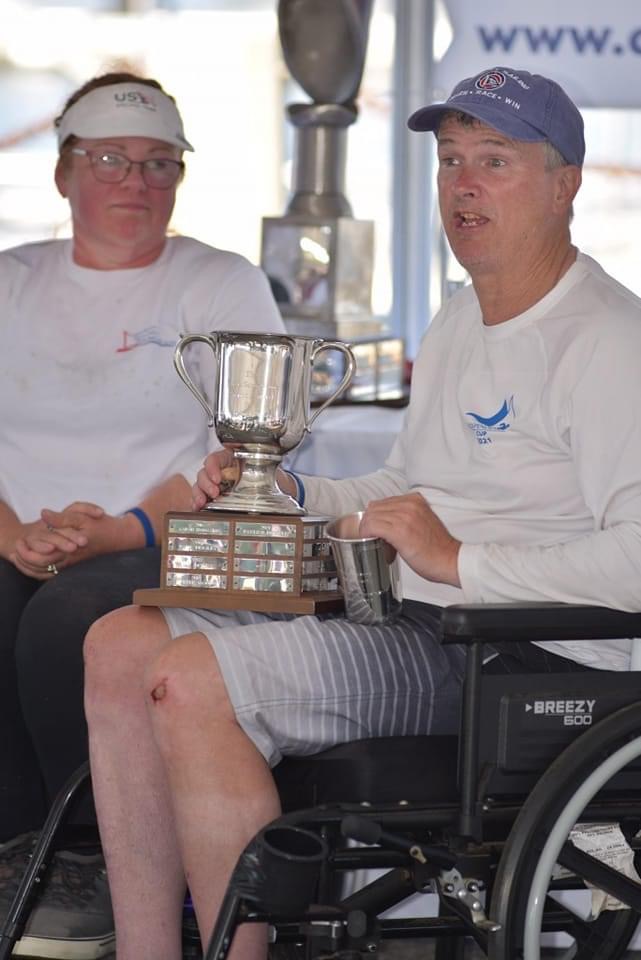 If You Spin, Send It In
We heard of one spin this week, and thank Team Rubin for leaving it on the course.
Sails for Sale – Team Pandapas is clearing out the sail locker. They're selling two chutes (2016 & 2018). If you're interested email Kim at kpandapas@comcast.net.
Mail Bag
Nat Taylor sent in this tip of the cap to the BYC RC. "Shout out to the BYC PRO. I appreciate how much he communicated over the radio, and good on him for almost changing the line, then deciding to just go for it. The course will never be perfect and we're out there to sail, not wait. Good on him for then recalling the J70s to give them a fair race. He took a small risk to try to get races off and it didn't work. I think Saturday series should err on the side of racing, compared to perfect courses. Good on him for a third race in the best breeze of the day."
Patrick Andreasen, wrote in with this EYC update. "A reminder to any visiting R19 people that the EYC Dry Sail will not be open to guests until after MJRW. It will open after 1800 on 7/27. Thanks." You may recall that Patrick helped Seamus Hourihan spank the rest of the Fleet on Day 1 at East Coasts before returning to his day gig racing Lasers and J70s. Rumor has it that he is currently getting the hard sell to offload his J70 and purchase a Rhodes. Hmm – wonder who is doing that? Anyway, if you see him, pile on. He and wife Kathy Andreasen would make an awesome husband-wife team who would give us all a run for our money.
Kelly Ferro from Sailing World wrote in with this Race Week reminder. "We will be back in Marblehead July 28-31 for the Sailing World Regatta Series (fka NOODs) hosted by Boston Yacht Club. Take advantage of Early Bird Registration and sign up today. All MRA members will still need to register. Please reach out if you have any questions." Kelly L Ferro, Event Coordinator, 727-242-4245, kelly.ferro@sailingworld.com.
Sarah Sheldon wrote with some difficulties accessing the Twilight SIs, writing "I was told the twilight SI and chart would not be available at the CYC desk this year, but only online, but they are not printable for non-members." If anyone else is having that problem, simply click here, select Twilight SIs and print.
Finally, Twilight RO David Graham apparently enjoys getting the RTTC (and why wouldn't he?). He writes, "Keep those cards and letters coming", as they used to say, Fleet 5 Secretary! Nice job!!!"
–kp (kpandapas@comcast.net)