Road To The Cup – Week 11
Top-10 as of 8/7/22
Six boats made it out for the first post RW Twilight, which as most of you know, kicked off a little earlier to accommodate the earlier sunsets. This week's update is from Steve Uhl. "Conditions included a fresh southerly at about 12 knots with gusts in high teens. A great way to beat the heat, though only six boats were out, probably due to post race week rest time. The course was an uneventful leeward-windward to Grays rock and back. Of note was the late arrival of Walter Colsman, presumably due to bad traffic. He got his main up with two minutes left, was off the mooring at one minute, but still managed a 3rd despite a late start."
Thanks Steve. Brief, but gets the job done. So taking 1st, but too modest to say so, was Steve Uhl. Finishing 2nd was Team Martini, and taking 3rd was the tardy Walter Colsman. Honorable mentions to Team Sheldon / Sousa in 4th and John Casler in 5th. Congratulations to all.
Out on the MRA line, just seven boats showed up for the expected post-Race-Week hangover. That may not sound like a lot but the only class with a better turnout was the IODs with eight. Attendance of the other fleets included five Vipers, five Townies and two Etchells, so a total of 27 boats across all MRA fleets. Don't get me wrong – I absolutely believe MRA should continue to provide racing on hangover week, but I think this may be a pretty good argument to consolidate the lines for that day to give our overworked RC volunteers a rest.
Anyway, those who chose to stay home missed a Chamber of Commerce day, with partly cloudy skies, warm temps, relatively flat water, a still incoming tide and an 8-10 knot southeasterly. The breeze went hard left prior to the first start of race 1, which was a 0.6 at 120, but creeped right for the duration, first to140 and later to 150. The BYC RC got off three good races and did an excellent job of minimizing down time.
Conditions were obviously to the liking of Team Pandapas, who had themselves a day, putting up three bullets for 3 points. Of course, they would preferred to have turned in that performance during Race Week, but they'll take it, and with now four bullets in their last five races, they may be finally getting their act together for nationals. Taking 2nd was Team Frisch / Hourihan, who rolled a 2-2-2 for 6 points, and taking 3rd was Steve Uhl, sailing solo, who finished 3-3-3 for 9 points. Steve's performance was all the more impressive when you consider that he flew the chute on every downwind leg, jibed when he had to and got himself around the course competitively. I'd wager this is probably the first time a R19 finished 3rd on an MRA day sailed solo, so a tip of the cap for a super impressive performance. Honorable mentions go to Team Noble in 4th with a 4-4-4 for 12 points, and Team Martini in 5th with a 5-6-5 for 16 points. Congratulations to all.
So, in Cup competition, Team Pandapas jumps from 4th to 2nd on the strength of their day. Worth noting is that several of the top 10 teams will miss at least one but probably both of the next two MRA weekends as they travel to Chicago for Nationals, which will create opportunities to move up, in both MRA and Cup scoring. The top 10 are listed below.

Week 12 racing will include Twilight 2-4 on Thursday night, the 2-3 races of MRA Series 3-2 this Saturday.
Other News, Notices & Miscellaneous Scuttlebutt
Support Lindsay Smith – Please help support Lindsay. Make your check payable to "Fast Mermaid Fund" and mail it to Alan McKinnon, 21 Robert Rd, Marblehead, MA 01945. Below is a shot of Lindsay after a recent restorative surgery.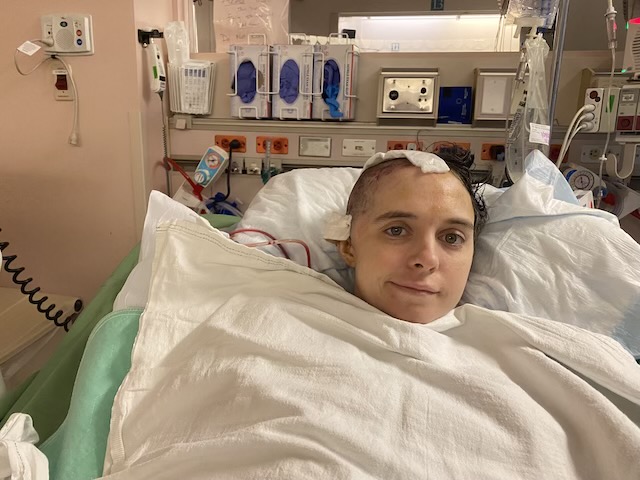 RTTC Publication Schedule – Your humble scribe is among those going to Chicago for nationals, so I expect to be otherwise occupied the next two weekends (August 13-14 and August 20-21). In the spirit of not over-promising and then under-delivering, I'd ask you to assume there will be no RTTC published on either of those Sundays (OMG! What ever will we do?). If circumstances allow (i.e. I'm able to write in a moving vehicle without throwing up, hotspot works in car, etc.), then maybe I'll be able to get out something, but please don't count on it.
If You Spin, Send It In (aka Road to the Pie) – There were no spins this week, at least that we heard of, so the spin count remains unchanged.

Labor Day Party – Circle Saturday Setember 3rd for our annual post-race Labor Day Party, which this year will hosted by Jocelyn & Adam Cook at their home at 3 Lexington Circle in Swampscott. More details to follow.
Crew Available – Julianna Testa, who you may recall, came out a few weeks ago with Jacob Martz and spanked the fleet and won the day, is looking for crewing opportunities. You can reach her at jtesta@westswell.com.
Mail Bag
No mail this week.
–kp (kpandapas@comcast.net)