Road To The Cup – Week 14
Top-10 as of 8/28/22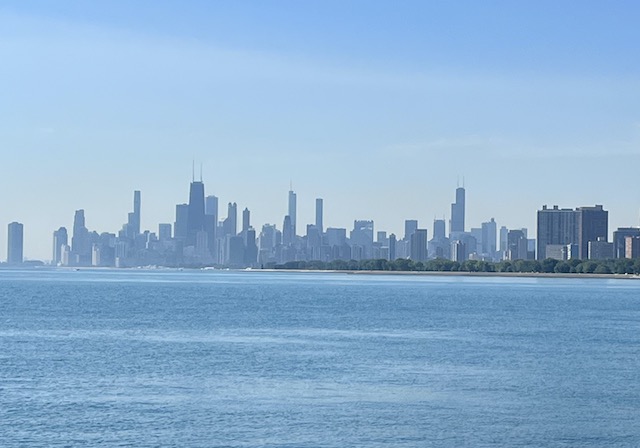 Let's start with Nationals.
Fleet 12 and the Chicago Corinthian Yacht Club threw a fantastic event that included great racing, warm hospitality and plenty of socializing. Regatta Chair John Walter and his team rolled out the red carpet and couldn't have been more welcoming, gracious and helpful. They made us all feel at home.
Fleet 12 dedicated this 2022 nationals to the memory of Bob Jenson, who died on May 20th in Bozeman Montana. Widely considered the patriarch of Fleet 12, Bob was a prince of a man and highly regarded by all who knew him. Bob stopped sailing several years ago, but anyone who has been around the class for more than 20 years likely has a story about getting schooled by Bob. He won Nationals seven times across multiple venues, including Chicago in 1971, Chicago in 1975, Fairhope in 1976, New Orleans in 1980, Larchmont in 1981, Chicago in 1982 and Marblehead in 1992. Bob was both an excellent sailor and a fierce competitor, but also a consummate gentleman, which pretty much defines the standard to which our class aspires. Bob was a culture carrier who, by virtue of all he accomplished and how he conducted himself, made our class better.
As they did in 2016, Fleet 12 scheduled this event on the eve of the Navy's annual air show. So, our Thursday and Friday racing experience was augmented by the welcome distraction of airshow practice, with fighter jets flying in formation, often (deafeningly) just over our heads, and performing an assortment of impressive arial acrobatics. The entire experience couldn't have been more positive.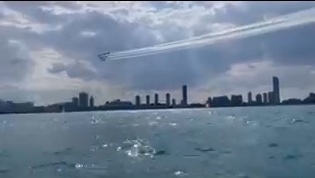 In total, 21 teams competed. Fleet 12 was by far the largest with 12 entries, followed by five from Fleet 5, one each from New Orleans, Hingham/Hull and Savanah, and one unaffiliated from Buffalo. Although I don't have the official stats, I think a least 12 teams sailed with two.
The five Fleet 5 teams who made the trek included Tom & Will Dailey, Rich & Rosy Denton, Mike Lane with Renee Heffernan & Yati McMahon, Stefan Thibideaux & Peter Sorlien and Team Pandapas. Two additional teams – Team Kaznoski and Team Uhl / Lane, registered and had planned to attend, but circumstances prevented them. It goes without saying that it would have been a lot more fun had they come.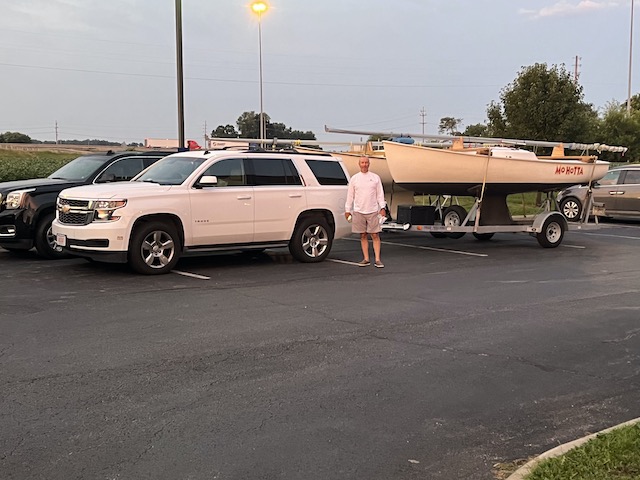 Travel regattas, while a bit of work, are always worth the effort. Aside from meeting new friends, sailing in different venues sharpens your skills and deepens your toolbox. And if you haven't raced on Lake Michigan, you should add that to your must-do list. Aside from the fresh water, it's simply a beautiful place to sail with Chicago's skyline as a backdrop and a challenging range of conditions.
Conditions for this event were on brand with no two days the same. Tuesday's practice race (ostensibly won by Team Lane before veering off) featured a 15-knot northerly, which came with large, confused, washing machine seas that put a premium on steering. Wednesday was 10-12 from the northeast, Thursday 8-10 from the southeast with flat water and Friday a very shifty 15-20 from the southwest.
So, getting straight to the bottom line, congratulations to Fleet 12's John Durlak, who had himself a regatta for the ages, and was crowned our newest national champ. He was beautifully consistent, putting up a line of (4)-2-1-1-3-2-2-3-2 for a paltry16 net points. Over nine races, he threw out a 4! It was an impressive performance reminiscent of some of the best, and interestingly, he accomplished it sailing Bob Jenson's old boat. How poetic is that? His performance, by the way, earned him the Don Quixote Trophy for his first top-5 finish in a Nationals. Well done.
Taking 2nd was Kim & Christina Pandapas (bridesmaids yet again), who put up a line of 2-6-(8)-3-1-1-1-1-4 for 19 points, marking the 3rd time they've taken home the Norm Cressy Trophy, which is the class's perpetual for nationals runner-up. Finishing 3rd was Mike Lane, sailing with Renee Heffernan & Yati McMahon with a 1-1-6-(9)-2-4-4-8-3 for 29 points. Honorable mentions go to Fleet 12's Bob Bernstein in 4th with 34 points, and Hingham's Mike & Maureen Hebert in 5th with 36 points and their first nationals podium finish. Congratulations to all. You'll find the regatta scores here.
A couple of notables – first is that Tom & Will Dailey took the bullet in race 9, which featured very shifty and challenging conditions, earning them 6th overall in their first nationals. Nice job there. Second is the impressive performance of rookies Rich & Rosy Denton, who in a chartered boat, finished 7th overall and were very much in the mix for the whole regatta. Their performance earned them the Novice Trophy, another of the regatta's coveted perpetuals. I think it's safe to say they're getting this boat figured out. Great job.
Other Nationals perpetuals included the Bob Jenson Masters Trophy, which was awarded to regatta chair John Walter, the Travel Trophy, which went to Tim Haines & Gretchen Hartke (who traveled from San Diego), and the Wet Bottom Trophy which was awarded to Mike Hebert. This year's President's Trophy was awarded to Elise Nash & Kim Pandapas for co-chairing Nationals 2020/2021 though two years of Covid, and the Fleet Trophy was awarded to Fleet 5.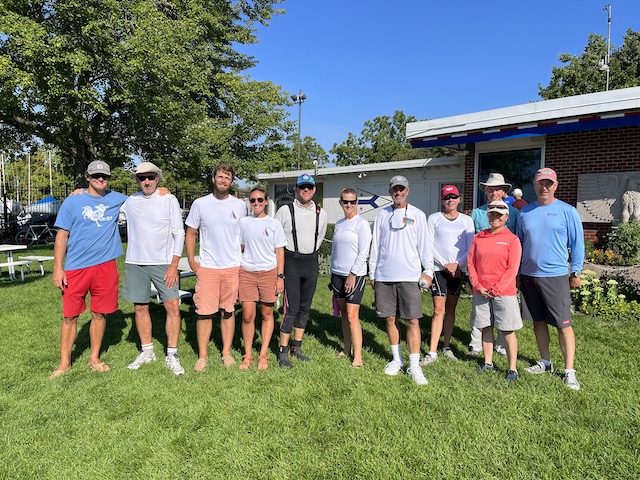 On to Twilights. Before we get to this week's racing, here is a report from Walter Colsman on last week's Twilight, in which just three boats competed.
"It was very gusty from N-NW all day and was supposed to die down by race time, but it did not. John Casler was out early and broke his main out near Children's Island. Anne Marije, Team Martini and Walter (single handed) made it to the starting line. The course was mercifully short: 20 – 22 (archer rock/children's island followed by a beat to harbor buoy by the fort and back). Walter's start mid-line turned out to be the best, so he rounded first followed by Anne Marije and Martha, all within striking distance of each other. Walter especially was survival-sailing but managed to hang on to his lead with the others close on his heels, and so we finished in that order. Overall, an exhilarating outing and short enough to be enjoyable."
Thanks Walter, and congratulations. Moving on to this week, nine teams made it out for one of the more perfect twilight evenings of the season. Worth noting is that this was the 6th race sailed of a possible six possible races to date in Series 2. A 100% batting average is pretty good, especially considering all of the washouts we had in Series 2 last year. This week's report is from Steve Uhl.
"Nine boats came out for a classic twilight evening – meaning dying sea breeze followed by wisps from various directions. The course was a run to Williams Rock, a beat to Archer Rock and a reach home. But on the first run, the breeze went from southwest to northeast or something like that, turning a run into a beat – which let leaders Team Lane and Anne Marije Veenland build a solid lead. But in twilights, no lead is safe, and around Williams on the way to Archers Rock, Jim Taylor and Steve Uhl closed the gap. In a very tight finish, Steve Uhl nosed out to win it, followed closely by Team Lane in 2nd, Team Taylor in 3rd and Anne Marije Veenland in 4th, all in close succession. Honorable mention to Team Colsman in 5th."
PRO David Graham also was a bit disappointed with the big wind shift, writing in, "Sorry I wasn't able to put together a race that had a beat in the second leg. At the start, I firmly believed that "28" to "20" would have been a good windward leg." No worries, Dave. We all appreciate your continuing efforts. Thank you.
Anyway, there you have it, and congrats to all. So, with one race to go in Twilight Series 2, here is how things stack up, both for the series and the Twilight season overall. Based on his lead, it's probably not premature to congratulate Steve Uhl on a dominant Twilight season.

Here is a shot of the Coast Guard gussying up one of the most used Twilight marks.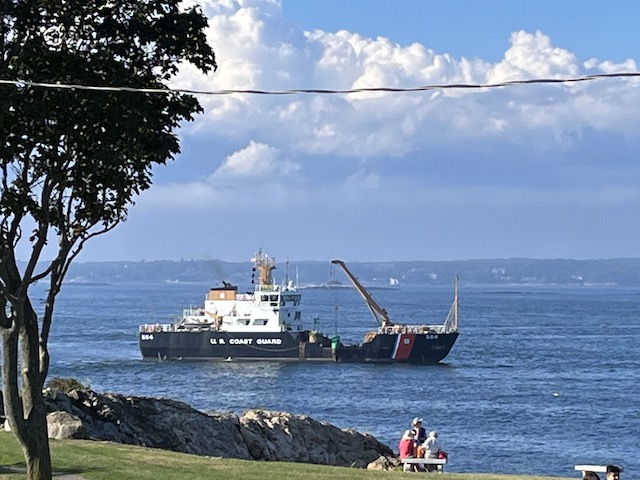 Out on the MRA line, ten boats showed up expecting the forecasted conditions of 5-10 trending from north to ENE with sunny skies. Honestly, that forecast usually results in a sea breeze, and I'd bet everyone out there expected that. Instead, we were treated to ENE at about 15, with building seas characteristic of a northeasterly. This was two-butts-on-the-rail going up and surfing conditions coming down. Things moderated a bit as the day wore on, but generally it was a fun day of sailing. The RC got in three for us and four for the Vipers, as the J70s were off tending their gardens after two strenuous days of the Ted Hood regatta last week.
I know I'm starting to sound like a broken record (though there are probably fewer and fewer who even get that reference), but congratulations to Team Frisch / Hourihan for another dominant day. They put up a line of 1-2-2 for 5 points to win the day and pad their Series 3 lead (more on that below). Well done! Taking 2nd was Team Pandapas with a 4-3-1 for 8 points, and finishing 3rd was Team Uhl / Lane with a 2-4-3 for 9 points. Honorable mentions go to Team Lane / Heffernan in 4th with a 3-1-DNF (9) for 13 points, and to Eric Thornton in 5th with a 5-5-6 for 16 points. Congratulations to all.
So, coming into the final stretch of Series 3 and our MRA season, with just two days to go, here is how the top 5 of the series looks. Team Frisch / Hourihan's 6-point lead looks pretty solid, but with an estimated six races remaining, anything can happen.

And for the MRA season with two days to go, Team Pandapas continues to sport what they hope is a comfortable lead, but they should definitely be looking over their shoulders. Here is the top 5.

In Cup competition, all I can say is 'holy crap.' Never in my decades of doing this have the Cup standings been this tight, this late in the season. We have a 3-way tie at the top, broken by total bullets, but it seems clear that the top 5 positions are all very much in play. The top 10 are listed below.

Week 15 will close out both our Twilight and MRA Series for the season. Racing will include Twilight 2-7 on Thursday night (don't forget that the warning is at 5:30), the 2-3 races of MRA 3-4 on Saturday and the 2-3 races of MRA 3-5 on Sunday.
A couple of reminders – first is that the 3-day Fall Series will commence on Saturday September 10th and continue over the next two Saturdays – September 17th and 24th. Second is that there will be two additional Twilights on the 8th and 15th which you're invited to sail (warning at 5:30), but they will not be included in our season scoring.
Other News, Notices & Miscellaneous Scuttlebutt
Labor Day Party – This year's post-race Labor Day party will be on Saturday evening September 3rd and hosted by Jocelyn & Adam Cook at their home at 3 Lexington Circle in Swampscott. Keep your eye out for the evite.
Support Lindsay Smith – Please help support Lindsay, who has been having a rough go of it lately. Make your check payable to "Fast Mermaid Fund" and mail it to Alan McKinnon, 21 Robert Rd, Marblehead, MA 01945.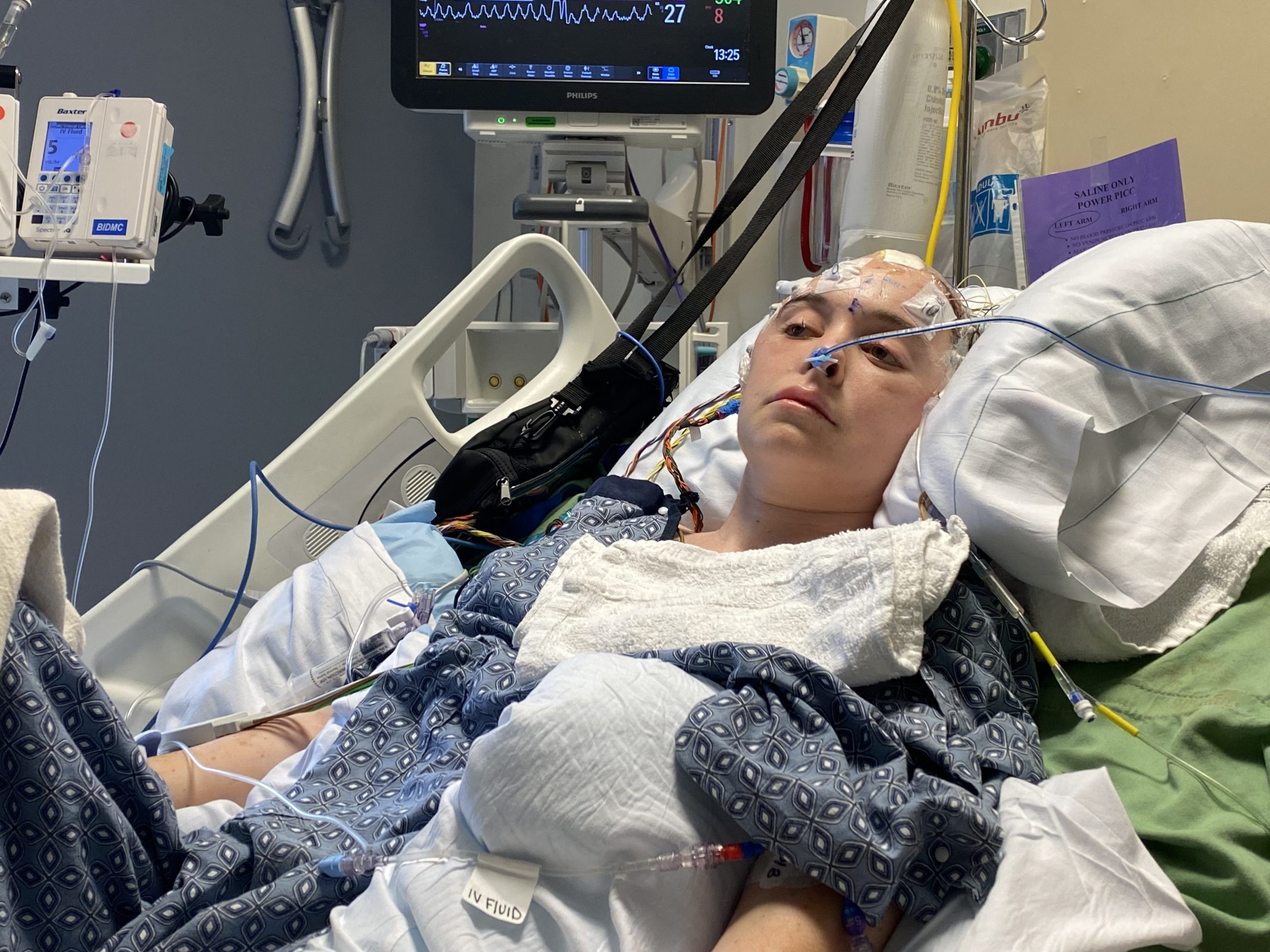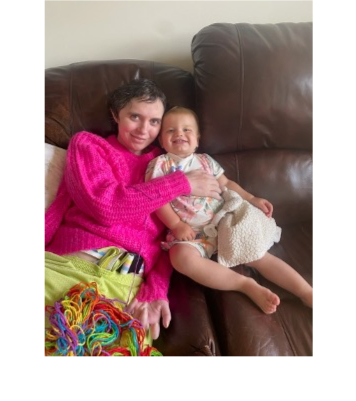 If You Spin, Send It In (aka Road to the Pie) – There were no spins this week, at least that we heard of, so the spin count again remains unchanged.

Mail Bag
From the archives, John Casler sent in this shot from with long time R19 stalwart George Lail at a long ago Manchester Nationals.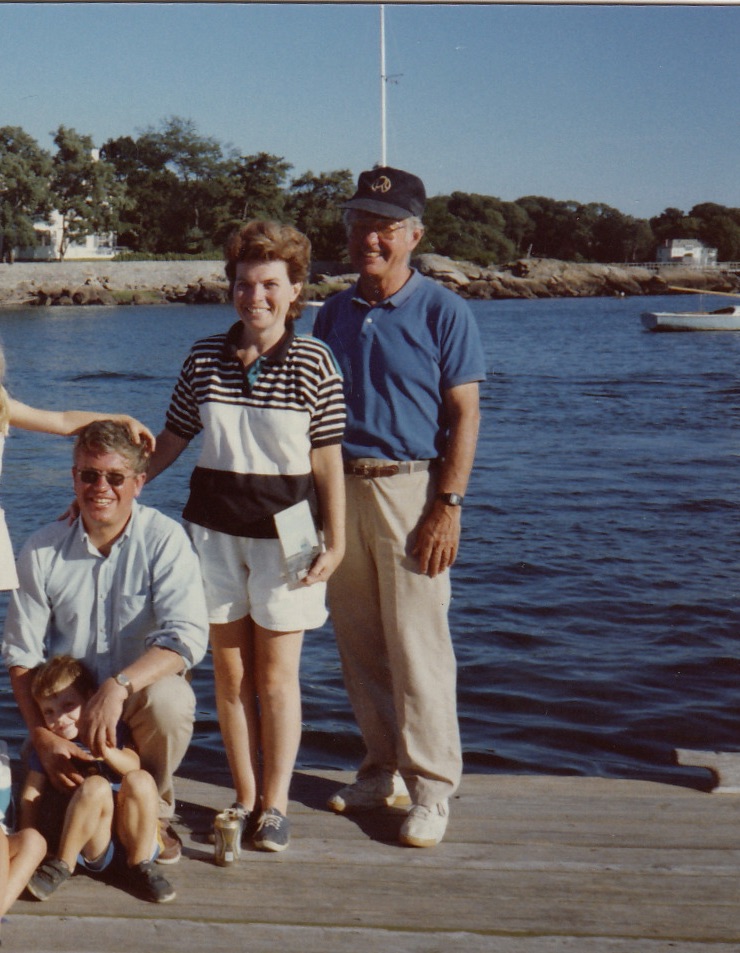 –kp (kpandapas@comcast.net)