Top 10 as of 6/25/23
Just five teams showed up for what proved to be a spectacular evening for Twilights. Here is a quick summary from Steve Uhl. "Another beautiful twilight evening with an easterly that held up pretty much the whole race. Too bad only five boats showed up. We had a nice long course out to the green can just past Children's Island. It presented as a nice beat but the easternly went slightly southerly, so it was 80% starboard 20% port. So the boats starting near CYC ended up with the edge. 2585 won followed closely by Team Martini."
Thanks Steve. So, congrats again to Steve Uhl for his fourth Twilight bullet in as many races (something has definitely gotten into his oats). Well done. Taking 2nd was Team Martini, and finishing 3rd was old friend John Casler. Honorable mentions to Tim McCaffrey and 4th and Jay Wager in 5th. Congratulations to all.
So, in Series 1 with four races down and two to go, Steve Uhl is sporting an eight-point lead over Team Martini. That strikes me as insurmountable considering that after next week's race, everyone will get to throw out their worst finish (which for Steve is currently a 1). Stranger things have happened, so we'll just have to see.
Out on the MRA line, crickets. Not one boat showed up! Apparently, a wet forecast that threatened afternoon thunderstorms, combined with the day being unscored due to East Coasts, inspired a lot of folks to take the day off. I get it. In fact, count me among them. My thought process was something like – do you burn the entire day racing against 1-2 other boats (maybe), in the rain, and on a day that nothing counts? Or do you take the day off and get a few chores done? So, guilty as charged, and not a great call, by the way, as the sailing day proved to be a lot better than forecast, with minimal rain, no thunderstorms, and a pleasant building easterly. I think the sailing gods might grant us all absolution for this one, but remember that this is a new series (MRA Series 2) and Race Week is in less than a month. Time for us all to get our butts out there.
Speaking of East Coasts, five teams made the trek, including Teams Lane, Dailey, Uhl / Lane, Shoreman / Reynolds and Frisch / Hourihan. As I write, the regatta has sailed one day with one to go, so we'll try to give you a more fulsome report next week. But congrats to Team Shoreman / Reynolds for winning Day 1 with a 2-1 for 3 points. Taking 2nd just 1 point behind was old friend and the always tough Dave Nelson, who rolled a 1-3 for 4 points. And taking 3rd on a tiebreaker with an 8-2 for 10 points was Team Dailey. Honorable mentions go to Steve Clancy in 4th with a 3-7, also for 10 points, and Joe Berkeley in 5th with a 7-4 for 11 points. You can follow the action and see all of the results here.
So, in Cup competition, the red-hot Team Uhl / Lane extends their lead over Team Frisch / Hourihan to 20 points from 15. The top-10 are listed below.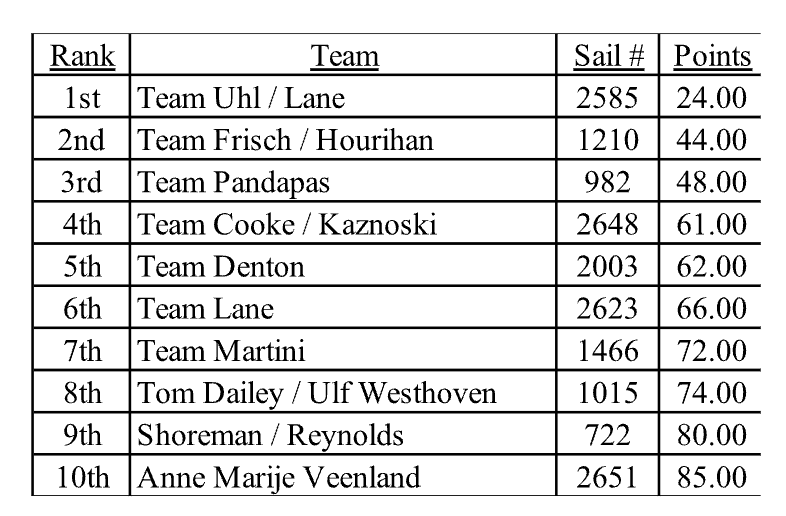 Week 5 racing will include Twilight 1-5 on Thursday night, the 2-3 races of MRA Series 2-2 this Saturday.
Other News, Notices & Miscellaneous Scuttlebutt
Fleet 5ers Sailing the Thayer – Also this weekend is the 3rd annual Thayer Trophy, a women's team racing invitational that has quickly grown into one of preeminent woman's regattas nationally and one of CYC's signature events. Seven teams are competing this year, including CYC, EYC, New York Yacht Club, MIT, Bristol Yacht Club, Chesapeake Bay YRA and Newport Harbor. Several Fleet 5ers (and alum) are sailing in the event, including Beanie Eisner, Ashley Hoguet and Debbie Noble for EYC, and Elise Nash, Juliana Testa, Karen Finochio, Peg MacMaster and Christina Pandapas for CYC. You can watch the Day 2 action today (Sunday) in the area between the lighthouse and Children's Island, or follow it here.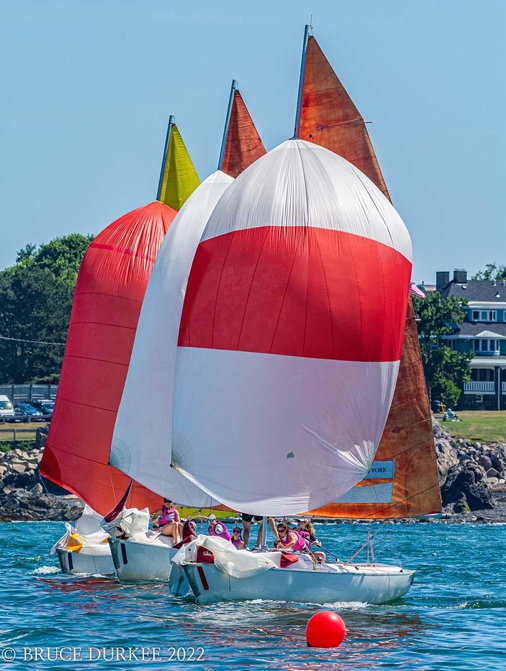 Fast Mermaid Pursuit Race – The Fast Mermaid Pursuit Race, a fund-raising event for Lindsay Smith, will be held July 23rd. You can register and get more info here.
Race Week Registration – The Helly Hansen Sailing World Regatta will be Thursday through Sunday, July 27-30. Your MRA fee covers the entry fee, so you don't have to pay, but you do have to register, which you can do here.
Fleet 5's Race Week Party – Fleet 5's annual Race Week party will be Thursday evening July 27th, hosted (yet again) by Jennifer & Steve Uhl. The event will be potluck and, as usual, will include the fleet bar. Keep an eye out for the evite, but for now, circle the date.
If You Spin, Send It In – We were informed of no incidences this week, so the spin totals remain unchanged.
Remember if you spin, email kpandapas@comcast.net and let me know how many fouls you committed for which you exonerated yourself.
Offshore Crew Needed – Offshore sailing opportunity on a freshly refitted Shannon 43 ketch. Three-to-five-day passage from southwest Maine to Bras d'or lakes of Nova Scotia beginning July 16th. Experience standing night watch needed. Please contact Peter Sorlien at 603-937-4597.
Boat for Sale – Steven Kylander of Hingham is relocating so selling his O'Day. It includes a trailer, though "does need a new mast. I have near new main and jib as well as bevy of other sails. Looking to just get a best offer for someone to give it a new home." Contact Steven at stephenkylander@gmail.com.
Mail Bag
No mail his week.
Complaints Department
Got Gripes? Don't be shy. Unload at kpandapas@comcast.net. The buck stops here.
–kp