Top 10 as of 7/2/23
Let's start with last week's East Coasts. As you may recall, five teams made the trek, including Teams Lane, Dailey, Uhl / Lane, Shoreman / Reynolds and Frisch / Hourihan. Here is a summary, courtesy of Steve Uhl.
"Hull and Hingham ran a great event in trying conditions. Day 1 was drizzling and very light southwesterly, patchy and shifty, but just enough for RC to get two C courses in. We sailed in Hull Bay, so current was not a big factor, it was just looking for pressure and being smart on the shifts. Team Shoreman / Reynolds were smart and fast, posting 2-1 to lead the day. Dave Nelson was 2nd with a 1-3, and Tom Dailey held 3rd with an 8-2.
"Sunday was nicer, with clear skies, but the breeze was even sketchier. It came and went and shifted SE to SW every few minutes. I never saw a mark boat work harder moving marks. The RC was able to get off two "A" courses just before the time limit, so we had a four-race regatta. There was a minor kerfuffle in race 3 because the finish line was set on the wrong side of the committee boat. But a finish is a finish, so look for the pin wherever it is.
"Overall, Dave Nelson won the event with 1-3-2-6 for 6 points (with 6 as throw out). I had Dave as my favorite to win coming in, he and crew Ken Delapapa are just too smart and fast. Team Shoreman / Reynolds took 2nd with and a 2-1-6-9 for 9 net points, and Steve Clancy (who won the last Marblehead nationals in 2021) finished 3rd with a 3-7-4-4 for 11 points. Joe Berkeley from Hull took 4th and last year's EC champs Team Frisch / Hourihan finished 5th."
"I would add that the RC did yeoman's work – the conditions were very trying, and a lesser RC would not have been able to get off four decent races under those conditions. And as expected our hosts at Hingham and Hull were super welcoming and hospitable."
Thanks Steve. You'll find the complete EC results here.
Moving on. Thursday evening couldn't have been nicer, with warm temps, late afternoon sunshine in a mostly clear sky, and mercifully, no threats of thunderstorms. All of that proved quite a draw, as we got our best Twight attendance of the season. Here is a summary, again from Steve Uhl.
"Great turnout of ten boats, including the first appearances of Jim Taylor, Walter Colsman, Mike & Kathleen Lane, and Team Shoreman / Reynolds, with a full complement of kids aboard (I counted five souls aboard but not sure). After a brief postponement, we sailed leeward – windward twice around to the red nun. The breeze was questionable at the start, but after the first leg, it filled in to a light sailable southwesterly. Guest Woodstock skipper Clark Uhl jumped ahead by jibing to port at the pin and catching some breeze towards Fort Sewall away from the pack. Teams Taylor, Colsman and Lane did battle throughout for 2nd. In the end it was Uhl, Colsman, Taylor, Lane and Martini." He later added, "I also saw Larry Ehrhardt out, but I think he must have bailed out while drifting around in postponement."
Thanks again, Steve. So, a different skipper on Woodstock but the same result. Of course, that could have been predicted, as letting Clark Uhl take the helm in a Twilight race is like bringing a gun to a knife fight. One minor correction – my records suggest Walter Colsman made it out back on June 1st, and the series scoring reflects that. It's always possible 2561 (Colsman) was confused with 2651 (AMV) – certainly it wouldn't be the first time something like that happened. Back in the day, our 982 was regularly confused with 892, particularly on OCS calls (because as everyone knows, I'm rarely aggressive at the start!), but I digress. If that is inaccurate, someone should let me know.
So, to restate, finishing 1st with his 5th straight twilight bullet in as many races was Steve Uhl. Taking 2nd was Walter Colsman, and finishing 3rd was Jim Taylor. Honorable mentions to Team Lane in 4th and Team Martini in 5th. Congratulations to all.
So, for Twilight Series 1, here is how things stack up with five races sailed and one to go. Note that after last Thursday night, a throw-out kicked in, so the totals reflect each team's four best scores. An early congrats to Steve Uhl for winning this first series. As he is throwing out just 1 point, he could stay home next week and still win, because anything more than a 1 becomes his throw-out, so the worst he can do is 5 points for the series.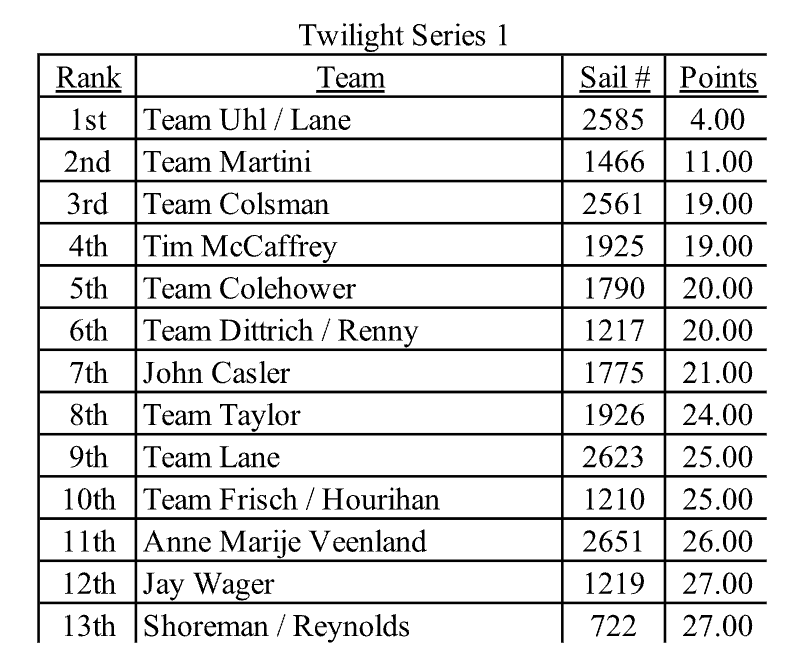 Out on the MRA line, 15 boats showed up for our first day of Series 2, which is our best showing of the season. Several teams made their 2023 debuts, including Team Ehrhardt, Team Taylor, Team Hooks / Pascal, and happily Team Felton, who are back in the saddle after a 2-3 year break. A warm welcome to them. Also on our line was Jim Gabriel, sailing 1217 for Timmy D. who was unavailable this week. I'd like to offer a tip of the cap to Timmy for always making sure his boat is on the line, whether he can be there or not. Team Fava / Nash also planned to sail, but they just got their boat back Saturday morning, and it turned out a couple of bugs still needed to be worked out. We look forward to seeing them out there soon.
The forecast was for variable winds less than 5 kt, becoming ESE 5 to 7 kt in the afternoon, with widespread haze and areas of fog, and we got every bit of that. The day started with an onshore AP due to fog that lasted until 11:15. We sailed out in light & variable that trended right from about 90 all the way 120. During our first race, the pressure increased and trended left, resulting in a course change from 115 to 85 on the second lap. The breeze picked up to about the 10-11 range in Race 2, with a course of 85. All good until about 2-3 minutes in when the fog rolled back in, forcing us to find the weather mark by braille, which we eventually did. After sending in the other two fleets, the RC mercifully chose to finish us at the leeward mark rather than send us back into the fog. A couple of teams forgot that in a shortened race, the finish is between a patrol boat and a mark of the course, so regrettably were scored DNF. Not an easy day for the RC, and I'd expect PRO Rick Hamill made it a double when he got back.
So, taking 1st on the day was Team Pandapas, who put up a 3-1 for 4 points. Finishing 2nd was Team Cooke / Kaznoski, with a 2-5 for 7 points, and taking 3rd was Team Taylor, who rolled a 4-4 for 8 points. Honorable mentions go to Team Ehrhardt, who took 4th on a tiebreaker with a 7-2 for 9 points, and Team Gabriel in 5th with a 6-3, also for 9 points. Congratulations to all.
So, in Cup competition, Team Uhl / Lane held onto 1st this week but saw their lead shrink a bit as Team Pandapas climbed into 2nd. The top-10 are listed below.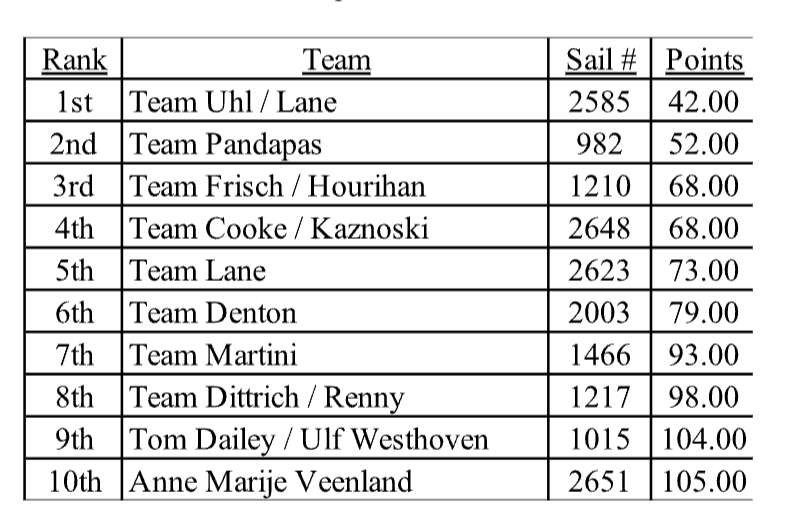 Week 6 racing will include Twilight 1-6 on Thursday night, which will be the final race of Series 1, and the 2-3 races of MRA Series 2-3 this Saturday.
Other News, Notices & Miscellaneous Scuttlebutt
Fleet 5ers Sailing the Thayer – We mentioned the Thayer Trophy last week and all of the Fleet 5ers involved. Here is a regatta summary from Christina Pandapas, and you'll find more info here.
"The seven teams competing at this year's Women's National Invitational Team Race for the Thayer Trophy had spectacular head-to-head racing this past weekend. A total of 51 races were sailed over two days. With an impressive 11 wins and 4 losses, Bristol Yacht Club triumphed for the second year in a row. The event is the only women's 3v3 team racing regatta in keelboats with spinnakers, a format that requires a high level of boat handling skills during tight, aggressive boat-to-boat maneuvers. Fleet 5ers competing in the event were: Elise Nash, Liza Clark, Juliana Testa, Karen Finocchio, Peg MacMaster and Christina Pandapas for Corinthian YC; Beanie Eisner, Ashley Hoguet, and Debbie Noble for Eastern YC. The event honors our own Joan Thayer and her mother, Elli."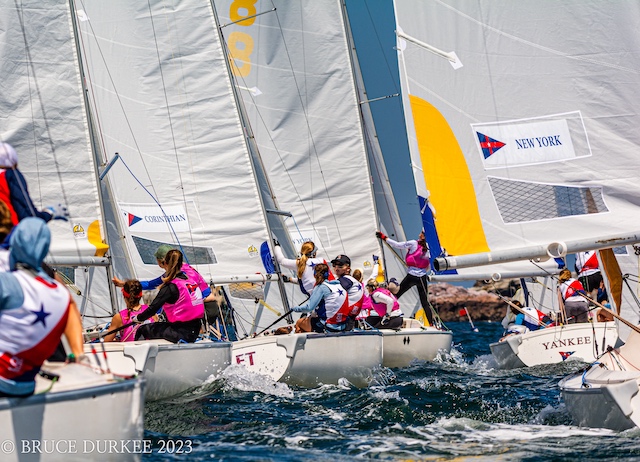 CYC Wins Commodores Cup – The CYC, EYC and BYC held their annual Commodores Cup team race on Friday, this year hosted by the BYC. After two consecutive victories for EYC in 2021 and 2022, this time team CYC took 1st, which includes the honor of flying their club's burgee at the other two clubs. EYC took 2nd and BYC 3rd. Several Fleet 5 members and alum competed, though we don't have the complete list. Those we do know about include Elise Nash, Karl Renny and Jim Raisides for CYC, and Larry Ehrhardt and Peter Frisch for EYC. Congratulations to CYC for the win, and to all who participated in this annual tradition.
By the way, we suspect history was made this year. One of the requirements is that a commodore from each club sail in the event. EYC this year fielded two, including Commodore Peter Frisch and Rear Commodore Larry Ehrhardt. But for the first time (we think), CYC fielded all three, including Rear Commodore Doug Sabin (on the helm), Commodore Jim Raisides and Vice Commodore Karl Renny. Appropriately, they were sailing a sonar donated to CYC by former Commodore Brent Larlee, who bears much of the credit for developing CYC's team racing program.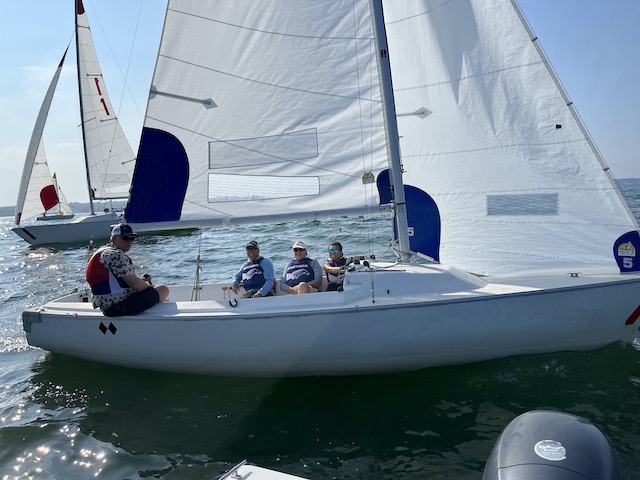 Pre-Race Week Summer Clinic – As a final tune-up for Race Week, Fleet 5 will hold its summer on-the-water clinic on Saturday July 22nd. The clinic will consist of a series of short races, with participants actively coached by Stan Schreyer, who will hold a short chalk talk on Sunday morning at CYC. Joe Fava is leading the charge on this and will provide more details soon. As a reminder, the fleet voted to do this clinic instead of sailing MRA that day, so there will be no R19 MRA start that day.
Fast Mermaid Pursuit Race – The Fast Mermaid Pursuit Race, a fund-raising event for Lindsay Smith, will be held July 23rd. You can register and get more info here.
Race Week Registration – The Helly Hansen Sailing World Regatta will be Thursday through Sunday, July 27-30. Your MRA fee covers the entry fee, so you don't have to pay, but you do have to register, which you can do here.
Fleet 5's Race Week Party – Fleet 5's annual Race Week party will be Thursday evening July 27th, hosted (yet again) by Jennifer & Steve Uhl. The event will be potluck and, as usual, will include the fleet bar. Keep an eye out for the evite, but for now, circle the date.
If You Spin, Send It In – We were informed of one incident this week, from old friend Conway Felton. "So…. shortly after the start of the second race, we hit the committee boat. Just pilot error, but I think the technique bears mentioning, since we did it while going backwards. However, all was not lost because John Casler was on the committee boat, and it gave Alex and me a chance to exchange pleasantries with someone who we had not seen in many years." A silver lining in every cloud, right? Anyway, we've added Team Felton's spin to the Spin Tracker, and salute their sportsmanship.
Remember if you spin, email kpandapas@comcast.net and let me know how many fouls you committed for which you exonerated yourself.
2023 Nationals in New Orleans – The 2023 Nationals will be held October 4-8 in New Orleans, hosted by Fleet 7 and the Southern Yacht Club. You'll find more details here.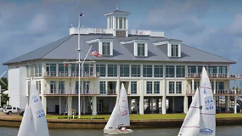 How Cute Is This? – Evan Cooke and his wife Wyn have expanded their young family by one fluffy, furry bundle of cuteness they call Foggy. Take a look.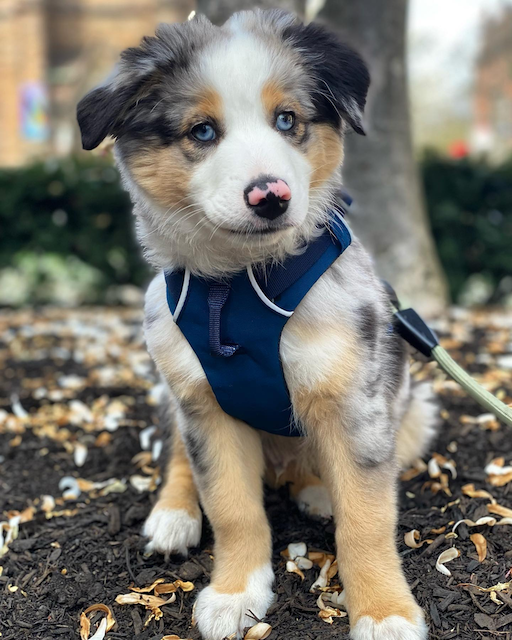 Looking For Used Main – Don Schwartz of Manchester is looking for a used main. Contact him at donschwartz06@icloud.com.
Mail Bag
Jeremy Bloxham happened by just as the CYC's Pegasus was hauling anchor after serving as change boat for the Thayer, and sent in this shot with the caption, "Oops."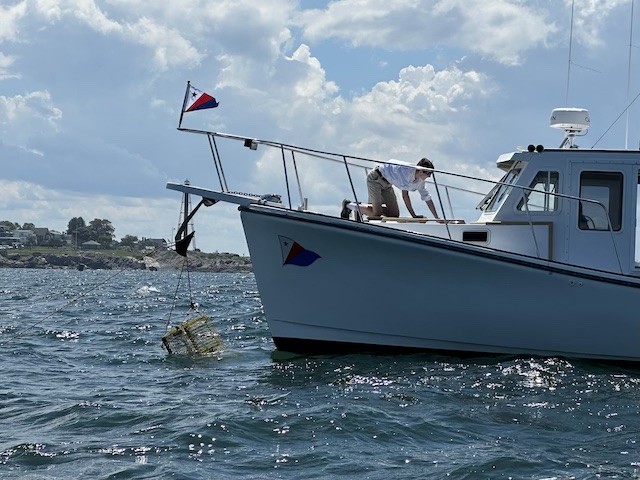 Complaints Department
Got Gripes? Don't be shy. Unload at kpandapas@comcast.net. The buck stops here.
–kp