Top-10 as of 8/6/23
What You Need To Know
Twilight racing now starts an hour earlier, first warning at 1800.
The next race in EYC's Pursuit Race series will be Friday evening August 11th.
The 'Around Misery Island' race will be Saturday August 19th.
The Labor Day Party will be after racing on September 2nd, hosted by Sarah Sheldon.
Last Week's Racing
There was no Twilight race this week due to Townie Nationals.
Out on the MRA line, just five teams made it out to MRA's consolidated line for the start of MRA Series 3, aka 'hangover weekend.' The weekend after Race Week has never been particularly well attended as folks pay up for the previous week's 4-day hall pass. The IODs at seven boats had the best turnout, followed by the Vipers with six, Rhodes with five, J70s with four and the Etchells with three. MRA rightly consolidated the lines for hangover weekend, not just to match RC resources with the expected turnout, but also to accommodate the Town Class Nationals/Worlds (or Intergalactics, as a friend of mine call them).
The forecast was for sunny skies, warm temps and a developing sea breeze, and while it was indeed a nice day, the oscillating easterly we got was light (in the 5-8 range) and a bit fickle, which exacerbated the strong current on the incoming tide. The RC hoisted AP for a while as they attempted to set marks, and as soon as they did, the breeze would shift 15 degrees leaving them to start over. It was a course-setting version of Whack A Mole. Anyway, between the AP, light air and being the last of five to start, we only got in two while a couple of fleets sailed three. Topping off the day was the wind shutting off for the sail in, with nary a tow boat in sight, making for a long day and leaving us all to wish we had brought extra beer.
None of this bothered Team Frisch / Hourihan even a little, as they won the day with a 1-2 for 3 points. Worth mentioning is how delighted we are to see that band back together again. Of course, the expanded team has acquitted itself quite respectably in all of its recent iterations, but with Seamus back on the helm, order is restored, and all is again right in the universe. Taking 2nd was Team Sheldon / Sousa / Thayer, who rolled a 4-1 for 5 points. They went hard right early in race 2 and never looked back. And finishing 3rd on a tiebreaker was Team Pandapas with a 2-4 for 6 points. Honorable mentions go to Team Lane in 4th with a consistent 3-3, also for 6 points, and Team Denton in 5th with a 5-5 for 10 points. Congrats to all.
So, in Cup competition, there were no position changes, though things are beginning to compress at the top. You can argue that Saturday's big winner was Team Uhl, who though he didn't sail Saturday, was forced to eat only 12 points. With our usual three races and a better turnout, that could have gone a whole lot worse. The top 10 are listed below.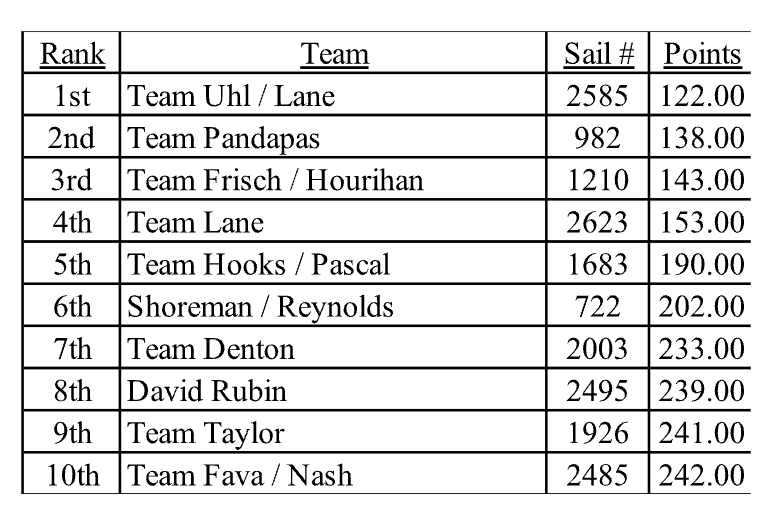 Week 12 racing will include Twilight 2-3 on Thursday night (first warning an hour earlier at 1800) and the 2-3 races of MRA Series 3-2 this Saturday. Also don't forget the EYC's pursuit race on Friday evening, for which you can register at Clubspot. Though unscored by Fleet 5, it should still be a lot of fun.
Other News, Notices & Miscellaneous Scuttlebutt
If You Spin, Send It In (aka Road to the Pie) – There were no spins this week that we heard of, so the totals remain unchanged.
Remember if you spin, email kpandapas@comcast.net and let me know how many fouls you committed for which you exonerated yourself.
2023 Nationals in New Orleans – The 2023 Nationals will be held October 4-8 in New Orleans, hosted by Fleet 7 and the Southern Yacht Club. You'll find more details here.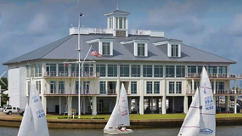 Labor Day Party – Circle Saturday Setember 2nd for our annual Labor Day Party, which this year will hosted by Sarah Sheldon. More details to follow.
Effective Marketing – This shot seems to be all over the Helly Hansen Regatta site. Wonder why.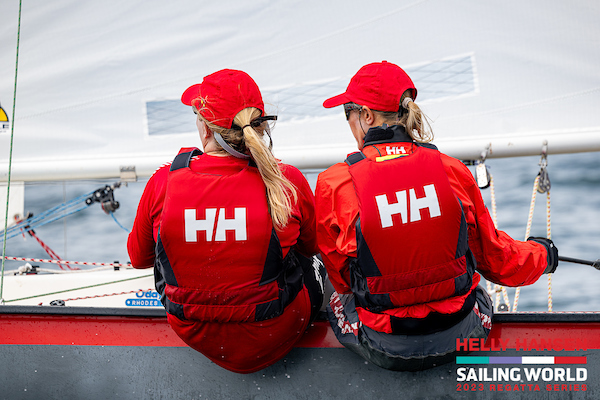 Mail Bag
We got a couple of Race Week emails this week, the first from winner Matt Hooks. "Thanks for the write-up, Kim, always a great read. Consider this a 'second' for the Rubins as winners of the Most Improved award. We had a hard time getting around them on multiple occasions; they were sailing the boat really well. And I also concur with your thoughts on Shoreman / Reynolds light air speed & point. They completely sailed around us to leeward in one race. It was really impressive."
Jim Taylor has a lot on his mind relative to Race Week. "Some thoughts while the RW memories (and wounds!) are still fresh:
I fail to see the logic in going halfway to Provincetown to set up the Halfway and Outside RW lines. I am dead certain that it seriously skews the balance between the time spent actually racing and the total time required to enjoy it.
Rhodes 19's should race just three days in RW. I get that there is history, but RW was once seven days, and then it was five days, and now it's 2023. I also get, and appreciate, that a four-day event is a marathon, and a uniquely satisfying challenge, but I still think that we should go for just three days. Sailing is struggling to maintain participation levels across the entire sport, and that struggle is all about the amount of time that people have to give to their time on the water.
Like Kim, I'm of two minds WRT throw outs. One can make a good case for both with and without, but there is no question that whichever the choice, it does affect both the game and the results. We have no illusions that we are settling a World Championship, we are just aiming to reward the weekend warrior team that sails the best. In the end, I think that allowing a throw out probably does this most accurately and appropriately.
Jim Taylor also forwarded us a thank you note from Hugh Townsend, who you will recall came down from Maine to join us for Race Week. "Thanks so much for your help launching and hauling Helios at Race Week, and providing some insights on our boat and rig as well. You helped us with a timely escape from the "Lions' Den" with the haul-out. We had a great time and appreciate your Marblehead Rhodes fleet, the race committee work, facilities and Marblehead itself, on and off the water."
Anne Marije Veenland sent in this note concisely summing up last week's party, along with a couple of pix. "What a great party! Thank you Steve and Jennifer for spoiling us."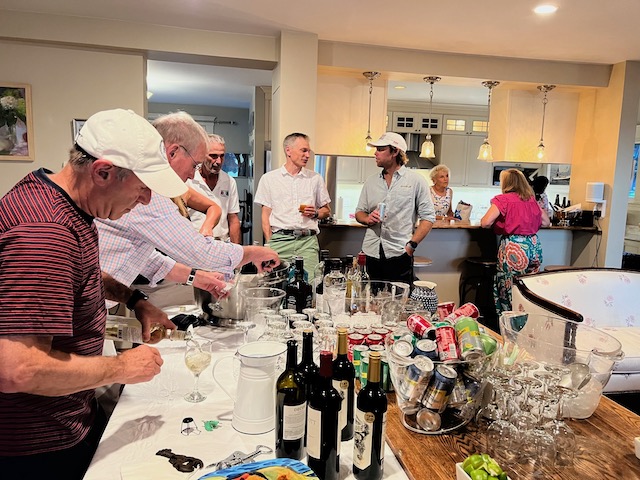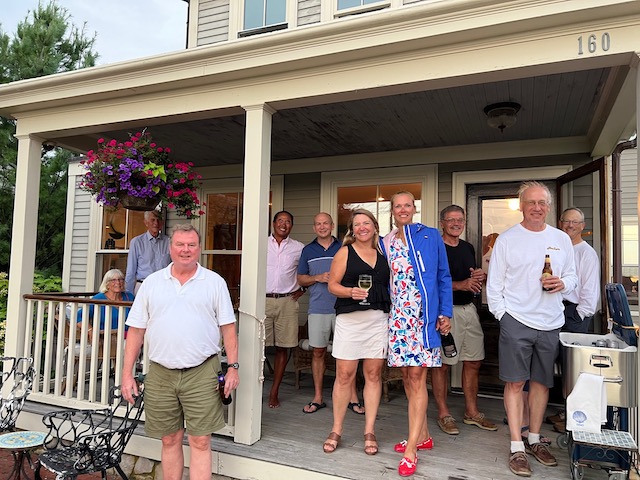 –kp (kpandapas@comcast.net)