Top-10 as of 8/13/23
What You Need To Know
There is no MRA racing this week due to Ted Hood regatta.
The 'Around Misery Island' race will be Saturday August 19th.
The Labor Day Party will be after racing on September 2nd, hosted by Sarah Sheldon.
Last Week's Racing
There was no Twilight race again this week, this time due to the threat of thunderstorms.
Out on the MRA line, for the second straight week, we had four classes on one combined line, due primarily to the Corinthian Classic Regatta. Turnout was again a bit muted, with nine Rhodes, six Vipers, five J70s and four Etchells. The Townies raced on their own line, and the IODs rightly raced with the classic yachts.
The forecast of variable winds less than 5 kt becoming ESE 5 to 8 kt in the afternoon and seas around one foot, was spot on. It took many of us well over an hour to drift out to the line, which was positioned out even further than usual so as not to interfere with the classic yachts (most of which have engines). The day started with a brief postponement as we waited for the pressure, which eventually did arrive and built as the day wore on. Our second race was squarely two-butts-on-the-rail. Determined not to waste a good breeze, the BYC RC managed to get in three for all four fleets, though our last race, an A-course, started after 4PM, which made for a long day.
All of this rolled off the backs of Team Pandapas, who had themselves a day, putting up a 1-1-1 for 3 points. Taking 2nd was Team Uhl with a 2-3-2 for 7 points, and finishing 3rd was Team Frisch / Hourihan, who put up 3-2-3 for 8 points. Honorable mentions to Team Denton in 4th with a consistent 4-4-4 for 12 points, and Eric Thornton in 5th with a 5-5-DNS for 18 points. Congrats to all.
So, in Cup competition, Team Uhl clings to a shrinking lead. The top 10 are listed below.
Week 13 racing will include Twilight 2-4 on Thursday night (first warning at 1800). There will be no MRA racing on Saturday as all three clubs support the Ted Hood regatta. Also don't forget the Around Misery Island Race will be Saturday. The SIs are attached.
Other News, Notices & Miscellaneous Scuttlebutt
2023 Nationals in New Orleans – The 2023 Nationals will be held October 4-8 in New Orleans, hosted by Fleet 7 and the Southern Yacht Club. You'll find more details here.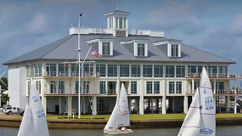 If You Spin, Send It In (aka Road to the Pie) – There were no spins this week that we heard of, so the totals remain unchanged.
Remember if you spin, email kpandapas@comcast.net and let me know how many fouls you committed for which you exonerated yourself.
Labor Day Party – Circle Saturday Setember 2nd for our annual Labor Day Party, which this year will hosted by Sarah Sheldon. More details to follow.
Tent Cover Needed – Don Schwartz is looking for a cover for his R19. If you have an old one you'd be willing to sell, contact him at 978-879-7898.
Boats for Sale – We are enjoying an embarrassment of riches right now as three boats are available for purchase.
Mail Bag
We got a little more Race Week email. This from the Mark Rubin. "Kim, thanks for all your leadership, the shout out in the post NOOD fleet newsletter last week, and your support/advice. Much appreciated. Go Pats!" And brother David Rubin followed up with this. "Mark's comments echo mine. Thanks for all you do for our fleet, along with the support you gave us last week."
And this from Ann Sousa. "After the clinic I went to auto zone and picked up "gear ties" to secure the spinnaker haylard to the shroud. It works great!"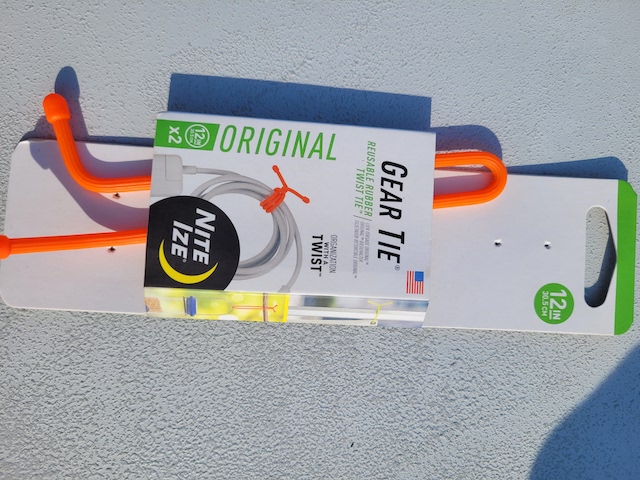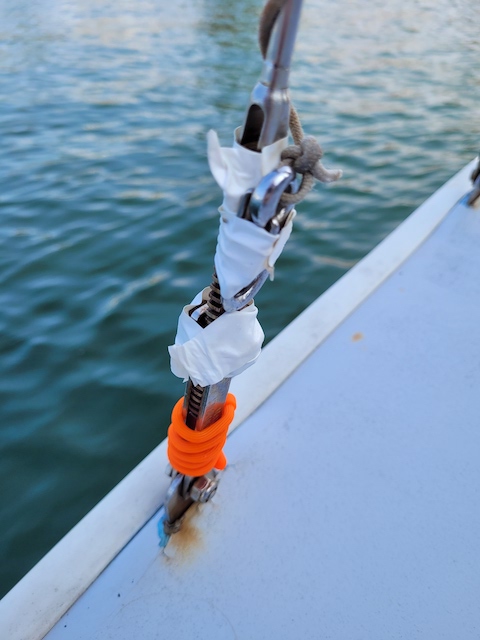 –kp (kpandapas@comcast.net)