Top-10 as of 8/20/23
What You Need To Know
Traveling, so short edition this week.
Team Taylor won the Around Misery Island Race.
The Labor Day Party will be after racing on September 2nd, hosted by Sarah Sheldon. Evite is out so please RSVP.
Last Week's Racing
The Thursday night forecast was for cloudy, in the 60s with an easterly at 5-10. That less-than-festive forecast, combined with vacations, earlier start time and having to do the laundry left the turnout a bit thin at just three boats. John Casler was among those who blew it off, choosing Grolsch on the porch over rigging up, but he was nice enough to send in this. "Very, very light breeze, but what there was of it was up toward the mouth of the harbor. Enough to keep the boats moving. Barely. And it was misting/drizzling, and the fog was coming in." You get the idea. Anyway, here is our summary, this week from Walter Colsman.
"Overcast skies, fog outside of the harbor, and listless flagpole action were enough to discourage experts such as Taylor and Casler from venturing forth. However, 1790, 1466 (Martinis) and 2561 took a what the heck approach (along with 12 Townies). Wind from E-NE. Props to PRO David Graham for setting a course 22-20 (harbor to Children's Island) once around with mark 20 in a fog bank. Unusual, even dubious course, but perfect. With a lull right at 1 min, 2561 jumped out to a fast start while 1466 was a touch behind and 1790 just showing up on time. The wind was better outside for the beat to 20 where wind shifts and puffs could be played. 2561 maintained her lead and was fortunate to round 20 just before another lull in the wind. The rest of the fleet clumped together for the run back. 1446 and 1790 must have had quite the duel back. 1466 edged 1790 by 6 inches for 2nd place."
John Casler added this additional color on the start. "Walter took the start by one minute exactly, and increased his lead as he crept out into the fog. At that point I finished my drink, and was not in need of a second, and thus drove home, windshield wipers going."
Even PRO David Graham lobbed in a comment. "Out of the fog, Rhodes # 2561 was first to finish. Shortly thereafter, Rhodes 1466 and 1760 followed and were both neck-and-neck, with 1466 crossing the finish-line to take 2nd in the race – but just a foot ahead of 1760. Race finishes don't get much tighter than that, at least in the Twilight Series!!!"
So, to summarize, taking 1st by a country mile was Walter Colsman. Finishing 2nd was Team Martini, and taking 3rd was Team Colehower. Congrats to all who showed up on this dreary evening.
There was no MRA racing this week.
On Saturday, six teams showed up for the Around Misery Island race. Here is a summary courtesy of Joe Fava. "Six boats took advantage of beautiful, cool and breezy conditions on Saturday to compete in the annual Misery Island Race. Unlike past years, this year's course was a simple around Misery Island to starboard and back. While the course was simple, there was no lack of tactical choices to make, including which side of Eagle Island to sail on and a lot of shifts on the upwind back from Misery.
Nearly the entire fleet – despite taking different paths around Eagle Island, arrived at Misery at the same time, leaving the upwind to determine the final finishes. Team Taylor – with 2 Taylor butts on the rail- enjoyed the 10-15 on the beat back from Misery taking the win, followed by Joe Fava sailing with Annabel Fava, fresh off a summer at Pleon. Close behind was Walter Colesman sailing with his daughter. Pals Rob Ferro and Jay Wager, finished a close 4th followed by 1790 and Marine in 1316. We all left wondering why we don't do more races around Misery Island."
Thanks Joe. So the recap, taking 1st was Team Taylor, 2nd Team Fava and 3rd Walter Colsman. Honorable mentions go to Jay Wager in 4th and to Team Colehower in 5th. More from the victor in the mailbag below.
So, in Cup competition, not a lot of movement this week. The top 10 are listed below.
Week 14 racing will include Twilight 2-5 on Thursday night (first warning at 1800), and the 2-3 races of MRA Series 3, Day 3.
Other News, Notices & Miscellaneous Scuttlebutt
Labor Day Party – This year's Labor Day party will be Saturday evening September 2nd starting at 6pm (after sailing), generously hosted by Sarah Sheldon at her waterfront home on 8 Bass Rock Lane in Marblehead. As usual, the party is potluck, and the fully stocked fleet bar will be in attendance. The evite is out so please RSVP, and let Sarah know what you plan to bring.
Here are Sarah's thoughts on parking. "Please park on Bass Rock Lane in the second driveway on the left, tandem parking on the adjoining grass, or anywhere on the LEFT side of the lane after the first driveway. If necessary, parking is available on nearby streets."
2023 Nationals in New Orleans – The 2023 Nationals will be held October 4-8 in New Orleans, hosted by Fleet 7 and the Southern Yacht Club. You'll find more details here.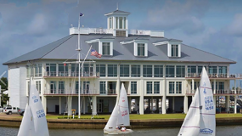 If You Spin, Send It In (aka Road to the Pie) – There were no spins this week that we heard of, so the totals remain unchanged.
Remember if you spin, email kpandapas@comcast.net and let me know how many fouls you committed for which you exonerated yourself.
Tent Cover Needed – Don Schwartz is looking for a cover for his R19. If you have an old one you'd be willing to sell, contact him at 978-879-7898.
Boats for Sale – We are enjoying an embarrassment of riches right now as three boats are available for purchase.
Mail Bag
Just one email this week, from Nat Taylor about the Around Misery Island Race.
"Mixing it up is fun, and the race around Misery Island did not disappoint! We were greeted by a 12kt Westerly and sunny skies — perfect conditions. Six boats made it, I think, for the start off the Corinthian YC porch and it was a tight pack running off on Course 27 to Misery. The Eagle Bar was on the rhumb line, leaving racers with the choice of broad reaching to Red Nun 6 then running to Misery, or running to Eagle Rock then broad reaching to Misery. All racers except Team Taylor chose N6 and all racers ended up at the NW tip of Misery quite close together. Joe and Anabelle Fava led, followed closely by Walter and daughter Colsman, 3 sailors in 1790, Team Taylor, Marine Regnault and Jay Wager and Rob Ferro (I think.). The lee side of Misery was puffy, shifty and full of pleasure boaters. Team Fava held on to the lead, but just beyond Misery the breeze picked up briefly to 14-15kt, enabling Team Taylor to shimmy 4 butt cheeks over the rail and relatively quickly take the lead. They fetched Archer's Rock, played the shifts in Marblehead Sound and finished first. Fava and Colsman finished next.
"I haven't been to Misery since I was 16. I've never been so close to Eagle Rock. I couldn't have told you where the Brimbles was. The Hardy Shoal? House Ledge? Rising States Ledge? Cutthroat Shoal? Who knew? It was fun to explore it all. Fava had a nice convo with a lobsterman near Misery, which after some debate he decided to go offshore of, telling him that we were racers from Marblehead. Hats off to the 2x father & daughter crews! We should mix it up more!"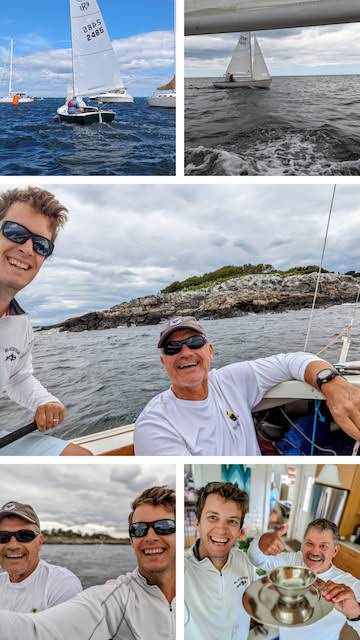 –kp (kpandapas@comcast.net)