Top-10 as of 8/27/23
What You Need To Know
Thursday is the final week of (scored) twilights, and Saturday and Sunday mark the final two days of MRA racing for 2023.
The Labor Day Party will be after racing on Saturday September 2nd, hosted by Sarah Sheldon. An Evite reminder was sent out this week. Please RSVP.
Next week's edition of RTTC will come out on Labor Day Monday 9/4.
The Fall Series will be held on three consecutive Saturdays – September 9, 16 & 23, and a reminder that the Fall Series will be included in 2023 Cup scoring.
Last Week's Racing
Six teams showed up for Thursday's twilight, which featured spectacular conditions, including clear skies and a fresh, mid-teens breeze. Unfortunately, the evening also featured a collision that resulted in a broken mast. Here is a summary from Steve Uhl.
"Beautiful evening with breeze in the mid-teens, six boats came out, would have been more but a few single handers concluded it was too fresh. In the race itself, Walter Colsman and daughter led wire-to-wire, fast downwind to Williams Rock and smart upwind to extend his lead into the harbor. Second and third were Teams Uhl and Martini. Unfortunately, on the beat into the harbor, the rigs of Jay Wager and Tim McCaffrey collided, breaking the top section of Jay's mast. He had to be towed in. I was not a first-hand witness, but I'm told that the incident resulted from a late duck that brought them close enough to clip rigs. Kudos to our CYC committee who were quick on the scene to render assistance."
Thanks Steve. I'm not entirely sure how this occurred, but it's certainly a drag. Here are a couple of shots of Jay's boat after the incident.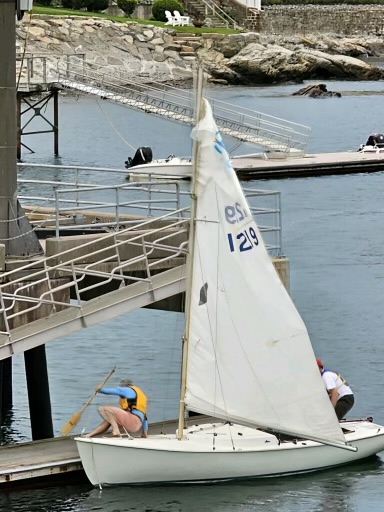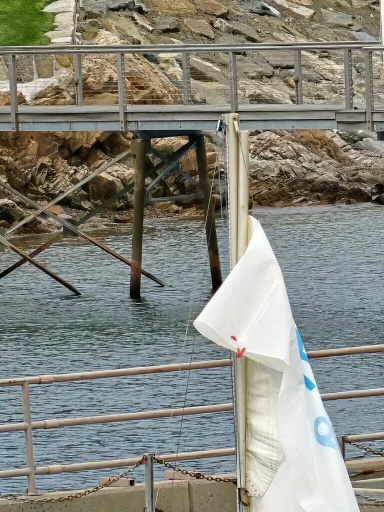 Anyway, to summarize, taking 1st was Walter Colsman. Finishing 2nd was Team Uhl and taking 3rd was Team Martini. Honorable mention to Anne Marije Veenland in 4th, and condolences to Jay Wager and Tim McCaffrey.
So, with just one more Twilight remaining, here is a look at how things stand in Series 2, with a reminder that Thursday night's race, if sailed, will be the fifth of the series and trigger a throw-out.
And for those interested in Twilight overall picture, here is how things stack up with one race to go and no tiebreaker math applied.
Out on the MRA line, nine teams made the trek out to the North Line for this, the 3rd day of MRA Series 3. While that doesn't sound like a great turnout, we were again the largest fleet, which wasn't a heavy lift. Next were the Vipers with five, and that was it. There were no Etchells or J70s, and the IODs were sailing their North Americans on a different line.
The weatherman said light and variable out of the SW, and he couldn't have been more spot on. We rode out on 3-5 knots, which though light, was serviceable and got us there – eventually. Surprisingly, the RC dropped anchor out near Halfway Rock, which made for a long sail out. They got us off on time at 12:30, but in a tentative and unconvincing breeze in the 3-4 knot range. The breeze went from tentative to spotty and intermittent during the second leg, resulting in fleet compression and a lot of position changes. Mercifully, the RC finished us at the leeward mark. They threatened a second race, but the wind shut off completely, and a few minutes later, they put a stake in it, firing off three and sending us in. So, a long day of sailing that included just two legs of racing.
Taking 1st was Team Frisch / Hourihan, who impressively and unsurprisingly came from deep to claim the win. Finishing 2nd was Team AMV (Anne Marije Veenland), and taking 3rd was Marine Regnault-Stoel. Honorable mentions to Team Denton in 4th and Team Martini in 5th. Congratulations to all.
So, in Cup competition, not a lot of movement this week, though Team Uhl added a little cushion to their lead. The top 10 are listed below.
Week 15 racing will include Twilight 2-6 on Thursday night, the final scored Twilight of our season, and MRA racing, which will include both Saturday and Sunday. Saturday will be the 2-3 races of MRA Series 3, Day 4, and Sunday will be Series 3, Day 5, the final day of the 2023 MRA Season.
Other News, Notices & Miscellaneous Scuttlebutt
Sail Salem Pursuit Regatta 2023 – Monday September 4th – BYC is organizing the Sail Salem Pursuit Regatta on Labor Day September 4th. All proceeds will go to Sail Salem Inc., a non-profit sailing center operating out of Winter Island in Salem. You'll find registration details here.
Labor Day Party – This year's Labor Day party will be Saturday evening September 2nd starting at 6pm (after sailing), generously hosted by Sarah Sheldon at her waterfront home on 8 Bass Rock Lane in Marblehead. As usual, the party is potluck, and the fully stocked fleet bar will be in attendance. Please RSVP, and let Sarah know what you plan to bring.
Here are Sarah's thoughts on parking. "Please park on Bass Rock Lane in the second driveway on the left, tandem parking on the adjoining grass, or anywhere on the LEFT side of the lane after the first driveway. If necessary, parking is available on nearby streets."
2023 Nationals in New Orleans – The 2023 Nationals will be held October 4-8 in New Orleans, hosted by Fleet 7 and the Southern Yacht Club. You'll find more details here.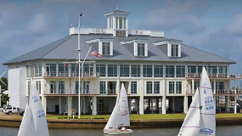 If You Spin, Send It In (aka Road to the Pie) – We assume that because Tim McCaffrey didn't finish the twilight, he likely resigned due to damaging contact with Jay Wager. Assuming that is correct, thanks to Tim for doing the right thing, and we record his sportsmanship below. We heard of no incidents on the MRA line.
Remember if you spin, email kpandapas@comcast.net and let me know how many fouls you committed for which you exonerated yourself.
Mast Wanted – Jay Wager sent this in. "We had an unfortunate mast collision last evening in the Rhodes 19 Twighlight racing so I am now seeking a mast spar for the 2024 season. If you would please let the fleet know that I am in the market for one, I would appreciate it. No rush as I am done for the season. Rigging, shrouds, and stays are not needed." Email Jay at jtwager@live.com, or call 781-576-9360.
Mail Bag
Just one email this week, from Joan Thayer about the Week 13 edition. "Great read – love those quotes from the participants. And of course, your fabulous talent with words. All that shared enthusiasm keeps the fleet strong and friendly. Thank you."
–kp (kpandapas@comcast.net)