Road To The Cup – Week 13
8/16/20
Seven teams showed up for a light one on Thursday night, and six of those finished. Here is John Casler's report.
"With gusts up to 7 forecast, trepidation limited Thursday's turnout to seven boats. To keep the fleet within safe rescue range, the RC set a course from the nun off the fort (22) to the close harbor can (21), twice around. It was slow going on the first leg, with Steve Uhl working into a lead and the rest grouped together, along with the lead Townie. In Steve's words, 'the leg 22 to 21 was intended as our upwind – but about the time we reached 22, what wind there was shifted from SE to NE so it was reaching all 3 legs.' With that shift, the premium was on being positioned to tack right at the mark, which was tough as we, and the Townie, all drifted around together. Steve maintained his lead over to 21 with Stefan Thibodeaux rounding second behind him. Then it got even slower, as most boats played little whiffs of air and eddies of tide in a long slow drift to the finish pin. Steve finished the shortened course in about 55 minutes with the rest of us coming in about five minutes later, including: Walter Colsman and his family, then 1466, then 1217, 1775, and 41 in that order, all single handing. 1316, with a very young skipper, started the race, but soon saw what was coming and went home to watch grass grow. I'm 2 and 0 in August against that moored whaler."
Thanks John and Steve. So, for the record, taking 1st was Steve Uhl, who led wire-to-wire. Well done. Taking 2nd was Team Colsman followed by Team Martini in 3rd. Honorable mentions go to Timmy Dittrich in 4th and John Casler in 5th. Congratulations to all.
Out on the MRA line, the forecasts all agreed that is was going to blow out of the northeast, but they were wildly varying in their predictions of pressure. Sailflow predicted 6-12 with gust to 22, while PredictWind appeared more realistic, calling for mid-to-high teens sustained with gusts in the low 20s. For what it's worth, I've always regarded Sailflow as a random number generator, and found PredictWind to be far more accurate most of the time. And that was the case on Saturday. Conditions included a solid northeast at about 20 knots sustained, with impressive gusts and 4-5 foot swell – surfing conditions, for sure.
For the record, the RC called this one at exactly 9:39am, with three guns and an email to competitors that said the following: "Hi MRA Racers. Due to winds with gust approaching 30 knots and 4-foot seas, there will be no racing today. Stay safe and see you all next time!" Here is a shot from shore of what they were talking about, though the picture doesn't really do it justice. To borrow a turn of phrase from my friend Rick Myers, it was smokin'. (I also like "blowing dogs off chains.")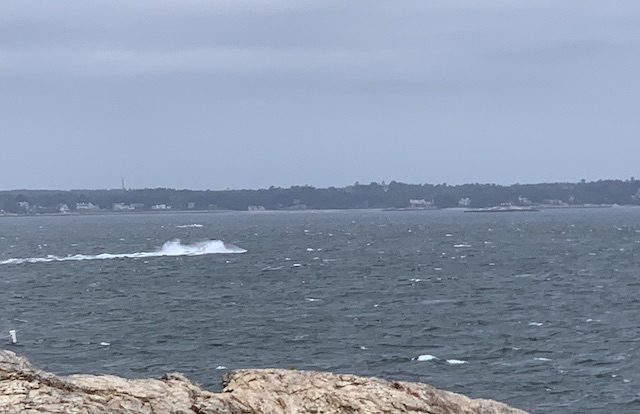 Anyway, the RC also checked in with us to make sure we got the message and understood the reasoning. This from Karen Tanenbaum, "Hi Kim, just wanted to make sure you got the message that's there's no racing today. Talked it over with Mark Toso, and we decided that 15-20 knots with gusts to 25-30 and 4 foot seas not an appetizing combination." I couldn't agree more. I'm sure some among us of will take umbrage and advocate that we should be out there in 20+. But in my view, NE 20+ in Marblehead, with the boat-pounding seas, is not a fun condition in a R19. Consider this from El Jefe himself. "Hmm… TWS 20+ at the buoy this AM, with wave heights at 5 ft and building fast, overcast with air temp 68 deg. My main question with #1926 is what would break first. Despite some FOMO, we decided last night not to play today. And I just heard three guns, suggesting that others made the same choice this AM. Good day to catch up on yard work."
Indeed it was.
So, in Cup competition, we remain all tied up because as you know, no season scoring this year. But the table below has been updated to include all of the relevant stats. In the all-important category of races sailed, Team Cooke / Kaznoski remains at the top, but because they didn't sail Thursday night, they now have some company.
Week 14 racing will include a Twilight on Thursday evening, MRA Fall – Day 1 on Saturday and morning booth racing on Sunday. Additionally, for those registered to sail the Ted Hood, racing will be Friday through Sunday.
Other News, Notices & Miscellaneous Scuttlebutt
Fleet 5 Registration Reminder – Just a reminder that Dave Reynolds automatically rolled over all 2019 registrations, which means that anyone registered last year is registered this year too. Here is the list of those 27 fleet members. That process obviously didn't capture our new members, so if you're new to Fleet 5, we'd like you to register. It only takes one minute and won't cost a cent, which is a bargain at twice the price.
Last Call For The Ted Hood – Last time I checked, there were five boats registered for the Ted Hood Regatta, which will be Friday August 21-Sunday August 23. If you plan to sail, time is running out to register.
NOOD Swag Update – Here is a note from El Jefe about how to collect your swag. "As we are all painfully aware, for the first time in memory, the adult version of Marblehead Race Week did not happen this year, despite the best laid plans of the hard-working Sailing World/NOOD staff. As part of their preparations, they filled a nice 'swag bag' that would have gone to skippers on registration. While the event didn't happen, the swag bags did, and Sailing World dropped them off at the three club RC's so they could be distributed to the fleets. The Helly Hansen bags include three red Mt Gay hats (the 2020 date might make them collectors' items?), a NOOD neck gaiter and a copy of Sailing World magazine, among other goodies. I have the CYC's share of the Fleet 5 allotment, and offer them to those registered for MRA (and thus for NOOD) on a first come, first served basis, with preference given to those who have raced this year with more than one generation represented. Walter Colsman has already put in his request, and is first in line. Contact me at ajtaylor8@verizon.net and we can arrange a hand-off."
Phil Smith Racing Photos for Free! – Phil Smith continues to take amazing racing photos on our line this year. Here is one of Team Colsman. You'll find the rest at www.philipsmith-photography.smugmug.com.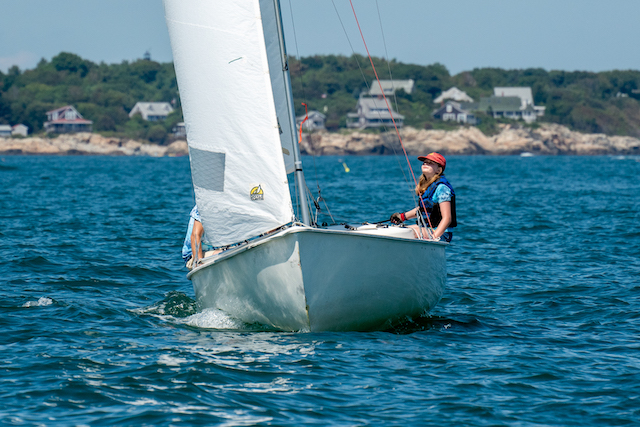 Is it 2561 or 2651? Back in the day when Team Bloxham sailed their old boat 892 (as opposed to the, as yet, unfinished new boat), there used to be confusion as to precisely which of us was over when one of us was called. Was it 892 or 982? Of course, Team Bloxham was the more aggressive starter, so the more frequent perpetrator (kidding). But the point is, the call could go either way. We once got called for being over when we were back in the 3rd row. Now that Anne Marije Veenland has purchased 2651, I wonder if she and Team Colsman in 2561 can look forward to the same thing.
Where's Momo? Okay, you got us. We sold 982 last year but didn't have the heart to tell you (kidding!). Believe it or not, our winter rib job still isn't quite done, but when it is, it will be spectacular. You can't rush artistry, right? And we're hopeful that a stiffer keel might just get us our stupid speed back. In the meantime, here is a shot taken by Bruce Durkee that captures the regrettable reality of Team Pandapas' 2020 season.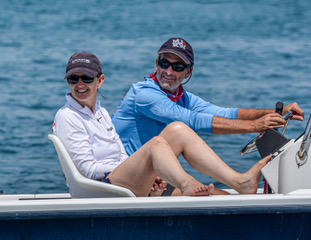 Mail Bag
We got this from Walter Colsman on last week's twilight. "I have to laugh at the twilight summary because I heard on the radio that we would be scored based on the last rounding of mark O, so we spared ourselves the final approach to the finish with an invigorating paddle followed by a pleasant dinner in the club. We gained so much time I was able to order a beer, realize I left my phone aboard and went back to fetch it, and return to my table before those poor finishers made it to their moorings."
Debbie Noble wrote in with this. "As always, thank you for the weekly newsletters. It was great to get back on the water, albeit with a 2014 main and chute – must order new sails for 2021! BTW, when will we see Team Pandapas on the bright blue sea?! On another note, I'm wondering if you could add Tara Foster, the EYC Sailing Director, to your distribution list so she can be in the loop re Rhodes 19 sailing?" As to Team Pandapas, see above. As to Tara, done and thanks for the suggestion.
As noted in John Casler's Twilight report, Thursday night wasn't the most spirited racing of the season, which I was able to observe from shore. Fortunately, I had my phone handy and was able to capture an action shot. That observation conjured up a comparison to another action shot that I took the liberty of sending to John & Steve Uhl, and which I now share with you.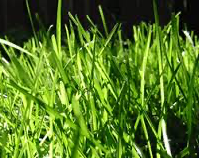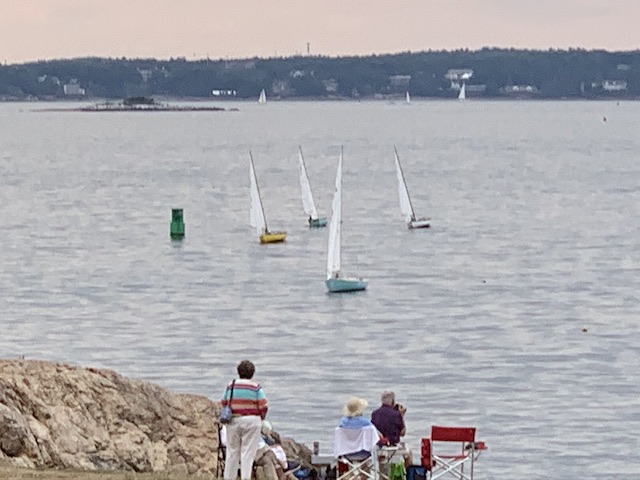 Steve wrote back, "Yes, and it got even slower after that." And John wrote this. "If you use the second one, please note that I caught up, or almost caught up, with the pack at the finish."
John added, presumably after looking at the PredictWind forecast for Saturday, "I had noted the forecast for tomorrow, and probably will be working on affairs of the type shown in your first photo." Of course, after MRA was cancelled, he sent in this. "Damn, there went my chance for glory."
Let's be safe out there. Please don't let down your guard.
–kp (kpandapas@comcast.net)