Road To The Cup – Week 2
Top 10 as of 6/1/19
Four boats made it out for the first Twilight of our young season. Sounds like it wasn't the most festive of evenings, with overcast skies and a dying easterly. Here is the summary, courtesy of Steve Uhl:
"A cold overcast day probably scared a few boats away but actually a decent easterly greeted Team Uhl with crew Matt Druckman, John Casler (sailing solo), Team Martini and Jocelyn Cook. John won the start and led the way to red nun near Salem (Williams Ledge), followed by Uhl and Martini. Upwind seemed straightforward for a while, but as the breeze died out and the incoming tide started ripping, it became hard to reach the green can (Can 1). The group reconverged and several lead changes occurred. In the end, Team Uhl snuck around first and led back into the harbor followed by John Casler, Team Cook and Team Martini, in that order."
So there you have it. Congratulations to Steve Uhl, who draws first blood and takes an early Series 1 lead, with a tip of the cap to all who made it out.
Out on the MRA line, what can I say? It was a washout. The forecast called for sun, high 60s, flat water and a 6-9 knot southeasterly. That sounded good to me, but we didn't see the sun all day and if the temps were in the 60s, why was I wearing so many layers? But I get ahead of myself.
The first hint that something was askew came on the drive over the causeway when Christina astutely observed that the boats were all pointed towards Manchester, which last time we checked, was not southeast. The RC set up just beyond Satan's, and the ride out was a very light, will-the-boat-along type of sail that took us two hours, door-to-door. When we got there, the wind started to perk up out of the east, which was optimistic. But regrettably, with the pressure came fog, and the more the breeze built, the thicker the fog got. Every now and then, the pressure would die and the visibility would improve, but of course, then there was too little to start us. When the pressure built back in, so would the fog – rinse and repeat.
PRO Ken Adam and his CYC RC team did an awesome job of working through the options. They moved out from behind Satan's to give themselves more directional flexibility. When the fog rolled in, they considered 0.2 mile weather legs and H courses (with the signal boat in the middle of the leg), but they rightly realized that wouldn't worked with three fleets and 25+ boats. They even considered doing rolling starts to give everyone some starting practice, but in the end, they rightly pulled the plug and fired off three. It just wasn't to be.
So with that, MRA 1 stumbles out of the gate with everybody still tied. Congratulations to everyone who made the trek, with a special shout-out to the RC volunteers on both lines.
So in Cup competition, our Week-2 totals reflect only minor changes from last week based on the Twilight results. The top-10 are listed below.
Week 3 racing will include Twilight 1-2 on Thursday night and the 2-3 races of MRA Series 1, Day 2 this Saturday.
Other News, Notices & Miscellaneous Scuttlebutt
First Fleet Party on June 8th – Fleet 5 will hold its first party of the season after sailing this Saturday June 8th, generously hosted by Rebecca & Larry Ehrhardt at their home on 11 Ballast Lane, just up from the EYC. As usual, the party will be potluck, and Larry's stewardship of the fleet bar will be a little easier than normal. Fleet 5 parties, by the way, are your chance to do a little recruiting, so don't forget to invite your crew and anyone else you know who might be interested in getting involved.
R19 Alums Sailing Sundays – You might recall that R19 Alums Doug Trees, Shan McAdoo and Jerry Blouin acquired a few 2.4 Meter One Designs and were hoping to sail them on Sunday mornings in the Cooke Town Class Sunday Series. Well, thanks to Bart Snow and the Town Class, that is now going to happen. Pretty awesome, right? They've updated the SIs so the starting sequence includes the 2.4s start 3 minutes after the Townies. There is still a little uncertainty about the relative speeds and how fast these very different boats will get around the course. The RC may give them a shorter course if necessary, but everyone is interested in trying it out to see how it goes. Attached are the amended SIs and a chart showing the marks. The amended SIs also will eventually make it to the CYC front desk.
NOOD at Marblehead Race Week – The centerpiece of our season will be held Thursday through Sunday, July 25-28 and hosted by BYC. Registration is open. A reminder that your MRA fee covers the entry fee, so you don't have to pay more, but you do have to register.
Race Week Party This year's Race Week party will be on Thursday evening July 26th, generously hosted by Jennifer & Steve Uhl at their home on Front Street. Larry Ehrhardt will provide the fleet bar.
Nationals 2019 – The 2019 Championship Regatta will be held August 21-24 in Hingham Bay, hosted by our friends at the Hingham Yacht Club. The NOR is now available on the regatta website.
Race Ready Boat For Sale – Steve Sovis and Stefan Ianchulev are selling #1645. Race-ready and includes a set of Doyle racing sails, cruising sails; a Cradle Ride Trailer (with spare tire); a winter cover; a Sailor's Tailor summer cover and rudder cover. Currently in the Eastern dry sail area. Asking $7,500 or B.O. Contact Steve at (781) 710-9692 and stevesovis@gmail.com.
Mail Bag
In response to our observations about last week's RC work, the 'mom' of MRA, PRO Susie Schneider, had this to say. "Thanks for observing that we had anchoring issues – no winch for the weekend, but thankfully three strong young lads in training who could haul that anchor, chain, and over 150′ of line up both days so we could go home!"
Susie also answered the question that was on a lot our minds. "And if you thought you saw Bill Collins on the roof of ETO – you were correct. As the new Chair of the Hingham YC Race Committee, and PRO for the R19 Nationals, he was there to observe the fleet, as well as our race management 'stuff'. He's looking forward to seeing you all at Nationals, and wants to be as prepared as possible!"
There was some confusion a couple of weeks ago about the name of the Cup. Someone (now in witness protection) even sent in this cryptic note. "Nate Nichols?" No, Nick Nichols!! It says so right on the damn thing. But there is a lot of talk about cups these days, so we get how there might be confusion.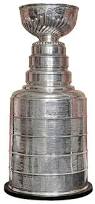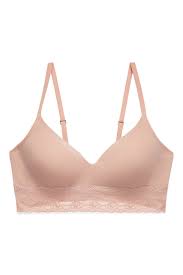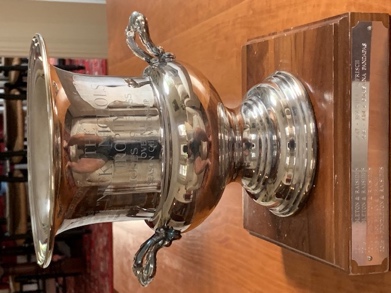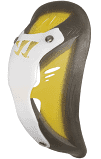 –kp (kpandapas@comcast.net)