Road To The Cup – Week 6
Top 10 as of 7/4/21
Happy 4th.
Mother nature conspired against sailboat racing this week, serving up washouts for the BYC Wednesday series, Thursday night Twilights and Saturday MRA, and all with completely different conditions. Wednesday was Armageddon, with an impressive line of thunderstorms rolling through and putting on quite a show. Thursday evening, there wasn't a wisp of breeze. Moored boats were pointing in every direction and RO David Graham couldn't have gotten a fair race off if his life depended on it. And Saturday MRA was cancelled due to a festival of unpleasantness, including rain, chilly temps, NE 15-20 and of course, meaningful seas pushed up by two days of northeasterly. In case you missed it, here is the official word sent out by MRA on Friday afternoon.
"Dear Racers,
As it appears that the current weather pattern will continue well into tomorrow, with rain, cold, and NE wind 15-20 knots with gusts over 20 and 4-6 seas, MRA racing for tomorrow, July 3 is canceled."
Good call? I suspect we're probably evenly split on that. On the one hand, Friday was pretty crappy and wouldn't have been pleasant for either RC or racers. In fact, in conditions like those, it can be hard to get a mark to stay put. So with a Saturday forecast for more of the same, I get the rationale for pulling the plug early and giving RC volunteers and sailors (and their spouses) their Saturdays back on a long holiday weekend.
On the other hand, while Saturday was not a particularly nice day – featuring cold, spitting rain and lump, it ended up blowing only around 15, so was perfectly sailable. In fact to prove that point, Tom Dailey, who as we all know loves a fresh breeze, issued an on-brand WhatsApp challenge to Lasers and Rhodes to meet off the lighthouse for a few casual windward-leewards run by old friend Rick Myers. 7-8 lasers showed up but just one Rhodes, which of course was Tom. Talk about putting your money where your mouth is, and good for him for finding a constructive way to make his point. In fact, I nominate Tom as this week's winner of the coveted 'What a Guy!' award.
So what's the right answer? Depends on who you ask but frankly, there is none. It's a judgement call reflecting the consensus of several devoted volunteers. My two cents is that it wouldn't have cost anything to hold off on the cancelation decision until 8am Saturday morning. As an investment professional, I'm a big fan of free options, and as we all know, forecasts aren't always right. But you know what they say about opinions.
Back to Twilights for a second. There were apparently a few folks who never got the word that Twilights were cancelled. My fault entirely, so apologies to all. David Graham, through Bart Snow, sent me the cancelation decision at 5:20pm. So race management did what they had to do. The problem was at my end. Unfortunately, I was stuck on a work call from 5 until 6:30 so never saw it. I know that a lot of people use Zoom calls as a convenient time to check their email, but not me on that call, so I missed it. What are you going to do, right?
John Casler lobbed in this view. "This was absolutely a non-issue yesterday, as the situation was pretty clear. We just wanted to make sure the system was still in place." Yes, the system is in place, but works only if I'm paying attention. Apologies to everyone for my being asleep at the switch.
John added, "By the way, the official scoring for last night was 1775 and 1466 in a tie, followed by 8 or 10 others in whatever order amuses you." Well, congratulations to everyone who stayed home, and a tip of the cap to those who didn't.
So in Twilight Series 1 with just one race to go, here is how it looks.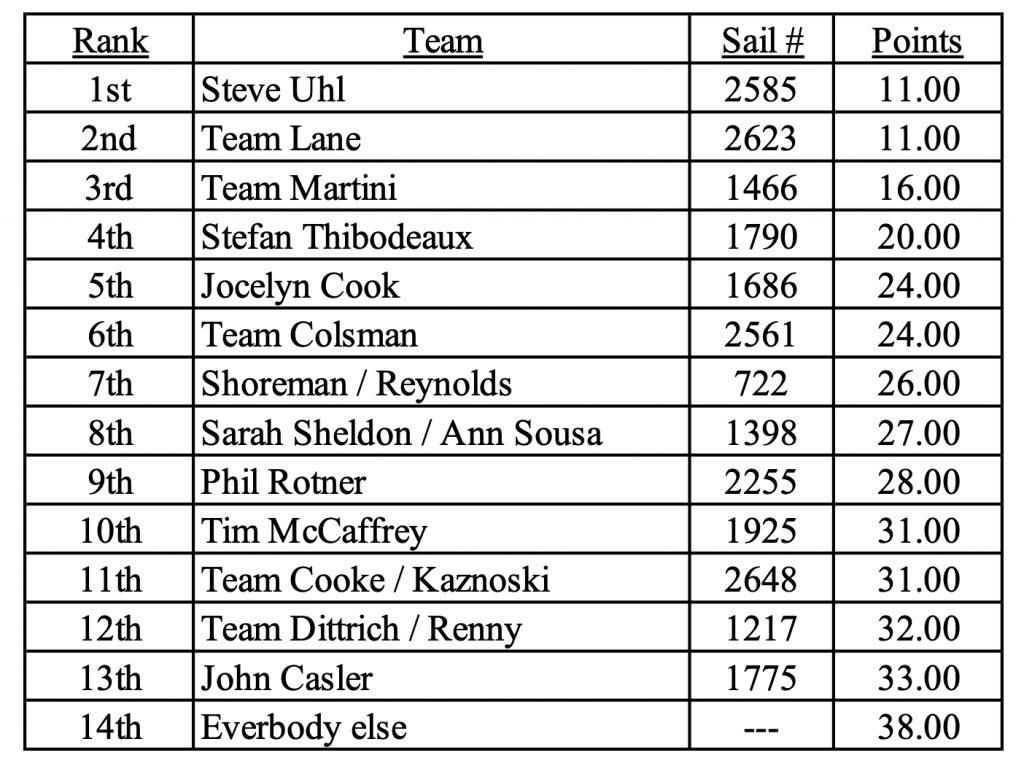 Out on the MRA line – well, you know what happened there. We kicked off the first day of Series 2 with a resounding thud, which leaves it knotted at zero. Congratulations to any dry sailor who didn't jump the gun to launch
So in Cup competition, there were no changes from last week, but I reprint the standings to put a smile on Renee Heffernan's face. The top-10 are listed below.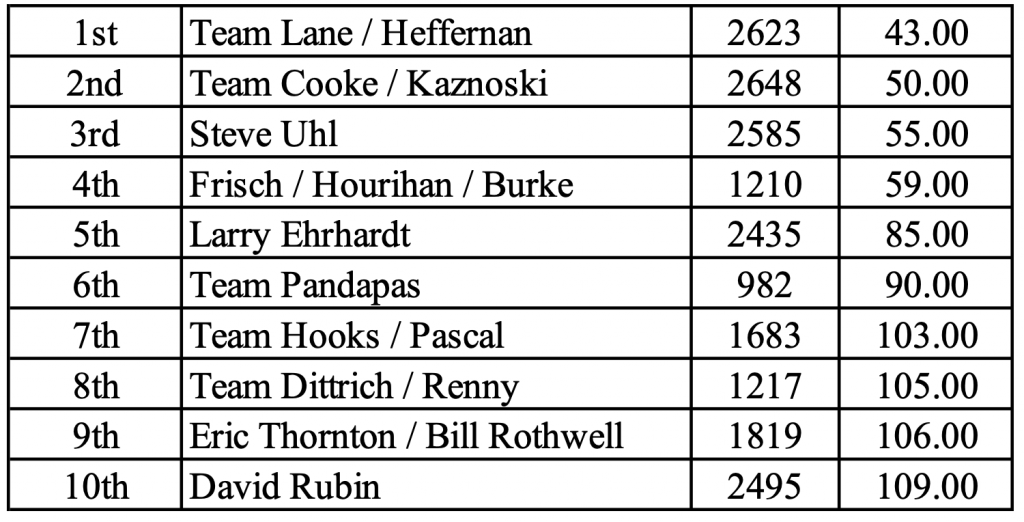 Week 7 racing will include Twilight 1-6 on Thursday night and the 2-3 races of MRA Series 2-2 this Saturday.
Other News, Notices & Miscellaneous Scuttlebutt
Avoid NOOD Late Fees –A reminder that your MRA registration fee covers the entry fee, but you still have to register, and if you don't do it by the 6th, you'll get whacked with a $75 late fee. This is from the NOR. "Entries submitted after 1700 on July 6, 2021 shall pay a $75 late fee. Late entries may be accepted solely at the discretion of the OA." Ouch, right? So go do it. You can register, pick up your NOR and get a current scratch sheet here.
More Registration – Believe it or not, NOOD isn't the only thing you guys haven't registered for, and this dearth in registration activity has caught the attention of Madam President herself, Elise Nash, who sent in this very sanitized version of what she'd really like to say.
"Happy 4th of July! We are now over a month into the sailing season. It's been great to see so many of you out on the line, however, not all of you have registered for the Fleet. Fleet registration fees are what help keep the all-important Fleet bar stocked and pay for our end of season awards. If you haven't yet registered, please do so now, by clicking here. If you are registered for MRA, then you do not have to pay to sail the NOODs, however – you do have to register! And after July 6th (this coming Tuesday) there is a late fee of $75. Why not just do it right now? And last but not least, Nationals! With all restrictions lifted, we are planning quite the regatta and sincerely hope that we will see most, if not all, of our Fleet 5 sailors at the event. It would be tremendously helpful to the planning team if you could register so we know how many people to plan for: Register for Nationals. Thank you and have a wonderful long weekend.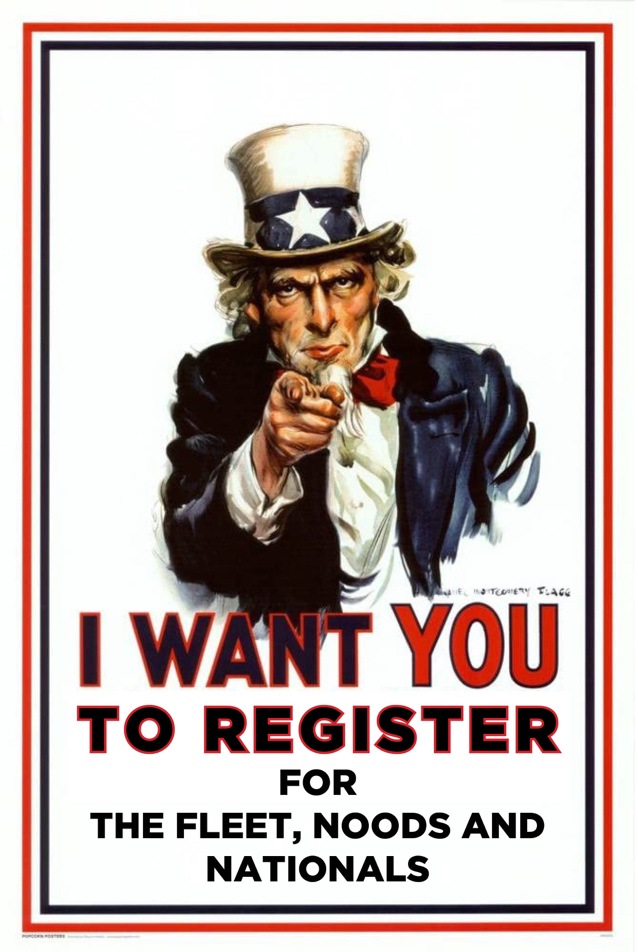 Well, there you have; polite but firm, but don't confuse polite with resolve. If you don't register for all of this stuff right now, I promise you she'll hunt you down.
Nationals Help – On the topic of Nationals, we need a ton of help so if you can pitch in, please reach out to regatta co-chairs Elise Nash (elise.mazareas@gmail.com) or Kim Pandapas (kpandapas@comcast.net).
Measurement –If you don't have a certificate or you've had work done since your last measurement, please reach out to Fleet Measurer Stefan Thibodeaux at sjthibodeaux@gmail.com. You can check your certificate status here.
Race Week Party This year's Race Week party will be on Thursday evening July 22nd, generously hosted again by Jennifer & Steve Uhl at their home on Front Street.
Twilight SI Amendment – The CYC has amended the SIs on topic of penalty turns. Martha Martini observed that the one penalty turn for all infractions was inconsistent with both the RRS and MRA. So the CYC amended the SIs through the insertion of article 11 to fix that. The amended SIs are attached, but to save you the trouble, here is the change.
11. Penalty System: For the Rhodes 19 fleet RRS Appendix V, Alternative Penalties, will apply. For all other classes RRS 44.1 is changed so that the Two-Turns Penalty is replaced by the One-Turn Penalty.
If You Spin, Send It In – No fouls this week (at least on the water), so no spins. Below is the current paltry count.
Mail Bag
Not much mail this week. On the topic of Twilight notification breakdowns, David Graham pulled my fat out of the fire with this. "Even though conditions of late yesterday afternoon and early evening may have been "pretty obvious", it was not to some. The Martinis and Tim McCaffrey were a few who showed-up. And in no way am I laying any blame on anyone, let alone Kim Pandapas! As I have said a zillion times over the years, 'One must work before one can play' and in Kim's defense (not that he needs any), he was in the work category between 5-6:30." Thanks for settling them down Dave.
Also on this topic, John Casler lobbed in this comment on allowing work to get in the way, "Work is the curse of the drinking class." Isn't that the truth
John Casler also forwarded us this report on Wednesday night's canceled BYC racing, presumably sent to him by one of his many moles. "A few minutes after our scheduled start, and a VERY good time not to be in a boat. Thunder, lightning, and sheets of rain interspersed with torrents of rain. There are whitecaps in Washington Street, in front of Abbott Hall."
Finally, Joe Fava was kind enough to send in this Bruce Durkee photo of Team Pandapas' foiled launch last Saturday morning, with the comment, "This is RTTC material. Maybe a 'best caption contest…" Hmm. I'm not sure this really needs a caption. It kind of speaks for itself, don't you think? Actually, it's kind of an IQ test, and it appears I failed. But hey, for once I beat Pete to the crane, so not all bad. Thanks Joe and Bruce.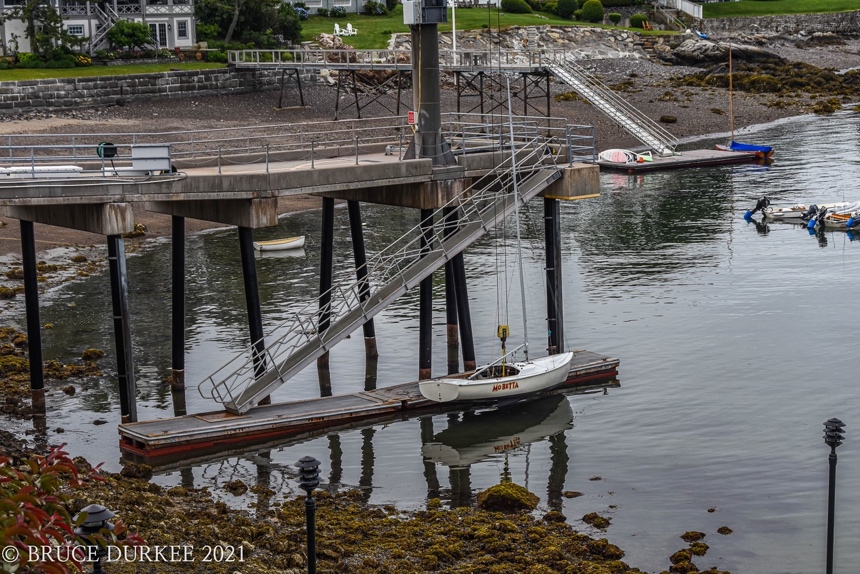 –kp (kpandapas@comcast.net)