Road To The Cup – Week 3
Top 10 as of 6/9/19
Eight boats made it out Thursday night, doubling the week 1 turnout. Conditions couldn't have been nicer with clear skies, comfortable temps, flat water and a dying easterly. Making their Twilight debuts were Jim Taylor & Anne Marije Veenland, Tim McCaffery, Walter Colsman (sailing solo) and Team Pandapas. Worth noting also is that Jocelyn Cook sailed with old friend Rick Myers, who as I recall last graced our line sailing with Dru Slattery.
The RC set a course out to the can off the harbor, then to the nun off the Fort and back, twice around. They later shortened the second lap to just the nun and back. In prior seasons, that might have spawned a mark rounding controversy, but mercifully, not this time. The easterly clocked right and moderated in the final few minutes leading up to the start, making the first leg downwind. That put a premium on a starting strategy that assured clear air, and Team Taylor was the only boat to recognize that obvious fact. They started midline in clear air and got launched. To say they won the start is an absurd understatement. They rounded before the rest of us cleared the starting line. They were rounding the second mark before any of us rounded the first one. They went home, showered, came back and had dinner before anyone else picked up their moorings!! So, congratulations to Team Taylor for the bullet. Well done. Taking 2nd was Steve Uhl and finishing 3rd was Team Pandapas. Honorable mentions go to the solo Walter Colsman in 4th and Team Martini in 5th. Below is a shot of Jocelyn and Rick sailing in after racing.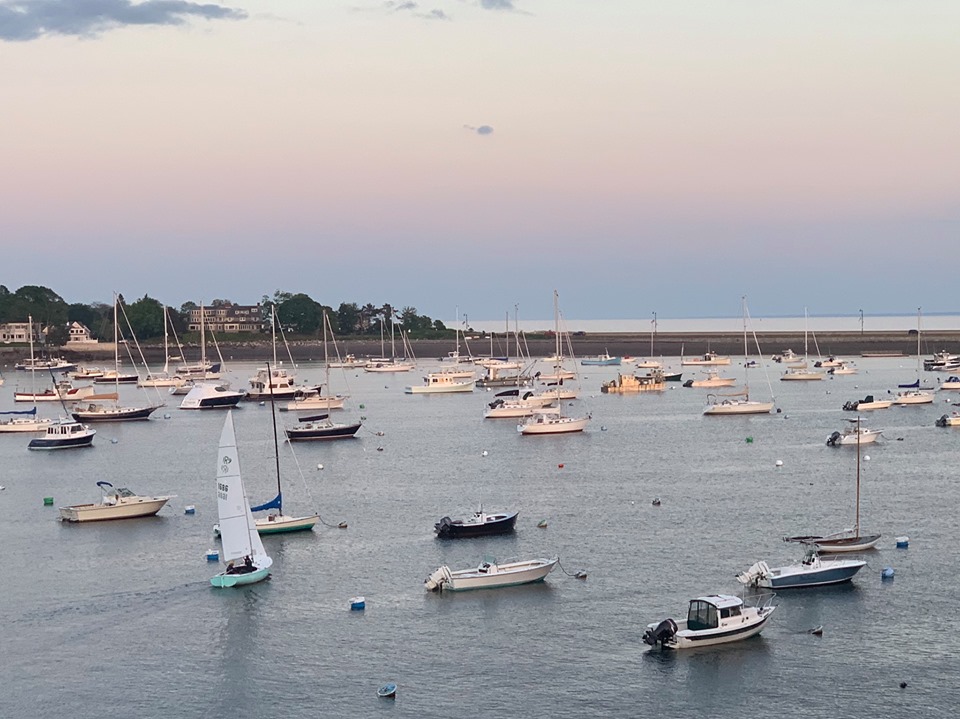 Out on the MRA line, 12 boats showed up for what proved to be an exquisite day on the water. Making their MRA debut this season were Teams Thornton & Martini, as well as special guests Will Bailey & Steine Skaane sailing Joe Fava & Elise Nash's boat. For those who don't know Will, he's one of CYC's top team racing skippers and usually sails on Steine's J70, Shred. Steine also is a card carrying member of the Laser fleet.
The weatherman called for a chamber of commerce day, and that's just what we got – warm temps and sunny skies – in a word, summer. It's about time, right? The forecast predicted an easterly that would march right and moderate over the course of the day, and that's pretty much how it went. We rode out to easterly pressure in the low double digits, but it gradually moderated and clocked from 90 degrees eventually to 155. So the righty was a dominant strategic consideration, but really only in the first race, as much of it happened kind of early. Those that went right in race 1 crushed everyone who didn't. But as the day wore on, though it continued to drift right, there were considerable oscillations and pressure differentials that made banging right a less effective strategy. In my opinion, current was the most impactful element of the conditions. The tide was running in hard, which had a differentiated impact across our track. Both sides had it on the nose going up the beat, but the left side port tack was in shallower water so had less negative impact of the flow going into Salem Sound. Starboard tack along the right, however, had the big deep water Gloucester to Boston flow on the nose, leaving the right a slow slog to the mark.
None of this seemed to be a problem for Steve Uhl, sailing with Abbott Lowell, who sailed very well. They got good starts and used them to position themselves well, and put up a 3-1-3 for 7 points to win the day. Well done. Taking 2nd was Bill Heffernan sailing with Yati Harsono, who finished with an impressive 4-3-1 for 8 points. And finishing 3rd was Team Taylor, who rolled a 2-5-5 for 12 points. Honorable mentions go to Team Frisch / Hourihan who took 4th on a tiebreaker with a 1-6-6 for 3 points, and Team Pandapas in 5th with 7-2-4, also for 13 points. Congratulations to all.
So in Cup competition, the deck is still shuffling with Team Taylor winning the week and jumping from 3rd to 1st. The top-10 are listed below.
Week 3 racing will include Twilight 1-3 on Thursday night and the 2-3 races of MRA Series 1-3 this Saturday. Also, our (unscored) Sunday morning racing will kick off with Day 1 of the CYC Cooke Sunday Series on Sunday June 16th.
Other News, Notices & Miscellaneous Scuttlebutt
Thanks to Rebecca & Larry Ehrhardt – The first party of our young season was fantastic. The location was perfect, there was plenty of great food and of course no shortage of stuff to drink. Huge thanks to our hosts for their graciousness and for opening their home.
Want to Try Out a 2.4 Meter? – Old friend Shan McAdoo has extended an invitation to Fleet 5ers to try out one of their spare 2.4 Meters some Sunday morning. How awesome is that? If you're interested, contact Shan at r19slr@gmail.com.
End of an Era – The sailing community bid farewell to North Sales founder Lowell North this week. Nicknamed "The Pope," he got interested in sail making at the age of 14 when he started tinkering with the main on his dad's Star, and over the course of his career, he drove innovations that changed the industry. An accomplished racer, he won 5 Star Worlds and an Olympic Gold in 1968. He was 89.
NOOD at Marblehead Race Week – The centerpiece of our season will be held Thursday through Sunday, July 25-28 and hosted by BYC. Registration is open. A reminder that your MRA fee covers the entry fee, so you don't have to pay more, but you do have to register.
Race Week Party This year's Race Week party will be on Thursday evening July 26th, generously hosted by Jennifer & Steve Uhl at their home on Front Street. Larry Ehrhardt will provide the fleet bar.
Nationals 2019 – The 2019 Championship Regatta will be held August 21-24 in Hingham Bay, hosted by our friends at the Hingham Yacht Club. The NOR is available on the regatta website.
If You Spin, Send It In – Just a reminder that we're tracking penalty turns again this year to highlight the importance of fair sailing and leaving it on the water. Team Frisch / Hourihan checked in with our first spin of the season for hitting a mark. Sorry they hit the mark but glad they did their circle. Thank you. But it hard to believe that after two days of Spring Series, a day of MRA and two Thursday nights, we've got just one spin. No fouls in all of that racing are a statistical improbability, and the truth is we've heard of one or two incidents, one with a bit of contact. So, if you foul, spin, and then let me know about it so that I can give you a shout-out.
Birthdays This Week – Happy Birthday to Elise Nash and Lisa Adam.
Did you Know? We learned recently that El Jefe's older brother is a Nobel Laureate. Astrophysicist Joseph Hooton Taylor was awarded a Nobel Prize in Physics in 1993 for his discovery of a "new type of pulsar that opened up new possibilities for the study of gravitation." Wow – who knew? We knew those Taylors were smart, but that's pretty special. Read more here.
For Sale – 2015 race ready Rhodes mast made by Cape Cod Shipbuilding. $1500 OBO. Please call or text Mark Rubin: 202-591-5981.
Brian Bones Boat For Sale –Brian Bones's daughter Bridget Bones is looking to find a home for her late dad's boat, either by selling it or donating it. We don't have much info on the boat's condition, but if you're interested, you can reach Bridget at bcbones@gmail.com.
Mail Bag
I couldn't resist showing you this Laser race wrap from Patrick Andreason, which serves as a reminder that some people are adrenaline junkies. "I am going for the ski analogy. One can ski blue groomed runs all spring long and have a blast. Last night was more like a black diamond mogul run on a cold dark January day with 3 feet of powder…. awesome for those with the skills. Stein, Tom and Ulf sailed while a few of the others bagged it. I set up at the mouth at the last mooring buoy and had 16-25 knots and solid swell, Children's highest gust was just shy of 30. The guys had a ripping time with 7 races and a few spills. The 5 minute beats took them to the outer green can and their thighs were screaming! The runs and reaches fast and furious. It was a night to remember and not to forget that bare knuckle sailing is what makes the memories!" Hmm! In those conditions, I'm pretty sure I'd be swimming before clearing the Pleon float.
Jocelyn Cook sent in this preview of her potluck contribution with the caption, "A fleet party must be coming up." If you made it to the party, hopefully you sampled one. They really are spectacular.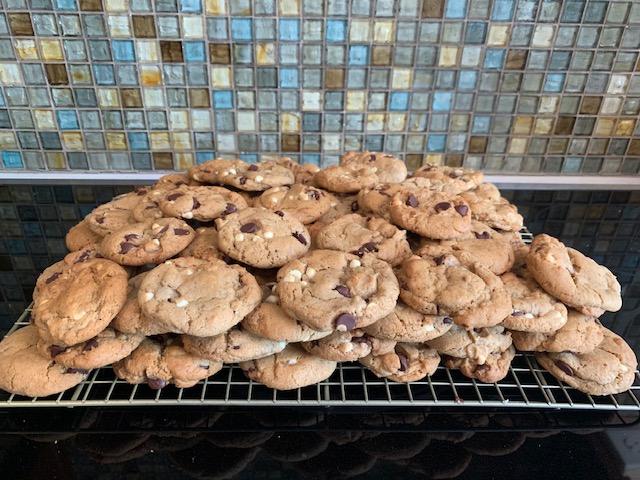 Nat Taylor received a request that we post this pretty compelling classified. "I have a Rhodes 19 mainsail and Genoa that I'm looking to sell. They are stamped 1981 but are in good condition because we used them only for racing a few years. The snaps on the Genoa are corroded but other than that everything is fine. Does your group have a board or something I could post on?" Wow! Sounds like a deal to me. I like the part about everything else being fine.
Finally, Jocelyn Cook had her camera with her on the MRA line this week and sent in a few shots. Thanks Jocelyn.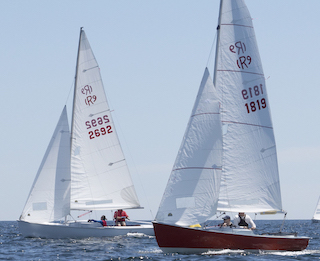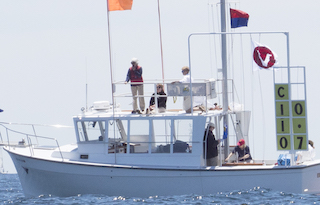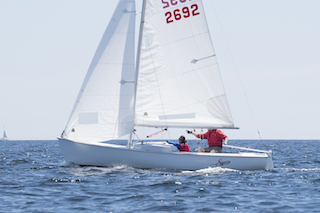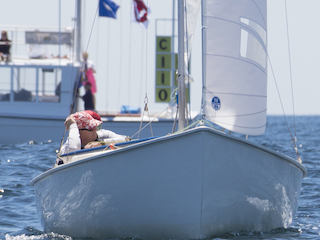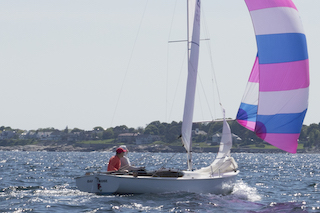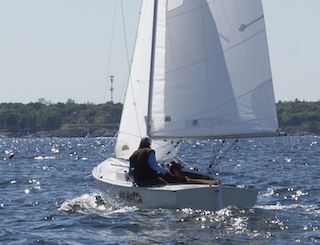 –kp (kpandapas@comcast.net)