Road To The Cup – Week 11
Top 10 as of 8/8/21
We're cursed. Yes another Thursday night has slipped past without a race. Here is the sad story, this week from Steve Uhl.
"Seven eager boats showed up to race twilight, hoping to break the streak of five(??) cancellations. Though it was a dreary day, at 5pm the rain had stopped and a nice NE breeze prevailed, and a healthy long course posted. Unfortunately the breeze died as 6pm arrived. Five minutes after the gun, with many boats drifting, and not across the starting line, the RC abandoned. We waited 15-20 minutes hoping for new wind, but instead, were hit by a new rain line. Maybe next week….."
This is getting ridiculous. Honestly, what more can you say. The last Thursday night we actually raced was June 24th,and here it is halfway through August. Assuming we race next Thursday, it will have been seven full weeks between Twilights – close to two months of our three month season. Imagine that. This Thursday August 12 is scheduled as Race 4 of Series 2, with only two races remaining after that; August 26 and September 2.
Out on the MRA line, we had a little more luck, but honestly, not much. For starters, the lines were collapsed to one for the day to accommodate the Townie Nationals, which makes all the sense in the world, but resulted in the R19s reaching back and forth for 40 minutes waiting for starts by the IODs, Etchells, J70s and Vipers. Though we only had 13 boats turn out (surprising in the lead-up to Nationals), that was still more than each of the other fleets. So the largest fleet started last and ultimately got in just one race while others got in two.
Conditions included a light and highly erratic oscillating southerly which, combined with a ripping outgoing tide, made conditions a challenge. Essentially the strategic options were either to go left for more pressure but stronger adverse current, or go right where there was less pressure but also less adverse current. In our one race, boats made money on both sides. Eventually the wind shut off completely, but not before a 30 degree righty during the last two minutes, which shuffled the finishing order a bit. The EYC RC did a pretty good job navigating all of that, and a tip of the cap for crisp communications and thoughtful, timely decision-making.
So taking 1st in our one race was Team Lane / Heffernan, who picked Team Pandapas' pocket at the finish, courtesy of that 30 degree righty. Like a lot of our finishes lately, their win underscores the value of hanging around the hoop and never giving up. Taking 2nd, was Team Frisch / Hourihan, who finished a millisecond behind Team Lane. And taking 3rd was Team Pandapas. Honorable mentions go to Steve Uhl in 4th, who on this day was sailing Karl Renny, and Team Dittrich in 5th, sailed by two folks I didn't immediately recognize. Congratulations to all.
So in Cup competition, I don't recall it ever being as tight at the top by this point in the season. Team's Cooke / Kaznoski and Lane / Heffernan are separated by just one thin point. How awesome is that? I'm looking forward to watching them duke it out over the rest of the season. The top-10 are listed below.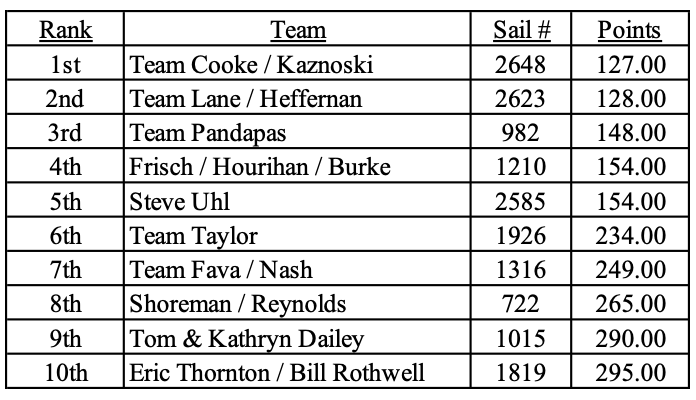 Week 12 racing will include Twilight 2-4 on Thursday night, and the 2-3 races of MRA Series 3-3, our last warm-up before nationals.
Other News, Notices & Miscellaneous Scuttlebutt
Locals Dominate Morgan Cup – Congratulations to the CYC and EYC sailing teams, who finished 1st and 2nd respectively in the New York Yacht Club Invitational Team Race for the Morgan Cup, among the most prestigious team racing events out there. CYC nipped EYC on a tiebreaker, both finishing with a record of 17-7, but CYC bested them on the head-to-head. Several Fleet 5ers participated, including for CYC Evan Cooke, Madam President Elise Nash and honorary members Tim Wadlow and Forbes Barber, and for EYC Matt Hooks, and occasional participants Bill Lynn and Paula Grasberger. You'll find a great recap here.
Nationals Update – The planning is done. Rehearsals are over and the musicians are warming up in the orchestra pit. We're all eagerly waiting for August 16th, which in my view can't come fast enough. If you've been living in a bubble, a reminder that Nationals are in Marblehead and will run Monday through Friday August 16-20, hosted by your very own Fleet 5 and the Corinthian Yacht Club. In case you missed it last week, here is the schedule.
Monday Boat & sail measuring, launching and registration
Tuesday Boat & sail measuring, launching, registration, practice race, annual meeting and postrace social and daily awards
Wednesday Boat & sail measuring, launching, registration, skippers meeting, Day 1 racing, postrace social and daily awards, catered dinner party at fleet at the home of Rebecca & Larry Ehrhardt.
Thursday Day 2 racing, postrace social and daily awards, party at CYC pool, raffle.
Friday Day 3 racing, haul boats, awards ceremony.
Most of the info you need is on the nationals web site at http://2021nationals.rhodes19.org/. If that doesn't get you what you need, please feel free to contact Kim Pandapas (kpandapas@comcast.net) or Elise Nash (elise.mazareas@gmail.com).
Measurement – Certificates are not optional, especially at Nationals. If you don't have a certificate or you've had work done since your last measurement (even something as minor as work on your rudder or a new spin pole), you must reach out to Fleet Measurer Stefan Thibodeaux at sjthibodeaux@gmail.com. You can check your certificate status here.
The organizing authority (OA) is reserving the right to do spot checks during the regatta, so please make sure you've got this nailed down and are carrying all of the class mandated equipment. If you're supposed to carry lead, please make sure it's in there.
Sail Measure on Monday – Measurer Stefan Thibodeaux and his team of Jim Taylor and old friend Doug Trees, are asking that locals get their sails measured on Monday, so they can focus on out-of-towners on Tuesday. Just bring your sails to the CYC dining room at 2pm Monday and they'll take you first come-first served. They are working to make sail measurement as painless as possible. Instead of having to measure all sails you plan to use in the regatta, you only need to measure mains and jibs that haven't previously been measured. So if your main or jib have a measurer's signature from a past Nationals, no need to bring it. Hopefully that should streamline things a bit. Chutes are a different story. You will have to measure any chute you might use.
No On-the-Water Polling at Nationals – The RC and OA have added some language to the SIs to avoid the on-the-water fleet polling that took place on the Sunday of Race Week. The language sets the lower wind limit at 4 knots and the upper limit at 22, all subject to sea state and the judgement of the PRO. Also added was the flexibility to run races in the flatter water in the vicinity of Eagle Island if necessary.
Attending Nationals Social Events as a Guest – If you're not sailing Nationals but still want to join us for either of the two social events, please let me know (kpandapas@comcast.net) by no later than Thursday August 12th. You'll have to pay a guest fee of $60 to reserve your spot.
If You Spin, Send It In – We heard of no spins this week. Below is our season count.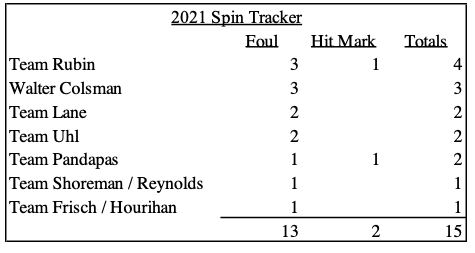 Mail Bag
We heard from John Casler in response to Walter Colsman's suggestion last week that we consider using Tuesday nights as rain dates for washed out Thursdays. "I know the Tuesday option could create scheduling issues for hard core RTC campaigners. But not if we made the Tuesday race non-scoring for the season results, but just a casual race replacement opportunity to get out on the water, without jeopardizing anyone's season standings. If three or more such races take place in a season, the fleet awards could include a Gene Kelly umbrella for the winner of the Tuesday night series. Each Tuesday race winner would also get a Twilight glass."
Martha Martini also weighed in. "I love this thoughtful suggestion, John, worthy of a practiced negotiator. But I wonder how many sailors would participate on these terms, and I especially wonder about overtaxing poor David Graham?"
This is probably something Madam President will take up over the winter. Worth mentioning is there is already Tuesday night booth racing, so probably not a heavy lift for David Graham to add a start. My two cents – 1) we were part of the Tuesday night lineup for a few years and no one showed up, and 2) this year is an anomaly – it's never happened before, so it seems a little premature to start changing things up based on it. But like I said, the fleet leadership will certainly bat it around this winter. If you have additional comments or suggestions on this topic, please send them along.
–kp (kpandapas@comcast.net)