Road To The Cup – Week 12
Top 10 as of 8/15/21
Finally, the dog got a bone. After close to two months, we got in a very needed twilight race. Eleven boats turned up for what looked like a spectacular evening to sail, with clear skies and a nice southerly. Here is the report from John Casler, with a few additional comments lobbed in by Mike Lane.
"When David Graham sent out his morning Twilight Race report, the chance of rain was 2%. By 4pm, that had grown to a 51% chance of thunderstorms. Fortunately, for once this summer, the worst did not transpire, and the eleven Rhodes that turned out were treated to a beautiful evening and a great race night.
"This was the first time we have ever actually completed a race from the new Twilight starting line, which has Mark "O" much further over toward Fort Sewall, and further out. The posted course was 19, the second can out of the harbor, off the lighthouse, then over to nun 28, off famous Williams Rock, twice around. With a moderate 6-8 breeze behind us, a favored area on the starting line was not obvious, at least to me. There was no fleet consensus either, as folks spread out all along the line.
"About 8 of the 11 Rhodes reached the first mark generally overlapped, with the inside positions seemingly more a result of boat speed and racing skill than starting spot on the line. Mike Lane, Steve Uhl, and Walter Coleman came out of the pack with modest leads which they mostly maintained all the way toward distant Williams Rock and back into the harbor.
"The second time around, the course was out to 20, the nun off Children's, then north over to 23, a flasher marking the channel toward Manchester. The legs were long enough that there were position changes, particularly toward the rear of the fleet. 1775 had its best boat speed since the onset of Covid, but the failure of an ill-maintained tiller extension during a mark rounding and two ill-chosen flyers left me in no position to tell you how Mike Lane eventually secured what I think is his first Eckard Colesman victory glass.
"I apologize for the length of this report, but the prior frustrating cancellations had left me with an oversupply of unused vowels and consonants."
Thank you John. In the insightful words of the legendary Mick Jagger, "… well all right." Mike Lane added this.
"Only thing to add is that Anne Marije was first to the 1st and 2nd marks, then tacked around the 2nd mark and got stuck in lighter air and out of the puffs coming off the shore on the right side of the weather leg. David Graham did a great job setting a challenging course."
Not surprised, as Anne Marije has gotten faster and faster every week. It won't be long before she collects her first glass. And yes, looks like David Graham did his usual excellent job.
So for the record, congratulations to Mike Lane, sailing with his wife Kathleen Lane, on the bullet. Well done! Finishing 2nd was Walter Colsman and taking 3rd was Steve Uhl. Honorable mentions to Team Shoreman / Reynolds in 4th and Anne Marije Veenland in 5th. Congratulations to all.
Out on the MRA line, 12 boats showed up for what proved to be an outstanding day of racing. One of those was the emeritus Team Cormier / Dalton, sailing their old 1790. Believe it or not, that marks Bill Dalton's 2021 debut on our line. Better later than never, I suppose. Welcome back Bill.
Conditions were forecast to be light from the south and trending right. But instead, we got an up-and-down northwesterly with pressure that ranged from a low of 6-7 knots up to 14-15 at times – both feet in the straps for us). Like any northwester, you're seduced by the shifts and want to try to climb the ladder. But consistent with most northwesters, the first boats around the top mark always seemed to come from one side or the other, and sometimes both. Jocelyn Cook, who took the day off and was out in her motor boat, sent in this shot which gives you a taste of the conditions.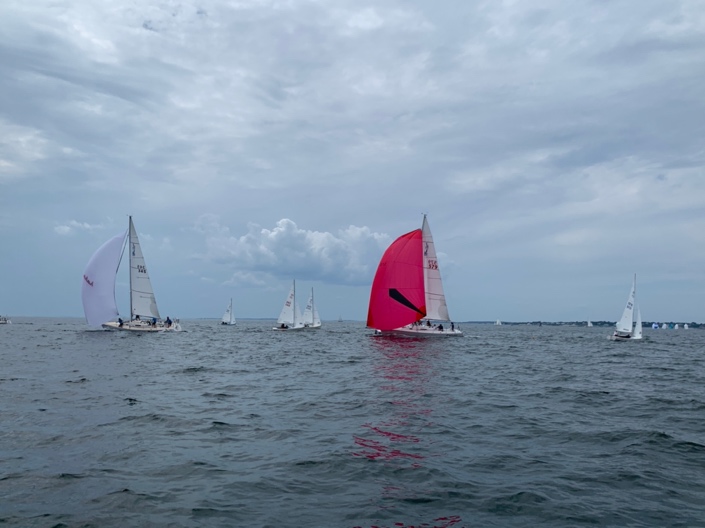 I don't think there is a condition that Team Hooks / Pascal doesn't like as they came out and spanked us, rolling a 1-2-1 for 4 points to handily win the day and put all nationals contenders on notice. Well done. Taking 2nd on a tiebreaker was Team Frisch Hourihan, who put up a line of 2-3-5 for 10 points, and taking 3rd was Tom Dailey, with a 4-4-2, also for 10 points. Honorable mentions go to Team Pandapas in 4th with an 8-1-3 for 12 points, Team Lane / Heffernan in 5th with a 3-10-4 for 17 points. Congratulations to all.
So in Cup competition, another lead change at the top as Team Lane / Heffernan surge back in front on the strength of their Twilight win and Team Cooke / Kaznoski's Saturday DNC. The top-10 are listed below.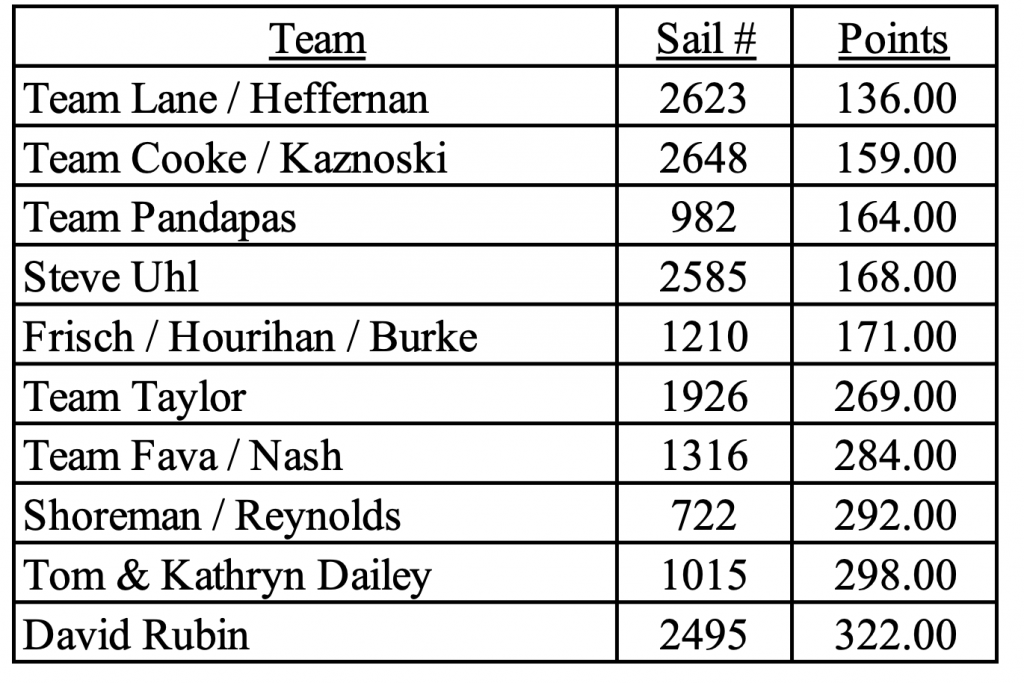 Week 13 racing is Nationals, which will include a practice race on Tuesday and 3-4 races/day on Wednesday, Thursday and Friday. There will be no Twilight on Thursday night and no MRA racing on Saturday due to the Ted Hood regatta.
Other News, Notices & Miscellaneous Scuttlebutt
Nationals Schedule – Here is a nationals cheat sheet
Monday Boat & sail measuring, launching and registration
Tuesday Boat & sail measuring, launching, registration, practice race, annual meeting and postrace social and daily awards
Wednesday Boat & sail measuring, launching, registration, skippers meeting, Day 1 racing, postrace social and daily awards, catered dinner party at the home of Rebecca & Larry Ehrhardt.
Thursday Day 2 racing, postrace social and daily awards, party at CYC pool, raffle.
Friday Day 3 racing, haul boats, awards ceremony.
Most of the info you need is on the nationals web site at http://2021nationals.rhodes19.org/. If that doesn't get you what you need, please feel free to contact Kim Pandapas (kpandapas@comcast.net) or Elise Nash (elise.mazareas@gmail.com).
Measurement Reminder –If you don't have a certificate or you've had work done since your last measurement (even something as minor as work on your rudder or a new spin pole), you must reach out to Fleet Measurer Stefan Thibodeaux at sjthibodeaux@gmail.com. You can check your certificate status here.
Please Measure Your Sails on Monday – Measurer Stefan Thibodeaux and his team of Jim Taylor and old friend Doug Trees, are asking that locals get their sails measured on Monday, so they can focus on out-of-towners on Tuesday. Just bring your sails to the CYC dining room at 2pm Monday and they'll take you first come-first served. You have to measure any chute you might use, but you only need to measure mains and jibs that haven't previously been measured. So if your main or jib have a measurer's signature from a past Nationals, no need to bring it. Hopefully that should streamline things a bit.
If You Spin, Send It In – We got a spin update from our measurer, who apparently has been stockpiling his spins over the season and sent them all in at once. Stefan Thibodeaux wrote, "To date we have spun three times, 1) hitting the startling pin at twilights, 2) fouling someone and 3) hitting the committee boat anchor line." Thanks Stefan for doing the right thing, and for letting us know. While we're at it, Walter Colsman wrote in with this correction, "Thanks for your usual informative and entertaining write up! Just wanted to point out I have had only one foul/spin, not 3." Sorry about that Walter, consider it corrected. Beyond that, we heard of two spins this week. Steve Uhl wrote in to let us know he spun on Thursday night after apparently tapping Walter's transom (so to speak). Thanks Steve. And though they didn't write in to tell us about it, several people saw Team Frisch / Hourihan spinning on Saturday. Hopefully that account is accurate, though I'm sure they'll let us know if it isn't. Thanks to them for keeping it real. Below is our season count.
Mail Bag
After his Twilight win on Thursday, Mike Lane wrote in with this "When I asked for the 'Eckart' glass at the front desk, they said they only had the traditional CYC glasses. Could they have run out already?" Absolutely not! The case was new at the beginning of the season and we've only sailed five races. Someone needs to check that out.
Walter Colsman agrees, and made this generous offer. "I highly doubt the Eckart glasses are out already. If they are I'll gladly contribute another set."
–kp (kpandapas@comcast.net)